Sheet Pan Chicken Tikka
Homemade Chicken Tikka with same authentic tikka taste, and colorful veggies.. all prepared on one sheet pan!
Posted On:

Apr, 18
| Author:

Savita
Tandoori-style chicken dinner, in matter of minutes!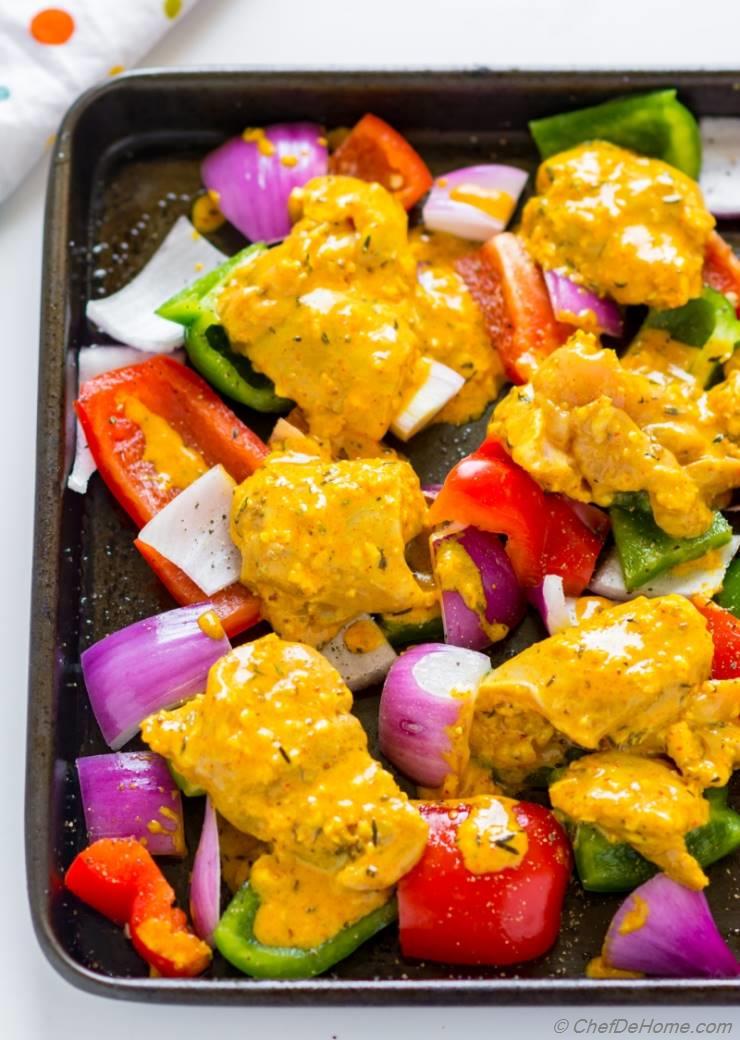 This recipe for Chicken Tikka, the epic Indian chicken main course, has been made easy and quick with sheet pan cooking! Chicken pieces coated in classic chicken tikka spices - cumin, garam masala, ginger, garlic, and baked on sheet pan topped on colorful bell peppers and onions. 
I call it, weekday-time-saver chicken dinner! 
Just like you, I'm very busy on weekdays. So, weekdays always get me thinking to simplify recipes and make dinner which will not hold me long in kitchen.  Like this sheet pan Chicken Tikka comes together in a breeze. There are only three simple steps and 10-12 minutes prep to ready a sheet full of homemade tandoori-style chicken tikka dinner! 
1) Marinate Chicken. 
2) Rough chop veggies. 
3) Arrange everything on sheet pan. Bake! 
After 20-25 minutes, enjoy homemade chicken tikka! Gluten free, nut free, healthier, and still bursting with flavor. 
Oh, and you can also bake some extra chicken. Save leftovers. Then, pull together at-least 2 more easy weekday meals with remaining chicken. (more about this ahead)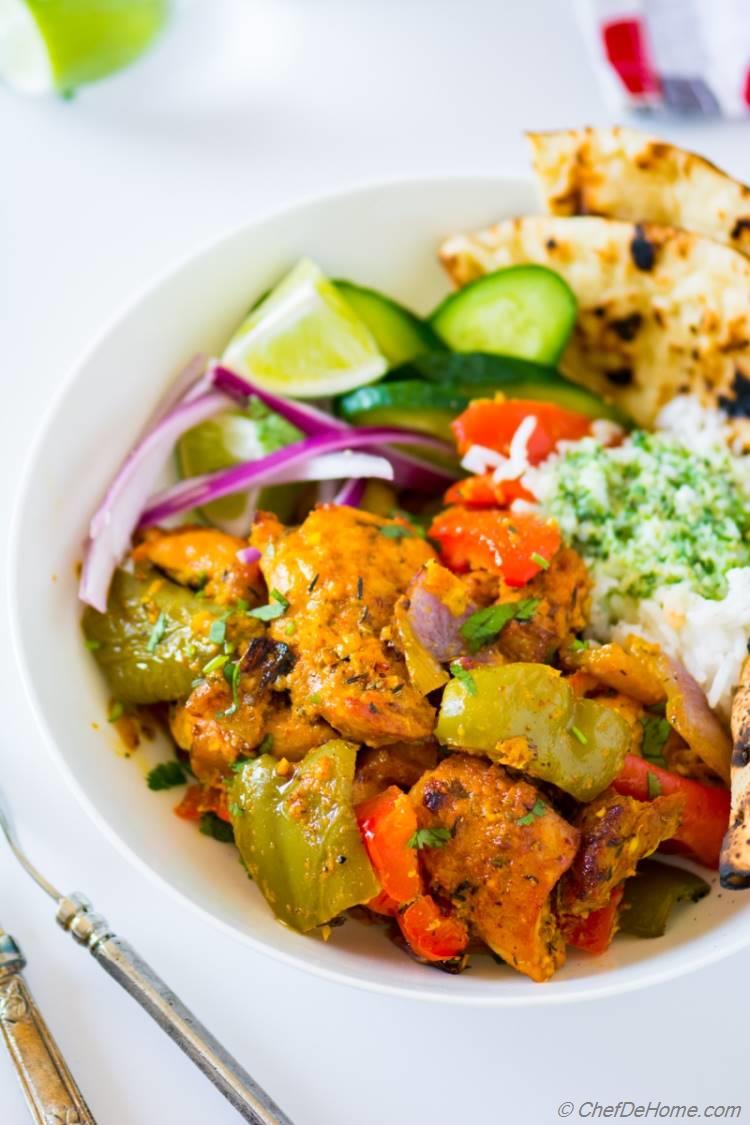 Chicken Tikka Marinade: 
Chicken tikka marinade is combination of flavorful spices and always-at-home everyday marinade ingredients. Everyday marinade ingredients are: lime/lemon juice, oil, yogurt which naturally tenderize chicken meat. Also, keep chicken juicy while cooking. Chicken Tikka Spices - ground cumin, garam masala, chili powder, and ginger-garlic. These infuse a ton of flavor in tikka. 
I will be a liar if I say these are the only spices used in chicken tikka. Honestly, these few define flavor of chicken tikka. Plus I like to keep my weekday meals simple and moderate. Worth a mention, garam masala is already an Indian-master-spice, mix of lot of spices. If using a good quality garam masala, you really don't need anything else.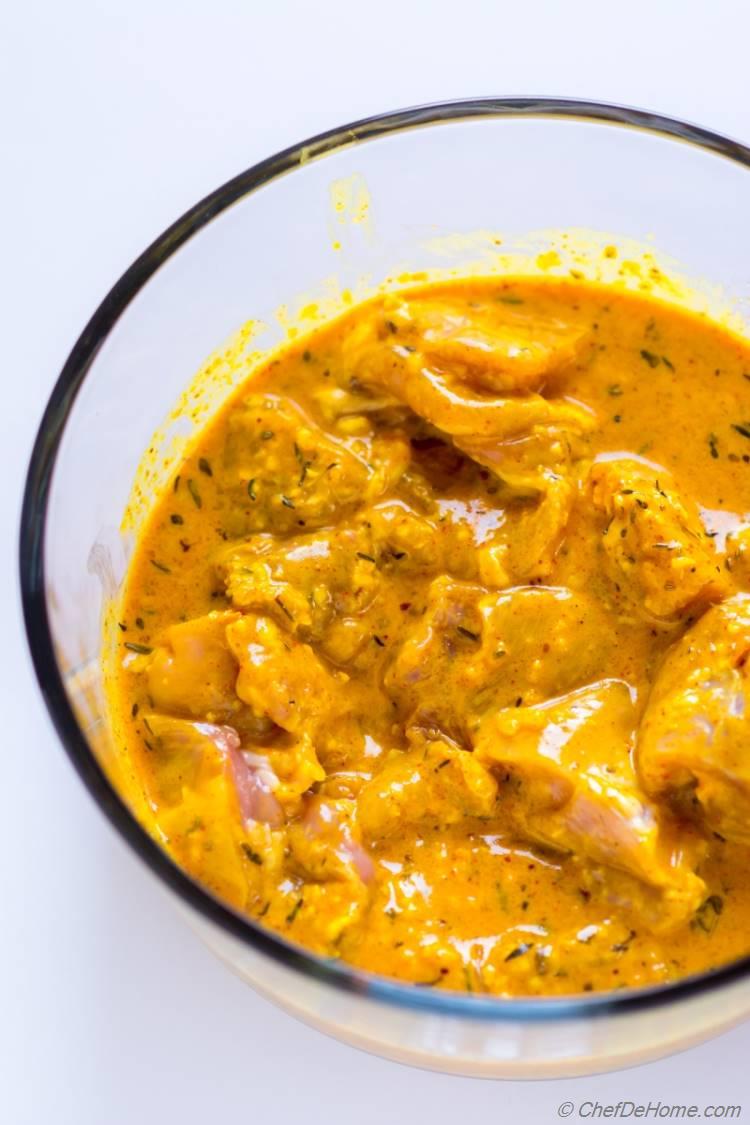 Oh, and I like to use a little bit of Indian Ajwain to make tikka more appetizing. If you can't find Ajwain, use dried thyme leaves. Thyme gives same flavor as ajwain. 
To ready a batch of chicken tikka marinade. There are few approaches I take to speed up the step: 
1) If I have chicken in-hand.. I cube and coat chicken in marinade, add to ziplock and freeze it. On weekdays, just taking bag out of freezer and putting in refrigerator thaws it by evening. At dinner time, just pre heat the oven, spread veggies and chicken on sheet pan.. and dinner ready in 25 minutes. It clearly reduce the prep time by 1/3.
2) If I don't have chicken in-hand... I leave marinade in refrigerator. At dinner time,  I marinade the chicken while I slice onions, bell peppers, and potatoes (when using). Even 20-30 minutes of marinating makes chicken flavorful. Since marinade bakes with chicken, it seals in lots of flavor. No one can judge chicken has marinated for such short time.
Note: Chicken thighs are work best for Chicken Tikka. These stay more moist and juicy. However, you can also use chicken breast. Please note that cooking time will vary depending upon the thickness and kind of chicken pieces. Make sure to check chicken is fully cooked before serving.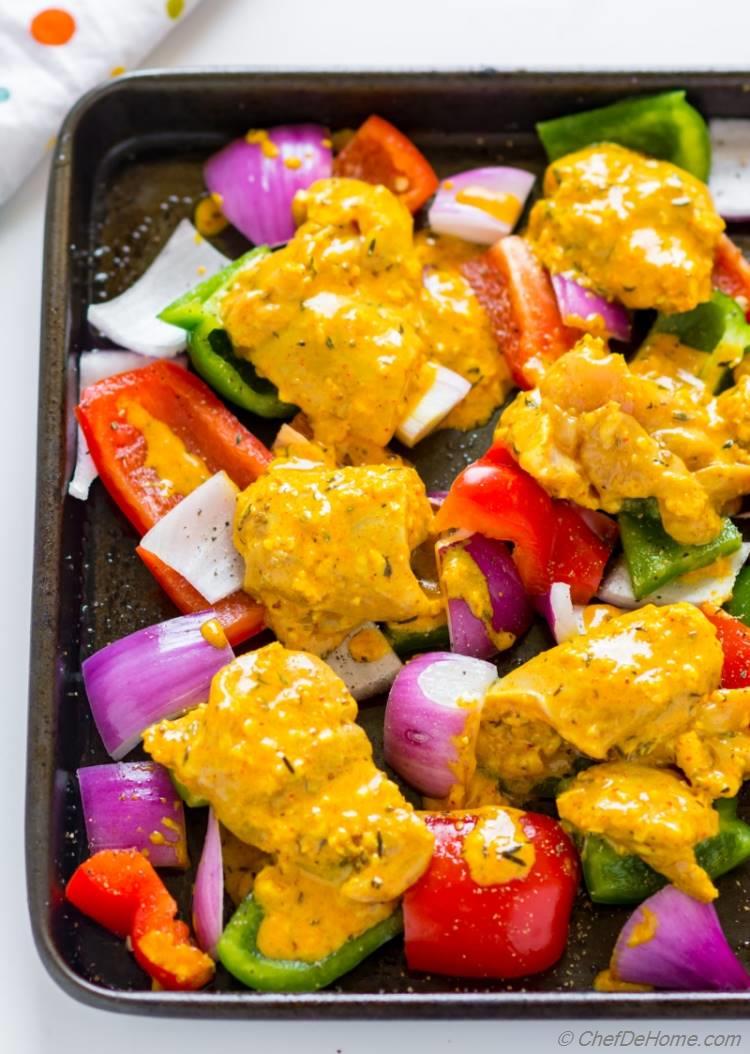 Friends, now you will never have to ask : How to make chicken tikka!?
Because this chicken tikka recipe transforms from Chicken on Sheet Pan (picture above) to baked juicy Chicken Tikka with peppers (picture below) in just 20-25 minutes.. and chicken tikka dinner is ready to serve!
Like I said earlier, just:
1) Marinade the chicken pieces.
2) Rough chop veggies - bell peppers, red onions. I used two kind of peppers for some color and vitamin boost. 
3) Arrange veggies and chicken on the sheet pan.
4) Bake at 400 degrees Fahrenheit or 205 degrees C, until chicken is cooked through. (I like to broil chicken for last 2 minutes for that extra Tandoori-style charred flavor.)
Making Chicken Tikka at home is not difficult at all. Isn't it?
Oh, add more veggies such as diced potatoes, sweet potato, or cauliflower florets to make dinner more substantial and veggie-full.
Note: If you like to serve Chicken Tikka Masala? I have few easy tikka masala recipes for the sauce.
1) 5 Ingredients Tikka Masala Sauce
2) Tikka Masala Sauce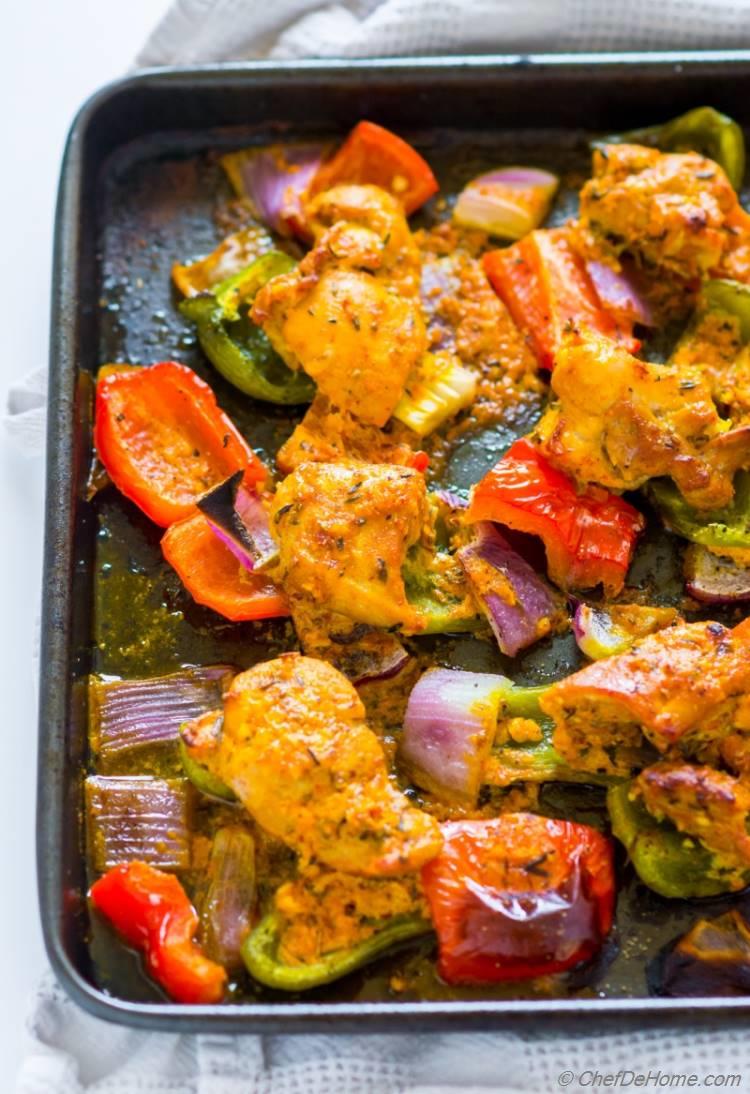 One Recipe - Three Meals:
The chicken marinade can easily accommodate about 1/2 pound more chicken. So, if you planning to the stretch your chicken bake to 3 weekday meals? I suggest, add more chicken while baking chicken tikka. Then make following meals for next two days!
1) Sheet Pan Chicken Tikka
Make this chicken tikka recipe today. Serve with rice or naan bread. Or fill it in tacos for Tuesday Tikka Tacos!
2) Tandoori Chicken Salad with Mango Dressing
Use the chicken tikka from this recipe, add crunchy cucumber, radish, leafy greens and cooling sweet-and-sour mango dressing for a refreshing yet filling Chicken Salad for Wednesday dinner! 
3) Chicken Tikka Masala Pasta
Use the chicken from this recipe, follow the pasta recipe linked above. Enjoy Chicken and Pasta for Thursday Dinner.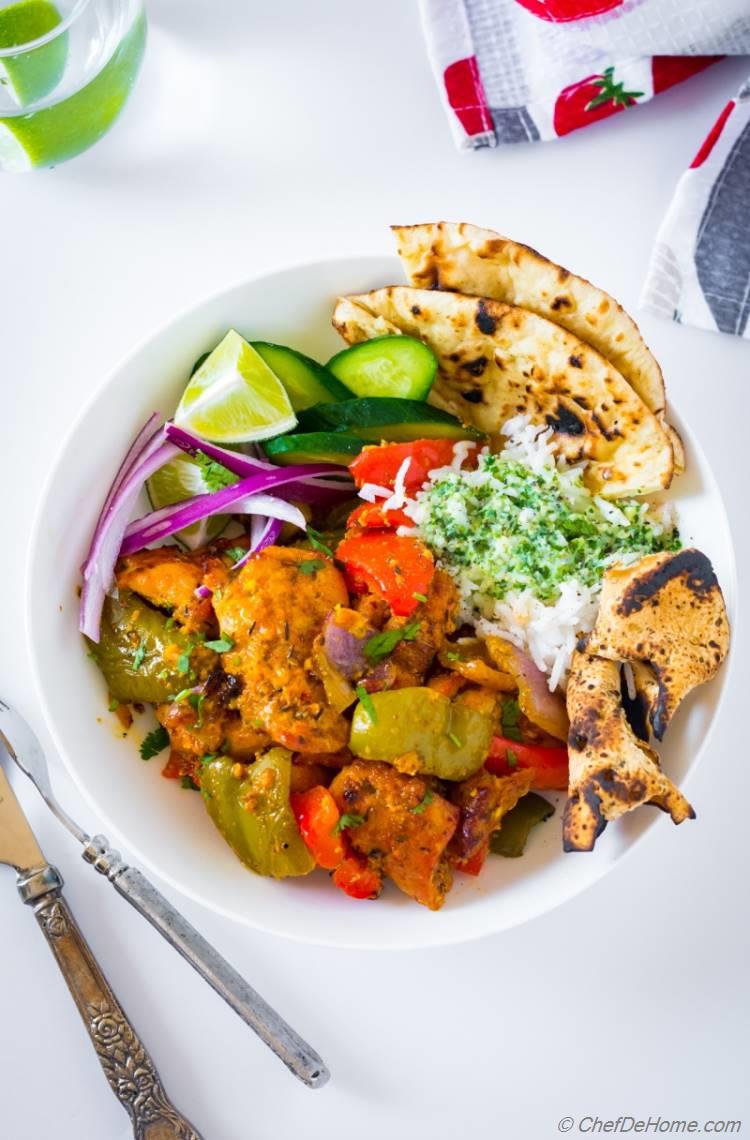 Diet Info:
This Chicken Tikka recipe is gluten free, nut-free, prepared in very less oil, is full of veggies. You can also make it dairy-free by skipping yogurt and adding little more lemon juice and oil. Add more veggies such as potato, sweet potato, or cauliflower for more substantial servings.

Devour!
-Savita xo
Boil some rice or make a homemade naan to serve on the side:
Sheet Pan Chicken Tikka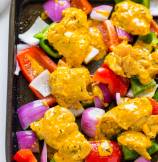 Total Time:
Prep Time:
Cook Time:
Cuisine:
Indian
(

Curry, Main Course

)
Difficulty:
Easy
Yields:
2-3 Servings
- Serves:
3
Ingredients
Sheet Pan Chicken
Chicken Tikka Marinade
For Serving
Directions
1.

To marinate chicken, mix all ingredients for chicken tikka marinade in a medium size bowl. Add bone-less chicken pieces and coat well. Cover the bowl, refrigerate, and let it marinate for 30 minutes. (or overnight)

2.

When ready to cook, preheat oven at 400 degrees Fahrenheit. Spread diced bell peppers and onion. Drizzle oil and season with generous two pinches of salt and generous pinch of black pepper. Place marinated chicken on top, spaced apart.

3.

Bake for 20-22 minutes, then switch to broiler setting and continue cooking for 2 more minutes, or until chicken is charred at edges and fully cooked through.

4.

Serve over rice or with side of naan bread. Enjoy!
Savita's Notes:
Make dinner more substantial by baking some potatoes or cauliflower with the chicken. Or Boil some rice while chicken cooks to serve on the side.
Time of baking will vary based on size of chicken pieces. Please make sure that chicken is fully cooked before consuming!
DID YOU MAKE THIS RECIPE?
Tag
@SAVITACHEFDEHOME
on Instagram and hashtag it
#SAVITACHEFDEHOME
© Chef De Home. Post content including video and photos are copyright protected.
We Think You'll Love