Garlic Shrimp Scampi Linguine
Linguine coated in buttery Garlic and Wine Shrimp Scampi sauce for a 25 minute weeknight pasta dinner!
Posted On:

May, 10
| Author:

Savita
Thanks to Heston for providing stainless steel pan for making this Shrimp Scampi Linguine dinner.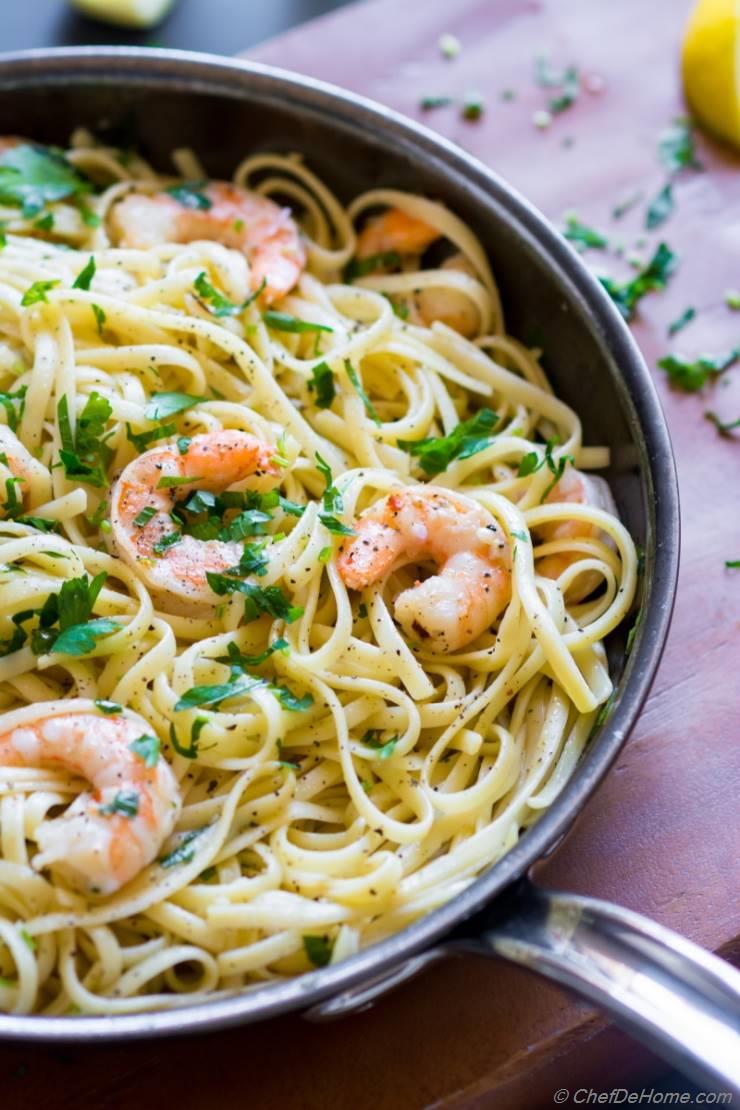 Garlic Shrimp Scampi Linguine, a garlicky lemony Shrimp and Pasta recipe which has weekday dinner written all over it. 
For dinner last week, I cooked linguine pasta, coated it in garlic, wine and herb butter scampi sauce.. and dinner was ready! 
Super easy! Right? 
Pasta and shrimp pair wonderful together, whether served as a quick weeknight dinner or as a surf-turf style Sunday supper... A serving of lean protein, citrus-y sauce and pasta to scoop all the flavors! This 25 minute dinner makes family happy and cook's life easy. :)
However, honestly, when Scampi Sauce is served with pasta... it often looses it's delicate taste. So, today I decided to fix that. I'm sharing  few of my favorite simple tips to ensure a bold flavor Scampi Sauce even after being coated in hearty linguine pasta.
Grab a glass of wine, (save some for scampi sauce), and let's get cooking!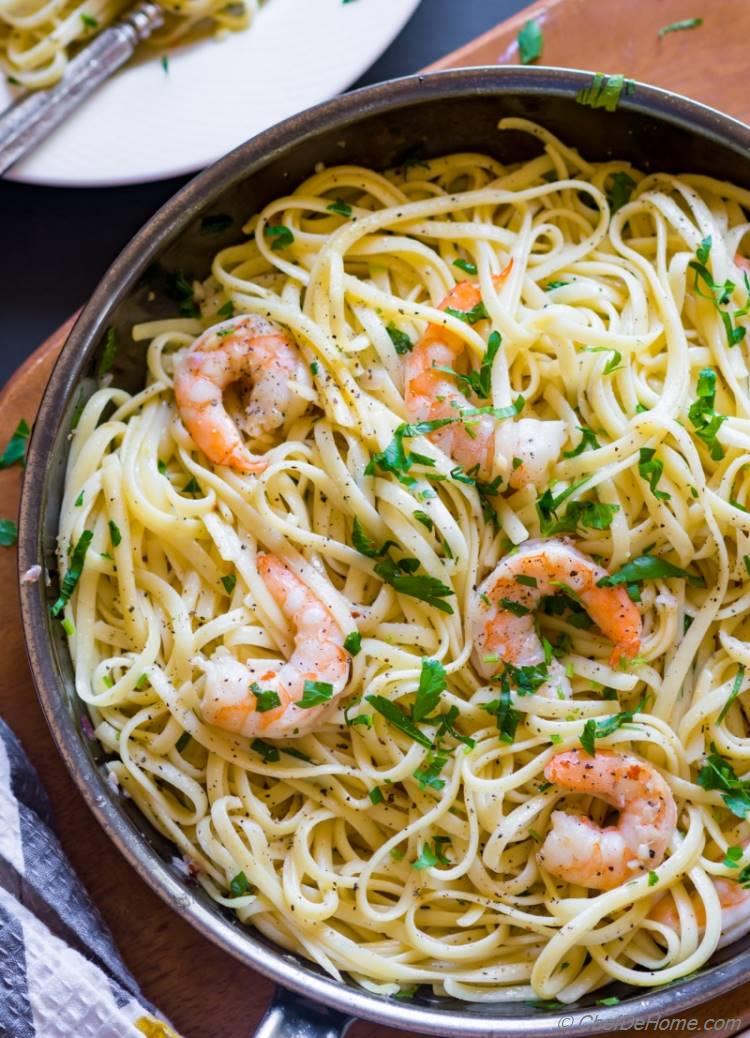 Today's Shrimp Scampi pasta recipe was ever easier to prepare with Heston Nanobond Stainless Steel Skillet. I recently teamed up with Hestan to bring to you some of their latest cookware. Like this Stainless Steel Skillet which stole my heart since I cooked in it first time.
One of my favorite skillet so far, this skillet is made of thick ply steel, 4x harder than regular, which disperse heat very evenly. Even heat means even cooking. You can see in the video of Shrimp Scampi below, the shrimp had an even sear even when I used frozen shrimp straight from freezer to the skillet.
I also loved the large cooking surface. One pound pasta, 14-15 pieces of jumbo shrimp and sauce.. all was done in same skillet. The cookware is available for sale in Sur La Table stores. Please do check it out!
Now, back to my amazing shrimp scampi pasta recipe. :)
First, let's discuss the Scampi Sauce! Shall we!?
Scampi Sauce is soul of dish when you serving shrimp scampi with pasta for dinner. Scampi sauce recipe is very easy and need very basic pantry ingredients.. However, when served with pasta, often this sauce looses it's flavor.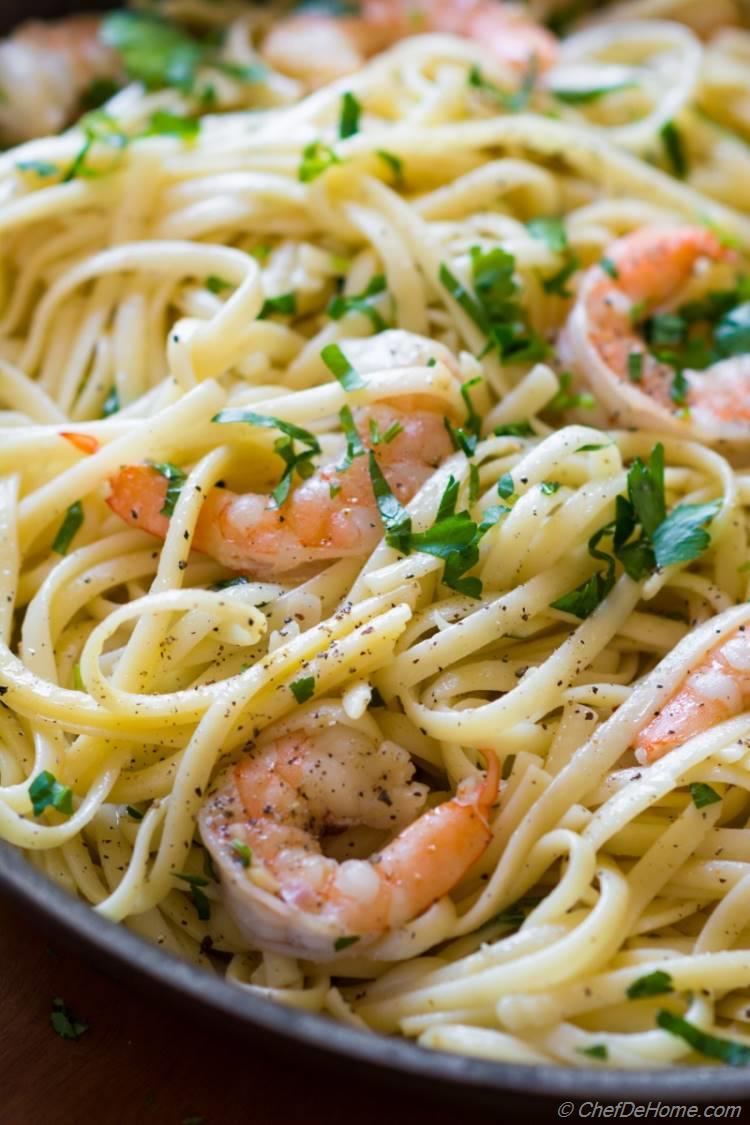 Whenever I' making Shrimp Scampi with Pasta, I ensure three of the following things for a good flavorful pasta dinner:
1. quantity of sauce
Sauce may look too much but noodles style pasta such as linguine needs more sauce. Sauce gets thicker as it sits and a lot of it absorbed by the pasta. So, I increase *quantity of sauce by adding 1/2 cup of chicken or shrimp stock. This not just increase the quantity of sauce, but adds more flavor. If possible, prefer shrimp stock over chicken stock. *For reheating leftover pasta, I reserve a cup of pasta water around.
2. bold flavorful base for sauce  
This is one of the important aspect of serving shrimp scampi with pasta. with pasta, sauce needs more body than when served as a side. To *flavor the sauce, I cook shrimp with tails on or ask butcher to not discard shrimp shell and I bring those home. When shrimp shells are saute in butter, garlic, and herbs.. it adds lot of additional flavor to the sauce. I find this trick also most cost effective. I mean, bringing tail-on shrimp does not cost any more than tail-off. You can serve it as-is, or trim tails after cooking shrimp in garlic-butter sauce.
*You can also fortify sauce with some clam juice.
3. not to skimp on herb and garlic
Herbs like I used fresh chopped parsley, and fresh chopped garlic make all the difference in flavor Shrimp scampi pasta sauce. So, please don't skimp. and generous splash of lemon before serving. I suggest, serve a lemon wedge on the side. Lemon goes good with garlic and both taste amazing with seafood.
Last, but no way the least, use good quality drinking wine. A good quality wine will make a simple shrimp scampi worth Italian quality meal. (and, yes, please enjoy the rest with dinner!) Follow these simple steps above, and this recipe will be your favorite Weekday Dinner recipe, all summer long.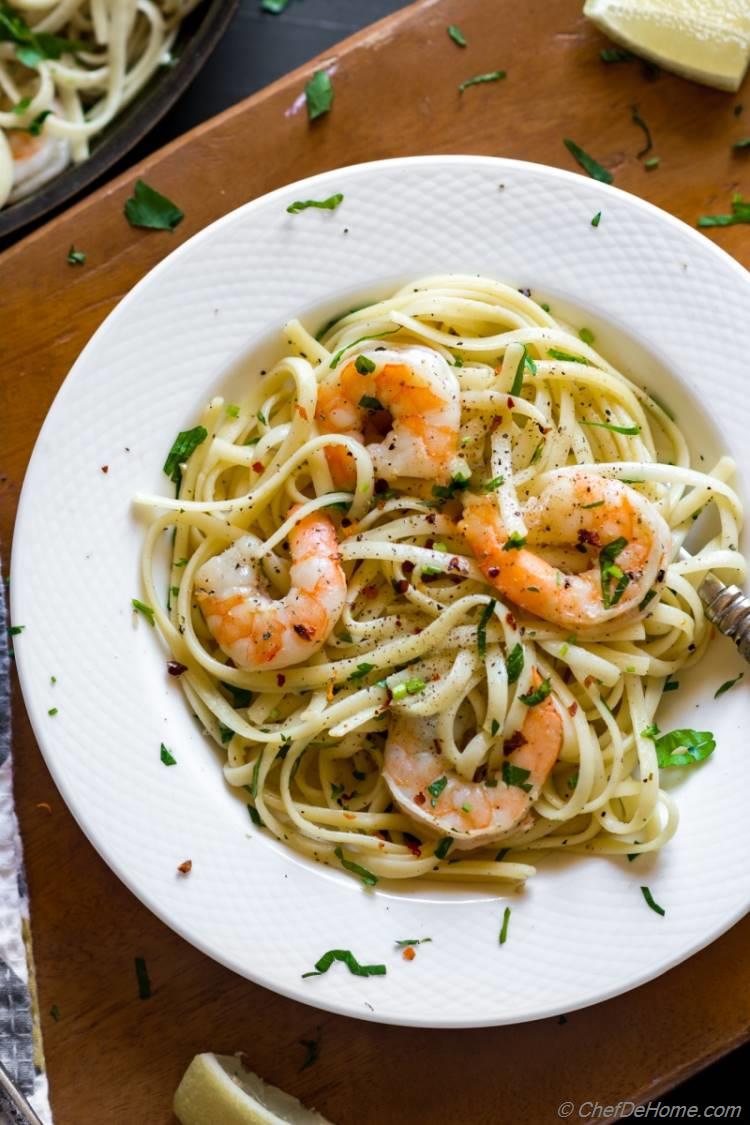 This garlicky shrimp scampi linguine has been often on my dinner table. Who does not love a 25 minute dinner promise? Ask me, I adore it! :) Oh, and save leftovers for one more day. Refrigerate, reheat with some reserved pasta water for second dinner. Leftover pasta will also make great Italian Frittata hint hint. 
If you love Shrimp? I have some more dinner recipes to try:
1. Cauliflower Rice Shrimp Tacos
2. Shrimp Fried Rice
3. Grilled Chimichuri Shrimp with Couscous 
Let's make this pasta and shrimp for dinner tonight. For you and you only, I'm also bringing a video on "How To Make Shrimp Scampi Pasta".
I hope you will enjoy! For more inside stories, connect with me on Instagram @SavitaChefdeHome

Wish you a wonderful day ahead! 
Watch Video
How To Make Garlic Shrimp Scampi Linguine
Learn to make Garlic Shrimp Scampi Linguine. Linguine coated in buttery Garlic and Wine Shrimp Scampi sauce for a 25 minute weeknight pasta dinner!
A side of green salad will make this a complete meal.
Garlic Shrimp Scampi Linguine
review

)
(1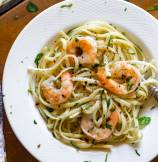 Total Time:
Prep Time:
Cook Time:
Cuisine:
Italian
(

Pasta, Main Course

)
Difficulty:
Easy
Yields:
1 Pound Pasta
- Serves:
4
(

2-3 Main or 4-5 Side servings.

)
Ingredients
Shrimp Scampi Pasta
Directions
1.

Cook linguine (or whichever using) pasta according to package directions. Once pasta is cooked, drain and set aside.

2.

Heat oil and 1 tablespoon butter in a heavy bottom saute pan. Add onion and garlic with generous pinch of salt, and chili flakes. Saute until onions are soft. Make sure garlic does not burn.

3.

Add in shrimp (tail on, if using), season with salt. Saute until shrimp is no longer opaque (turn halfway to ensure both sides are bright orange in color), remove in a plate and set aside.

Additional Notes:

Trim tails from cooked shrimp or serve as-is per your preference.

4.

In same pan, add white wine, lemon juice, with chicken stock and boil mixture until 3-5 minutes or until most of alcohol from wine has evaporated, and mixture has picked up flavor from sauted onion, garlic and shrimp. Taste and adjust salt and lemon juice (if needed).

5.

Turn heat to medium-low, stir in remaining butter, heat until just melted, return shrimp back to pan with cooked pasta. Top with generous pinch or two of salt and black pepper, and chopped parsley. Toss to coat pasta in shrimp scampi sauce. Serve immediately with side of more lemon wedges. Enjoy!
DID YOU MAKE THIS RECIPE?
Tag
@SAVITACHEFDEHOME
on Instagram and hashtag it
#SAVITACHEFDEHOME
© Chef De Home. Post content including video and photos are copyright protected.
We Think You'll Love