Mango Chutney
Sweet and Spicy Mango Chutney. Gluten free, vegan. Needs only 5 minutes prep.
Posted On:

Mar, 16
| Author:

Savita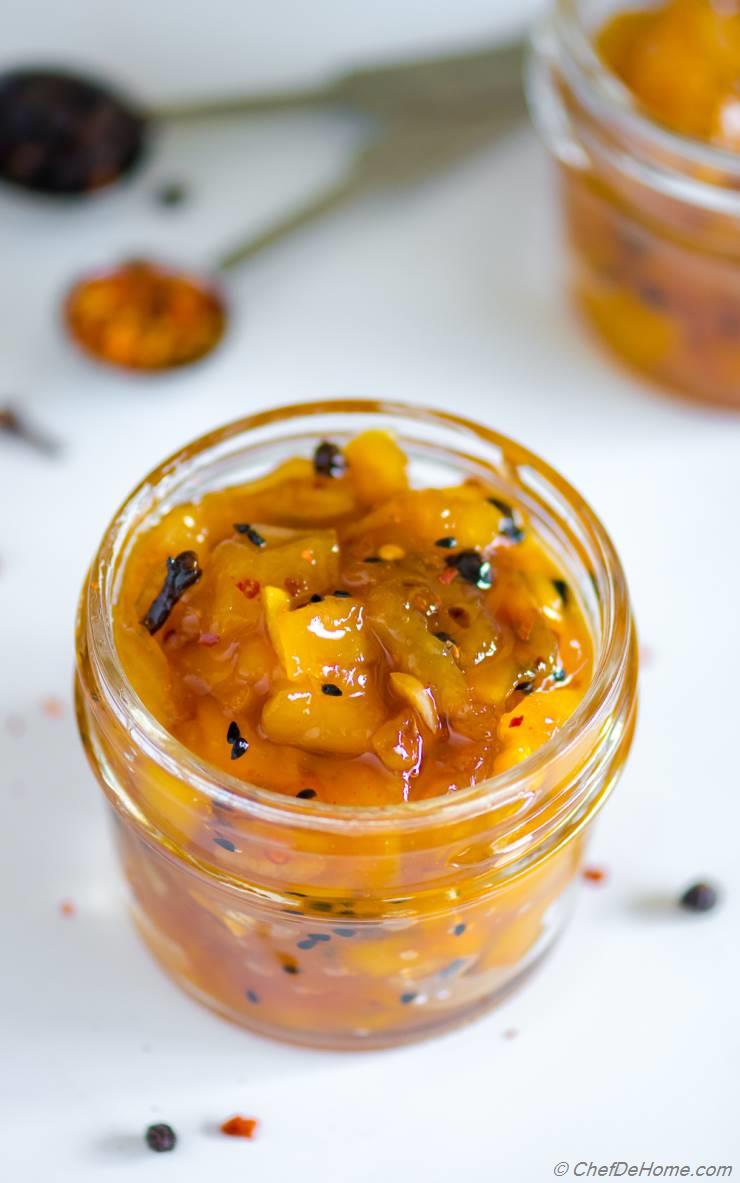 Mango Chutney - Sweet and spicy chutney made with sweet mangoes, ginger, garlic, chilies and spices. Great on breakfast toast, grilled meat or on side with curry (yumm). This sweet and spicy chutney is so easy to make that you will love cooking some all mango season. Only 5 minutes of prep.
My only request is that make a bigger batch because it disappears fast! It is also gluten free, nuts free, and vegan.
Whenever mangoes are in season, a batch of spicy mango chutney is always in my refrigerator. Honestly, I adapt this approach  with lot of seasonal sweets. Apple Chutney Cranberry Chutney in Fall, Kiwi Chutney in Winter and Mango Chutney whenever I can find fresh mangoes in market. When mangoes are not in season, a batch of frozen diced mangoes also make great chutney.
A good chutney is all about the quality of ingredients used. There are not many ingredients. Actually, it is all about mangoes. I found a pack of 6 mangoes in Costco. A few went to smoothie and rest were little firm for my liking. These were best for mango chutney.  
To make mango chutney, I start by peeling the mangoes and dicing the pulp into bite size chunks. Small size pieces cook evenly and result in delicious chutney with mango just melt-in-mouth good. Since it is not full mango season yet.. You can also use frozen diced mangoes (thawed) Only thing is to consume frozen mango chutney faster. Fresh mango chutney will stay fresh longer than one made with frozen.
Once I have the diced mangoes... Rest ingredients are super easy to prep (follow the instructions in recipe steps). Once I have all the ingredients, a quick trip of pantry to grab some spices and I'm ready to make yummy chutney.
When it cooks on stove, the kitchen is filled with pickling and mango aroma.. #spring season #pickling season is here.
Oh, this reminds me. You can use this recipe to make chutney with any stone fruit. In summers many stone fruits are in season: peaches, plums, even cherries.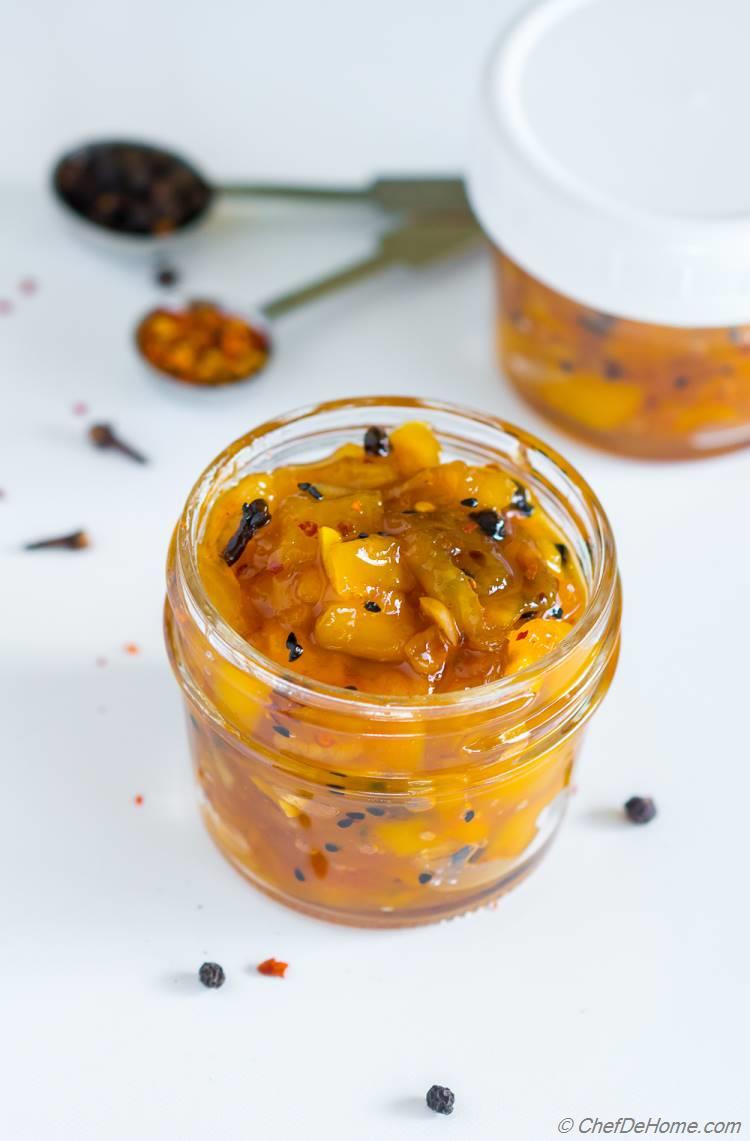 How to Use Mango Chutney:
In my home, a simple toast or a spoon is good enough. We love eating this delicious chutney on side with any main meal. Just to spice-up every bite. Mango Chutney also goes great with following:
1) Layer in Puff Pastry Pin Wheels for sweet and spicy appetizer bites.
2) Top on grilled meats. Such as chicken, shrimp skewers or kebobs.
3) Top on Rice Bowls.
4) Layer in Sandwiches.
5) Add on salads.
What is my not-homemade favorite Mango Chutney?
I have to admit, when I don't have access to mangoes or when I'm in hurry. I sometimes do use store bought mango chutney. Honestly, there is nothing wrong in buying a ready-made chutney as long as you it is good quality ingredients and above all it tastes good.
So, on such busy days, I have few of my favorite brands to help me: Mango Chutney (affiliate links)
Okay, now why a Mango Chutney recipe today. Because I have something delicious coming next week. Something that has vacations and potlucks written all over it. And it uses Mango Chutney as main ingredient. Stay tuned.
Happy Weekend!
-Savita
Grilled to try with Mango Chutney:
Mango Chutney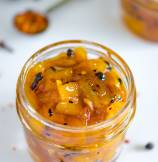 Total Time:
Prep Time:
Cook Time:
Cuisine:
Indian
(

Condiment, Relish, Preserve

)
Difficulty:
Easy
Yields:
1 Cup Chutney
- Serves:
6
Smart Swap: Replace spices with only fennel seeds for a cooling mango chutney.
Directions
1.

In a deep sauce pan, add vinegar, **whole spices, sugar, salt, and chili flakes. Heat the mixture for 5 minutes on medium heat. In this time spices release perfume into the vinegar and sugar dissolves and thickens.

2.

Add diced mango, sliced ginger, and garlic. Set heat to medium low and let chutney cook for 15-20 minutes or until vinegar has mostly evaporated, mangoes are soft and slightly mushy deep orange color.

Additional Notes:

Keep an eye last 5 minutes so chutney not catch on pan.

3.

Remove chutney from heat. Pour into a sterilized clean container with lid. Let cool to room temperature before refrigerating. It tastes better after 2-3 days. Lasts 4 weeks in refrigerator.
Savita's Notes:
About 4 medium mangoes yield 3 cup diced mango pulp. Discard skin and seed. Mango should not be raw or very soft. It should be ripe and firm to touch.
**Whole Spices: 6-8 Cloves, 1/2 tsp Nigella Seeds, 6-8 Black Peppercorns. You can also add half of cinnamon stick, and one star anise. In peek summer, you can also skip all spices and use only black pepper corns and/or fennel seeds.
Mango Chutney Shelf Life: Chutney tastes better after 2-3 days. Lasts 4 weeks in refrigerator.
DID YOU MAKE THIS RECIPE?
Tag
@SAVITACHEFDEHOME
on Instagram and hashtag it
#SAVITACHEFDEHOME
© Chef De Home. Post content including video and photos are copyright protected.
We Think You'll Love