Instant Pot Mexican Rice
Classic Mexican Rice cooked perfectly in Instant Pot. Delicious with zesty restaurant-style Mexican Rice flavor.
Posted On:

Nov, 10
| Author:

Savita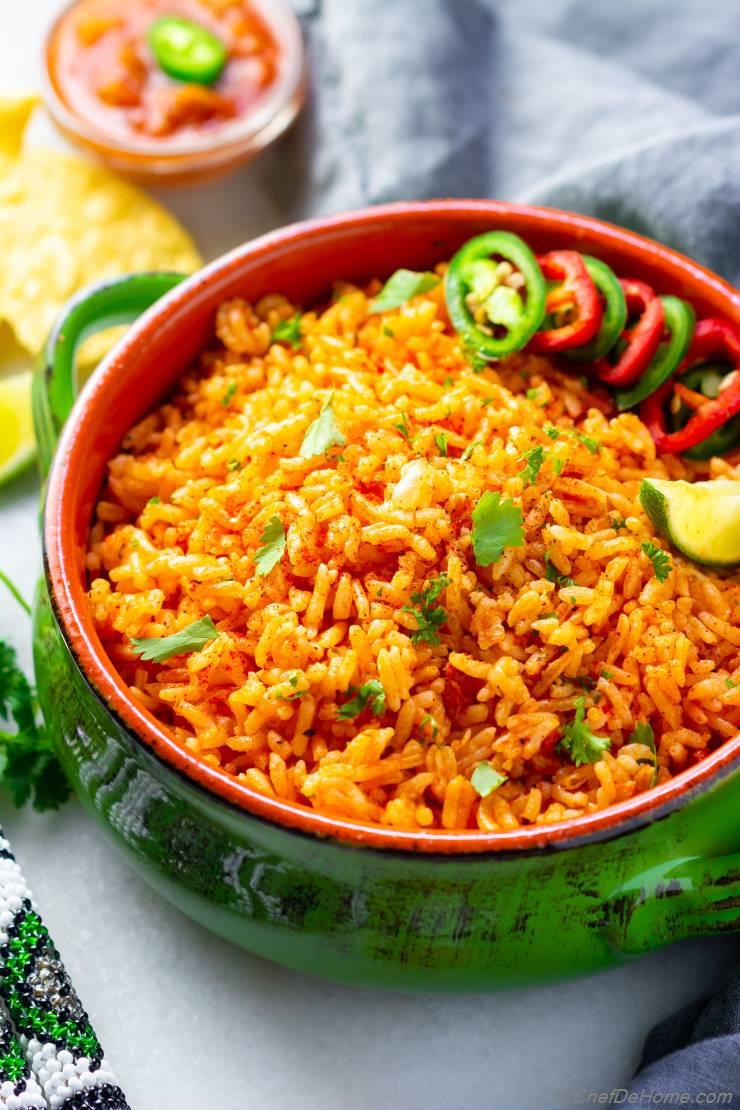 Mexican Rice, the signature orange-red rice flavored with tomatoes, zesty spices and prepared in Instant Pot for quick delicious rice side ready in minutes. Gluten free, loaded with ton of flavor. Perfect to fill in tacos, serve on side with enchiladas, fajitas or your favorite Mexican Main Course. 
Today, I took liberty to transform the classic Mexican Rice recipe to a delicious IP staple recipe. A few simple modification and kitchen feels like transported to Mexican Restaurant. If you like my Mexican, Instant Pot Garlic Brown Rice recipe? This will be your next favorite "rice" to cook in IP. 
So, let's make some Mexican Rice!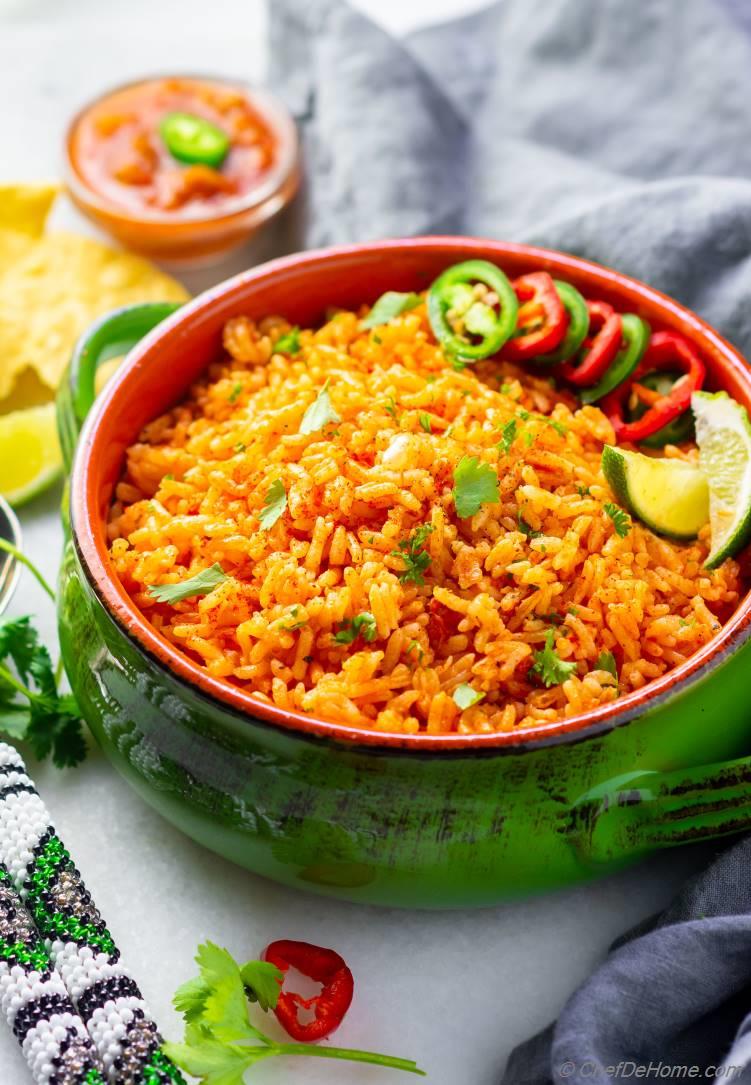 Classic Mexican Rice are flavorful, aromatic, zesty with delicious tangy tomato flavor and signature orange-red color. Mexican rice are served with almost every meal in Mexican Restaurant. I'm sure you will agree. If you ever had these before.. the flavor of these rice is so complex yet clean and refreshing.
Can you believe? Such delicious flavor and Mexican rice need only 7 main pantry ingredients? No kidding! If you have tomatoes, long grain rice, onion, garlic, oregano, cumin and chicken stock? Oil, salt, garnish on the house. You have all ingredients to make Mexican Rice at home.  
Don't worry if you don't own Instant Pot. Check notes to make same recipe on Stove top in regular pot.
When I started making Mexican rice in instant pot.. I really loved the results.  Instant pot cooks perfect rice if the amount of water and the cooking time is set correctly. So, no need to perch on stove, just follow the recipe, close IP and wait for timer to go off. Rice are ready to enjoy!

How to Fix Instant Pot "Burn" Message When Cooking Rice
Few months ago, one of my reader complained she had "burn" message on her IP when cooking my Instant Pot Curry Chicken Rice recipe.  I had never experienced "burn" and I cook so much rice in Instant Pot. This changed until I bought a new larger Instant Pot recently. My old, smaller IPs still cook same rice recipe without issues. This is what helped me fix this issue once for all. 
This Mexican Rice recipe took me 4 times to perfectly cook in new IP without "burn" message. But, I'm glad. Now, I can once for all put this topic to rest. So, anyone of you not able to cook rice in IP just because they might burn. Follow following and enjoy as many rice recipe as you like in your favorite IP.
First, what happened? Why new IP had this message. 
When starchy grains are prepared in Instant Pot. The too much starch can make rice stick to bottom. This results in poor heat flow and cause rice to catch fire at bottom.  
My new Instant Pot is largest one I own. Has better heating surface and very good quick heating capacity. This makes saute or searing meat way more quick in Instant Pot. At the same time, quick heating can leave residue heat when cooking a multi-step recipe such as saute then pressure cooking. Hence, the overheating was resulting in burning rice.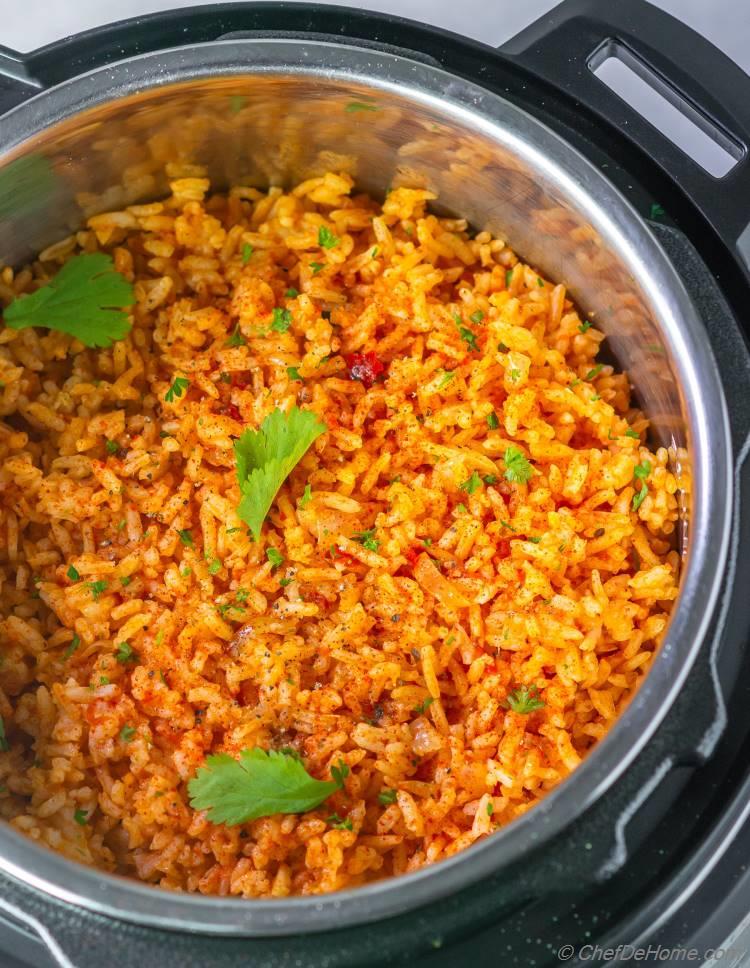 Here is how to fix "Any Rice Recipe" with few simple steps:
1. Rinse the rice before cooking. Run through water until water runs clear. This will fix 80% of the problem.
2. After saute the aromatics. Switch off the Instant Pot when mixing in water/stock/rice. This will allow IP plate to cool down before pressure cooking. Really helpful. And it takes a second to just press "Cancel" and IP reads "Off". Then continue as recipe suggests.
3. When recipe calls for thick gravy like liquid, add 2-4 tbsp more water to adjust consistency of cooking liquid. Thick liquids loose water fast and can catch quickly at bottom.
These three easy steps with always fix "burn" message for your next rice recipe. I guarantee. If anyone of you still don't benefit. I have yet another 4 trick, up my sleeve. 
4. Cook rice on Low Pressure (Manual) instead of High Pressure. e.g. for white long grain rice, instead of cooking for 4 minutes at High Pressure.. Cook for 7 minute at Low Pressure.
Follow these and enjoy perfectly cooking Rice from Instant Pot always.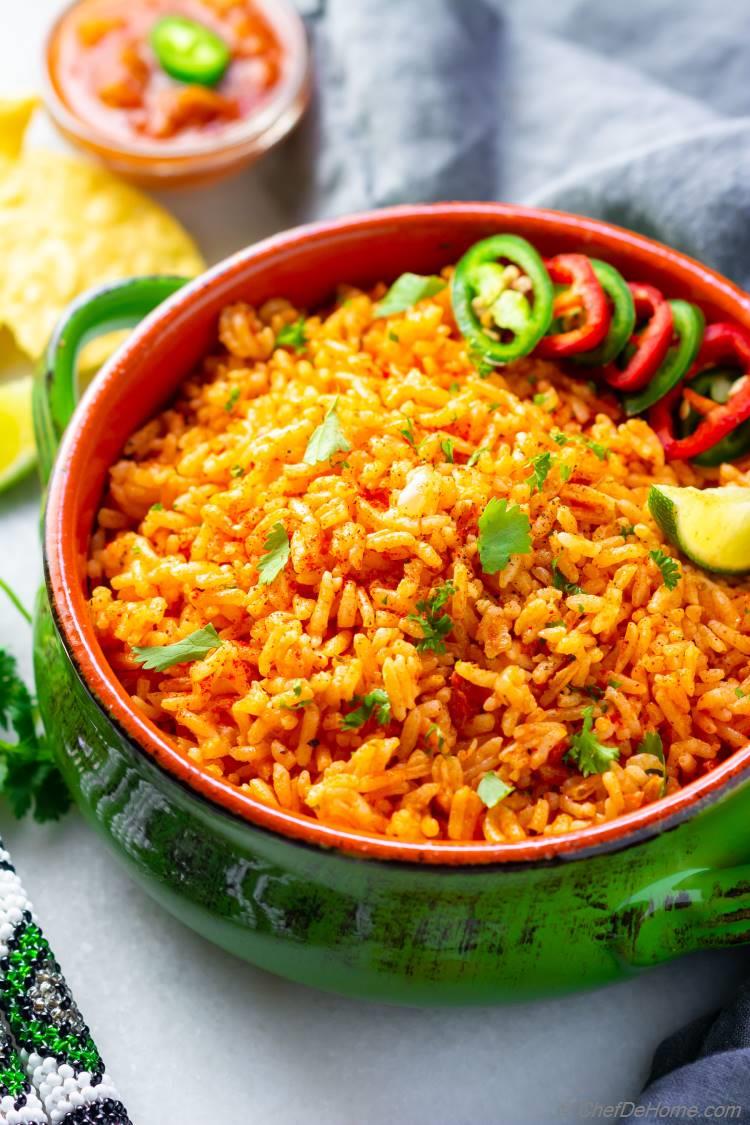 Make some Mexican Rice tonight. Fill in tacos, serve on side with your favorite Mexican Dinner. I recommend trying these Main Course for Mexican dinner at-home.
1. Chipotle Barbacoa
2. Cilantro Lime Chicken Tacos
3. Tacos Al Pastor
4. Pollo Asado
5. Salsa Chicken
This Mexican Rice recipe has truly become our favorite. I hope you will enjoy it as much as we do. 
Have a good weekend.
 -Savita
Instant Pot Mexican Rice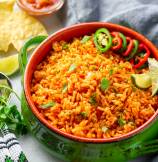 Total Time:
Prep Time:
Cook Time:
Cuisine:
Mexican
(

Side Dish

)
Difficulty:
Easy
Yields:
6 Servings
- Serves:
6
(

No. of servings depends on serving size.

)
Ingredients
Mexican Rice
Garnish
Directions
1.

Prepare Ingredients - *Rinse rice until water runs clear. Puree tomatoes. Dice white onion. De-seed, mince and divide jalapeno into two parts. Mince garlic. Set aside.

Additional Notes:

Very important to *rinse rice for this recipe.

2.

Set instant pot to "Regular" saute setting. When pot reads "hot". Add oil. Let oil heat. Add onion, garlic. Saute stirring often until onions are soft. (2-3 minutes) Add tomato paste, oregano, cumin, minced jalapeno and continue saute 1 more minute.

3.

Add rinsed white rice and saute for 2 more minutes. Switch off Instant Pot's saute setting. Instant Pot will read "off".

Additional Notes:

You can also continue and saute rice until these turn milky white. This yields a chewy rice texture.

4.

Add tomato puree, salt, chicken stock, water. Stir to mix well. Check **seasoning - salt. Pressure cook at high pressure for 4 minutes. Let pressure ***Normal Release. After 10-12 minutes, open and fluff rice with fork. Add remaining minced jalapeno, and cilantro. Serve warm with side of lime wedges. Enjoy!
Savita's Notes:
YOU CAN ALSO COOK RICE in
Pressure Cooker: Pressure cooker instructions are same as Instant Pot since I cooked rice at Pressure Cooker setting of Instant Pot.
Dutch Oven Or Pot on Stove: Follow steps as-is up-to to step-3 above but use 2 cups water/stock for every one cup of white rice. Bring to boil on high heat, then simmer covered until water has been absorbed. Let cool a little then fluff with fork.
*Rinse: Starchy grain are better rinsed to get rid of excess starch before cooking in Instant Pot. For this recipe, I highly recommend rinsing rice until water runs clear. This and switching-off IP after saute is very important. These help Instant Pot plate cool down. Very important if your IP heats fast and flash "burn" when cooking starchy grains such as Rice.
**Seasoning: Once everything is mixed in (step-4). Taste and adjust salt. Salt should be just a little more than what you prefer. It adjust well in cooking. Follow this and always eat perfectly seasoned rice.
***Normal Release is letting Pressure Release on it's own which is about 10-12 minutes for a standard Instant Pot. Quick Release is Instant Release.
DID YOU MAKE THIS RECIPE?
Tag
@SAVITACHEFDEHOME
on Instagram and hashtag it
#SAVITACHEFDEHOME
© Chef De Home. Post content including video and photos are copyright protected.
We Think You'll Love