Chimichurri
Chimichurri, Argentinian Green Pesto, is so versatile that you can use as marinade, spoon over grilled meats or make seasoned herb rice. Needs only 6 ingredients and 10 minutes!
Posted On:

May, 8
| Author:

Savita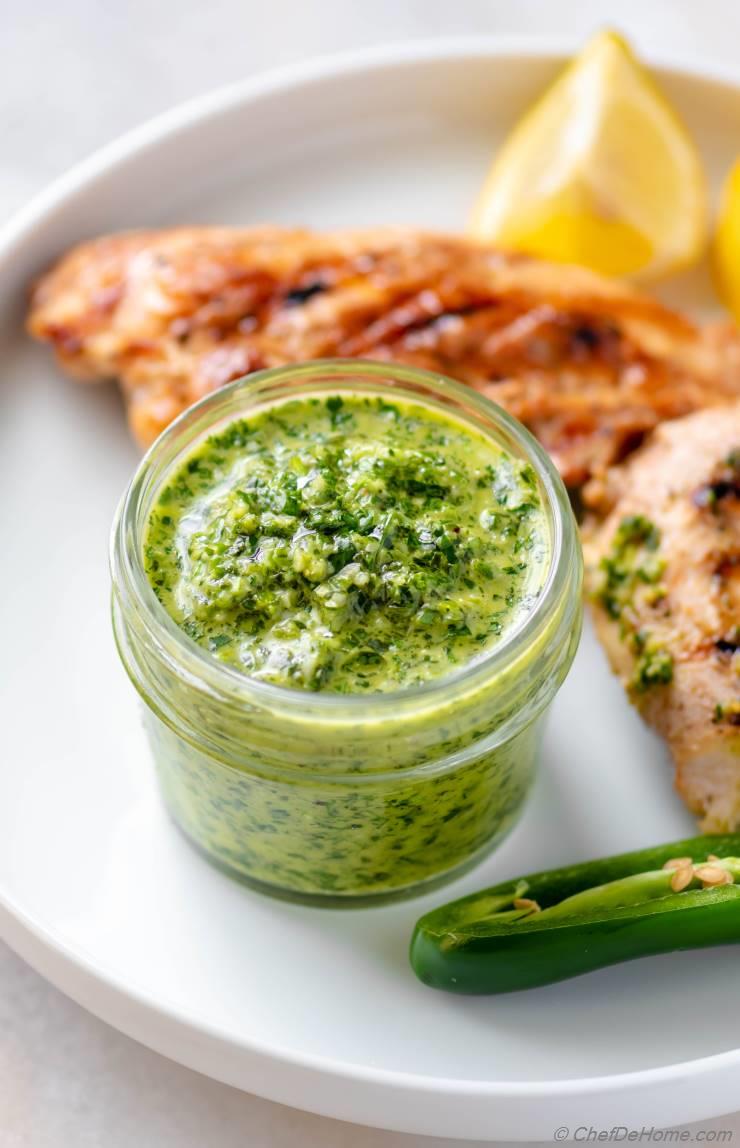 Delightful blend of 6 ingredients, Chimichurri is Argentinian Green Pesto Sauce which packs zesty punch of flavors. Made with fresh herbs parsley, oregano, this condiment alone can brighten up flavor of: chicken, meat, tofu, fish or vegetables. 
Use it as; 1) marinade, 2) pour over sauce for grilled meats, 3) vinaigrette to dress salad or rice. Gluten free, vegan. Above all, fresh and bright! Perfect for summer cooking.
Let's learn to make Chimichurri!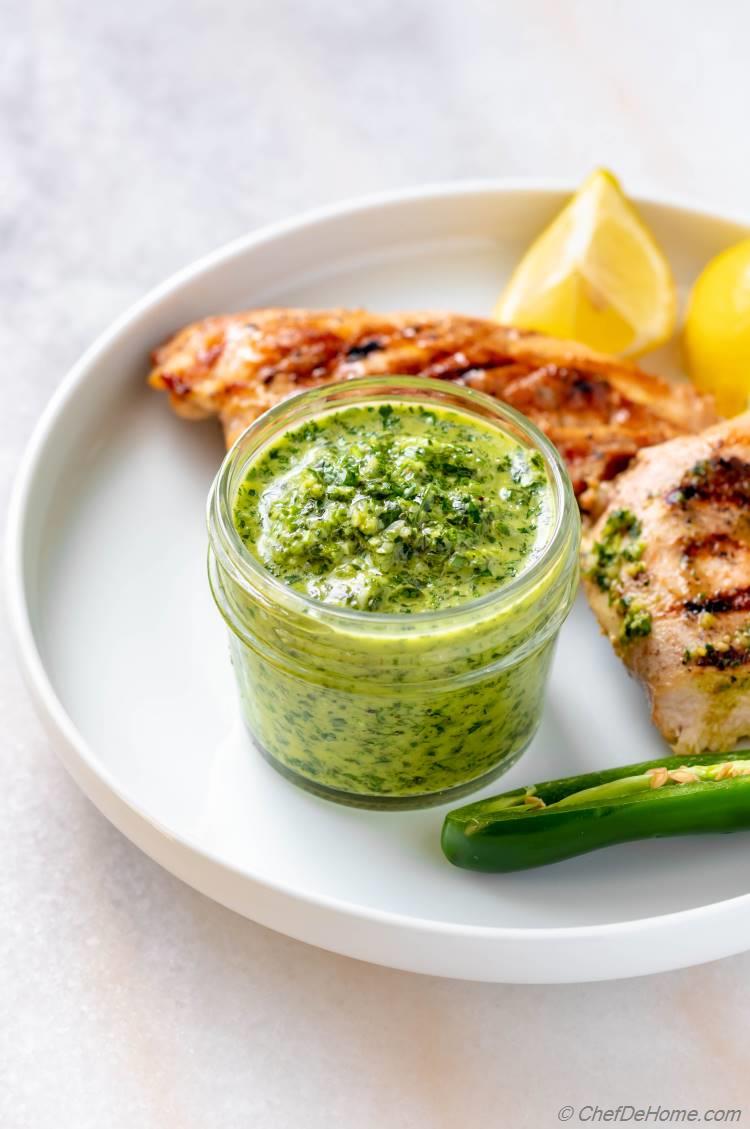 CHIMICHURRI
Green chimichurri, the classic Argentinian sauce often made with fresh herbs, garlic, red-pepper flakes and red-wine vinegar. My Chimichurri recipe is little different. Unlike many recipes which call for vinegar and chili flakes in chimichurri.. I like to use to all fresh ingredients and replace vinegar and chili flakes with lemon juice and jalapeno. Honestly, a sauce so fresh and simple deserves best and freshest ingredients. This is my favorite best chimichurri recipe ever. Can't beat subtle kick of jalapeno, oregano, and flavor of lemon juice.
It is very easy to make Chimichurri Sauce. Get fresh parsley, oregano, garlic, jalapeno, olive oil and lemon juice. Once you have all the ingredients, add all ingredients to a food processor or blender jar and pulse until ingredients blend into a chunky green sauce.
However, I must share that Traditional chimichurri is not mixed in food processor but coarsely chopped or grated using mortar and pestle. If you have time to spare and want to make chimichurri the traditional way; first small chop all herbs and garlic, then coarse grind using mortar-pestle. Next, mix in lemon juice, olive oil, salt and pepper. For perfect marriage of flavors, let sauce sit for a while. Mix with spoon before using.
What is The Difference between Traditional Chimichurri and food processed Chimichurri?
In Traditional Chimichurri, oil is not emulsified. It needs to sit for sometime to develop full flavor. Food processor, on the other hand, blends everything and emulsifies the oil with herb which gives sauce an instant flavor boost.
What Is the Difference Between Pesto, Chimichurri and Salsa Verde?
The steps to make chimichurri is very similar to making Basil Pesto or any green sauce such as Salsa, Salsa Verde, Cilantro Chutney etc. All of these sauces are used as marinade as well as dressing but these differ in country of origins, ingredients used and thereby, in flavor.
Pesto, is mainly made with basil, Parmesan cheese and originated in Italy.
Chimichurri, typically a blend of parsley and oregano. and is of Argentinian descent.  
Salsa Verde is made with Cilantro and Green Tomatoes and is of Spanish/Mexican origin.
All three are zesty fresh Green Sauces but have distinct difference in flavor. I have all three recipes on blog. Best way to know the taste and flavor if the sauces is to make some. Start with Chimichurri Sauce, next try Basil Pesto and Salsa Verde.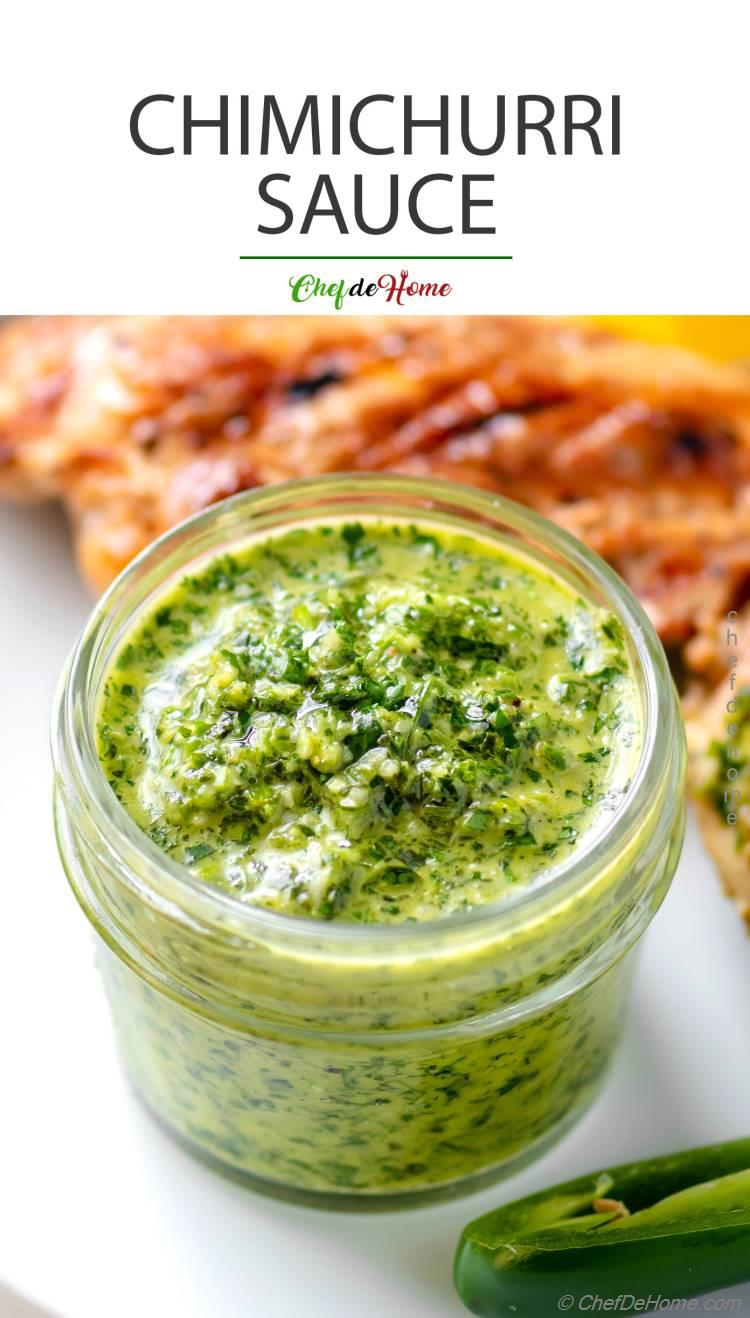 WHAT IS CHIMICHURRI USED FOR?
In my home, we use Chimichurri many ways. It lasts 2 days in refrigerator which gives me opportunity to use it multiple times. It is served with grilled meats, or with chicken. Even grilled vegetables or tofu goes will with spoonful chimichurri. I mix it into rice to make a fragrant herb rice like Spanish Cilantro Rice but more zesty... even use it as  vinaigrette seasoning for Pasta Salad.
Try my Chimichurri Shrimp and Couscous Salad. With grilled shrimp, Israeli Couscous and asparagus. It is a complete dinner salad and very flavorful. (All magic of tasty Chimichurri sauce. In this recipe, I used it to as dressing and as pour-over sauce.)
Let me summarize again what all ways you can use Chimichurri.
MARINADE:
Marinate chicken, meat, or veggies in fresh made Chimichurri before cooking. In my experience, chimichurri tastes better if I let it sit for a few hours.
To make Chimichurri Chicken, make a batch of chimichurri using the Recipe Card. Add half of chimichurri sauce and chicken thighs into a container with lid or sealable bag. Coat chicken in the sauce. Cover and refrigerate for 2 hours before cooking. When ready to cook, take chicken out of marinade, discard marinade. Grill chicken until nice grill marks appear and chicken is fully cooked. Chimichurri flavor gets better and intensifies when chicken is grilled. Drizzle remaining chimichurri over the grilled chicken for bright zesty finish. A side of grilled corn in the cob is perfect. Enjoy!
DRESSING:
All recipes for spice-rubbed grilled meats or chicken, even grilled tofu can benefit from few spoons of chimichurri spooned over the grilled meat before serving. It adds a zesty depth of flavor.
SEASONING:
Season fresh cooked pasta or rice with few spoons of chimichurri. It is perfectly easy way to make Herb Rice or bright Pasta Salad. 
To make Chimichurri Rice, cook long grain rice. While rice cook, follow Recipe Card to make a batch of fresh chimichurri. Once rice are cooked. Drain access water. Mix Chimichurri in hot rice. Taste and adjust salt. Let sit covered for 10-15 minutes before serving. This time gives rice opportunity to absorb lots of flavor from chimichurri. Serve on the side with Chimichurri Chicken or protein of choice. Enjoy!
Friends, I hope you will love Chimichurri as much as we do.
Honestly, fresh sauces such as Chimmichurri, Basil Pesto can help put quick yet flavorful healthy meal on dinner table in few minutes. Blending sauce is easy with a food processor or blender. Sauces can me made ahead. Just before dinner, cook protein, pour sauce and serve. 
Enjoy!
Pairing Ideas:
Chimichurri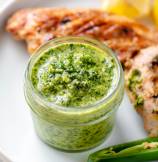 Total Time:
Prep Time:
Cook Time:
Cuisine:
Mediterranean
(

Sauce, Marinade, Condiment

)
Difficulty:
Easy
Yields:
3/4 Cup
- Serves:
6
Nutrition:
135 calories per serving
(

Serving Size: 2 tbsp

)
Directions
1.

Prepare Chimichurri Ingredients

:

Prepare ingredients by rough chopping parsley, oregano. Peel garlic cloves, de-seed jalapeno and juice lemon.

2.

Prepare Chimichurri

:

In a food processor jar, combine all prepared Chimichurri ingredients along with oil, salt and black pepper. Pulse to puree to a little chunky green sauce. Transfer to a bowl. You can refrigerate it in covered container for up-to 2 days.

Additional Notes:

You can also prepare Chimichurri traditional way. Check Note 1 to learn more.
Savita's Notes:
Traditional Chimichuri is not mixed in food processor but coarsely chopped or ground using mortar and pestle. If you have time to spare, I recommend, small chop all herbs and garlic, then coarse grind using mortar-pestle. Next, mix in lemon juice, olive oil, salt and pepper.
Chimichurri Marinade: In my experience, chimichurri tastes better if I let it sit for a few hours. If you using Chimichurri to marinate Chicken, add chimichurri with set aside (refrigerate) for 2 hours before cooking. (Learn more ways to use Chimichurri in blog description.)
DID YOU MAKE THIS RECIPE?
Tag
@SAVITACHEFDEHOME
on Instagram and hashtag it
#SAVITACHEFDEHOME
© Chef De Home. Post content including video and photos are copyright protected.
We Think You'll Love