Chimichurri Chicken
Grilled Chimichurri Chicken recipe with amazing lemon-garlic Chimichurri. Sauce works double-duty, as marinade and as pour-over sauce. Easy and bold flavor recipe for summer entertaining.
Posted On:

Jul, 8
| Author:

Savita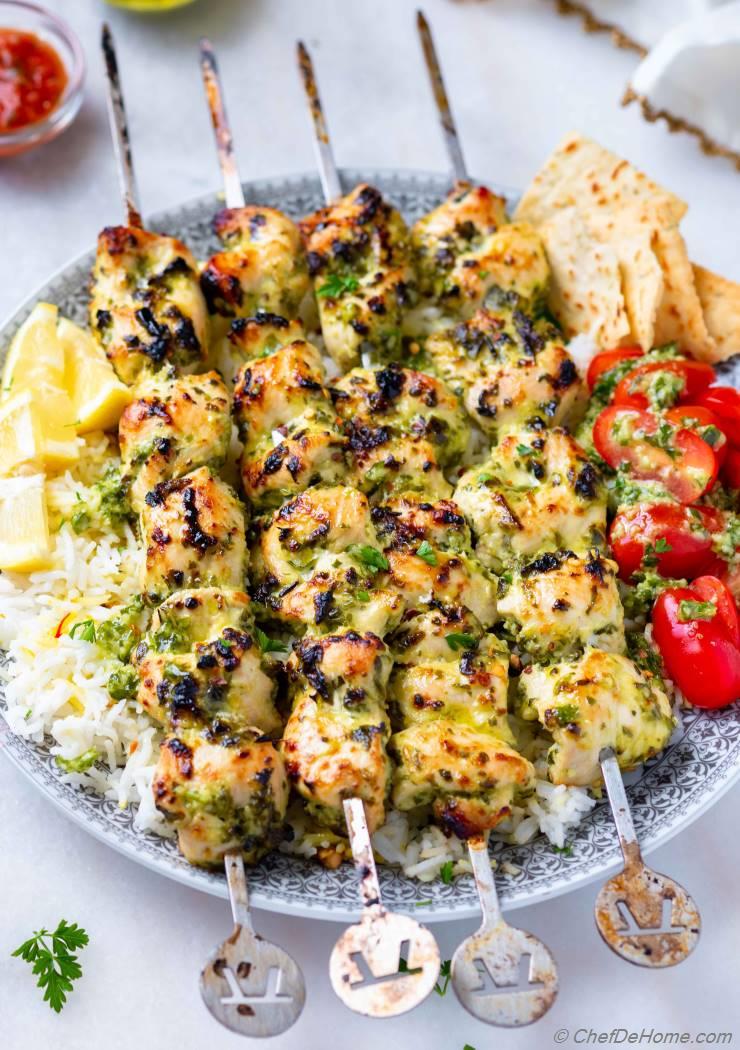 This Chimichurri Chicken recipe gets bold, double layers of flavor from lemon-garlic Chimichurri as same sauce works as marinade and pour-over sauce for grilled chicken. Chicken grills juicy, moist and bursting with Chimichurri flavor. It so delicious that this recipe is a must try for every grilled chicken fan! Gluten free, low-carb, low-fat, paleo, and whole-30 diet friendly.
Oh if you not looking to grill? I have included instructions to prepare chimichurri chicken in oven. Grill or Oven, with just 15 minutes of prep and pantry staples, this chicken main course is much easier to prepare at home than you might imagine. On dinner table in 30 minutes.
So let's cook some Chimichurri Chicken! Shall we?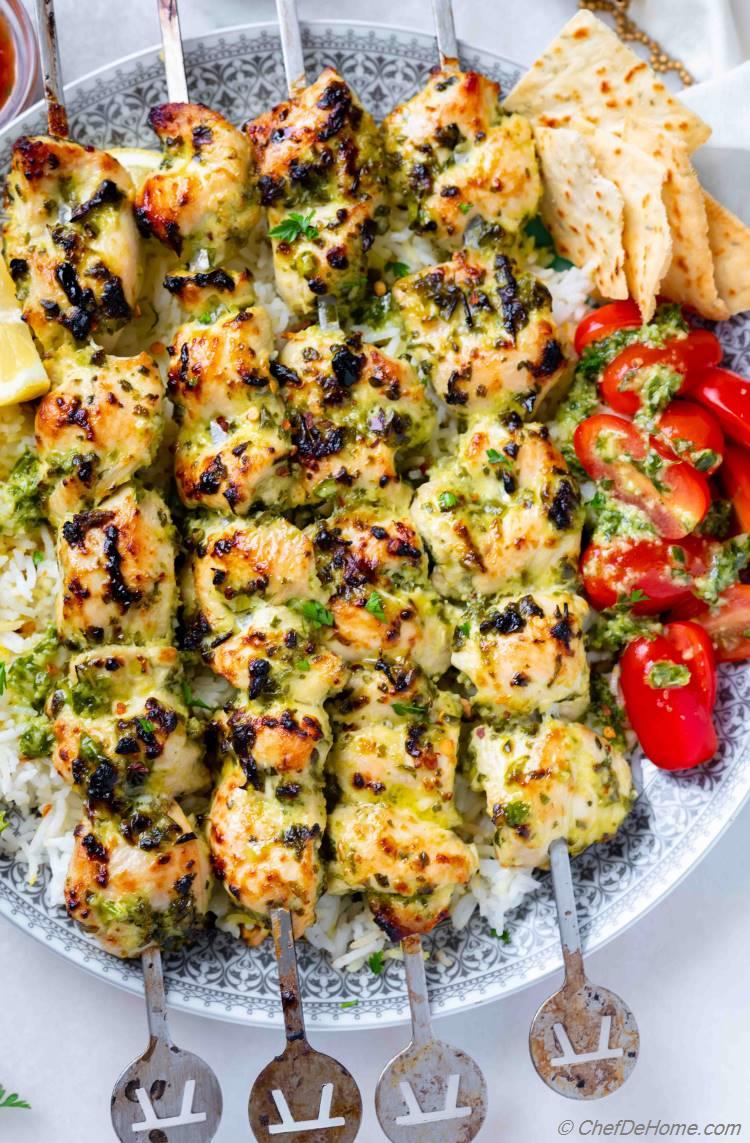 Chimichurri Chicken Marinade
Chimichurri Chicken marinade is the Chimichurri Sauce. Make the sauce and you have a marinade. It is that simple. Chicken gets double flavor of chimicurri; first from marinade and then from the fresh sauce poured over. 
Flavor is so spot on that I often double the sauce. More you have for pour-over is better. Plus it goes fast. (hint)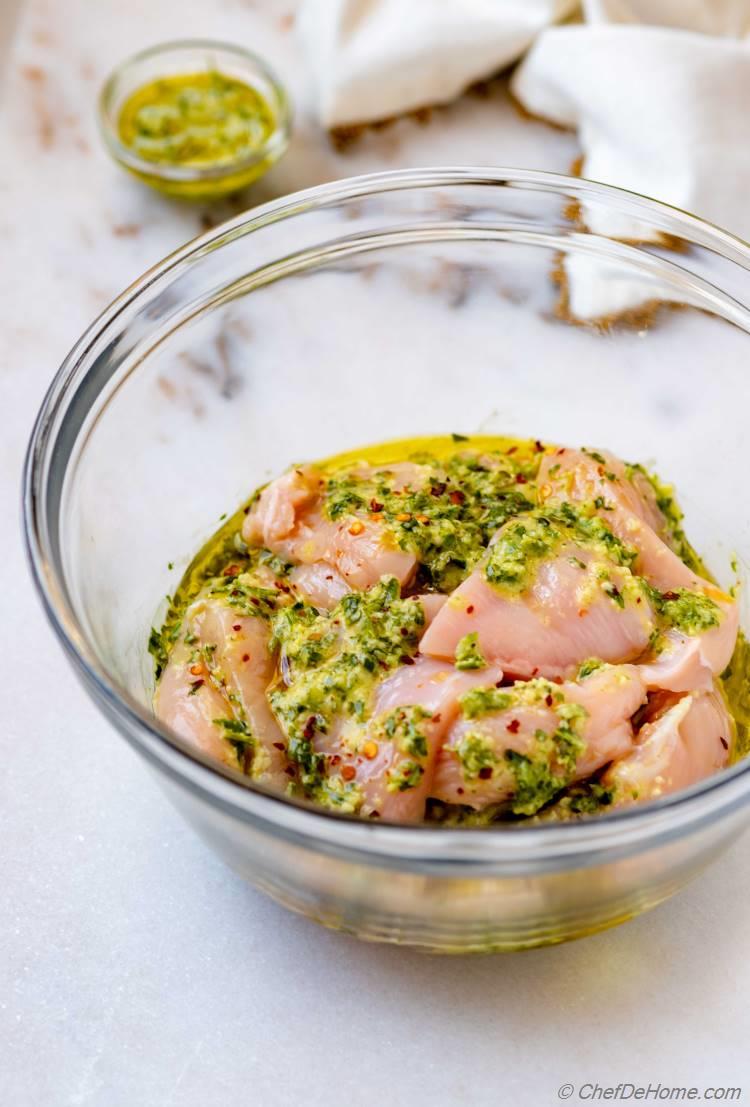 My secret (no so secret as you see it often on the blog) for delicious marinade is Oregano. Oregano gives Chimichurri Chicken that extra punch of meaty grilled flavor. In-fact, when I don't have fresh oregano in-hand, I often replace it with dried. Only thing is; I don't mix dried oregano in the whole marinade. Instead, make Chimichurri sauce without oregano, take half out to serve as pour-over sauce, and mix dried oregano in remaining sauce (used as marinade). 
Tip: Oregano is essential for marinade. But if you ever just want to make the Chimichurri Sauce, you can substitute oregano with fragrant herbs such as mint, basil.
To prepare Chimichurri Chicken I start by marinating the chicken in the marinade. For good flavor, it is important to marinate chicken for at-least 30 minutes. Marination tenderizes chicken and kabobs come out moist and juicy. 
When ready to grill, I skew chicken onto the skewers, and throw on pre-heated grill until chicken is fully cooked from all sides and kabobs have nice char.. exactly like you get in Greek restaurants! 
Pour fresh chimichurri sauce over fresh grilled chicken. That's it! Chimichurri Chicken is really THAT easy recipe.
Tip: Keep an eye on chicken when start to char, don't let herbs burn. For best results, brush 2-3 times with olive-oil.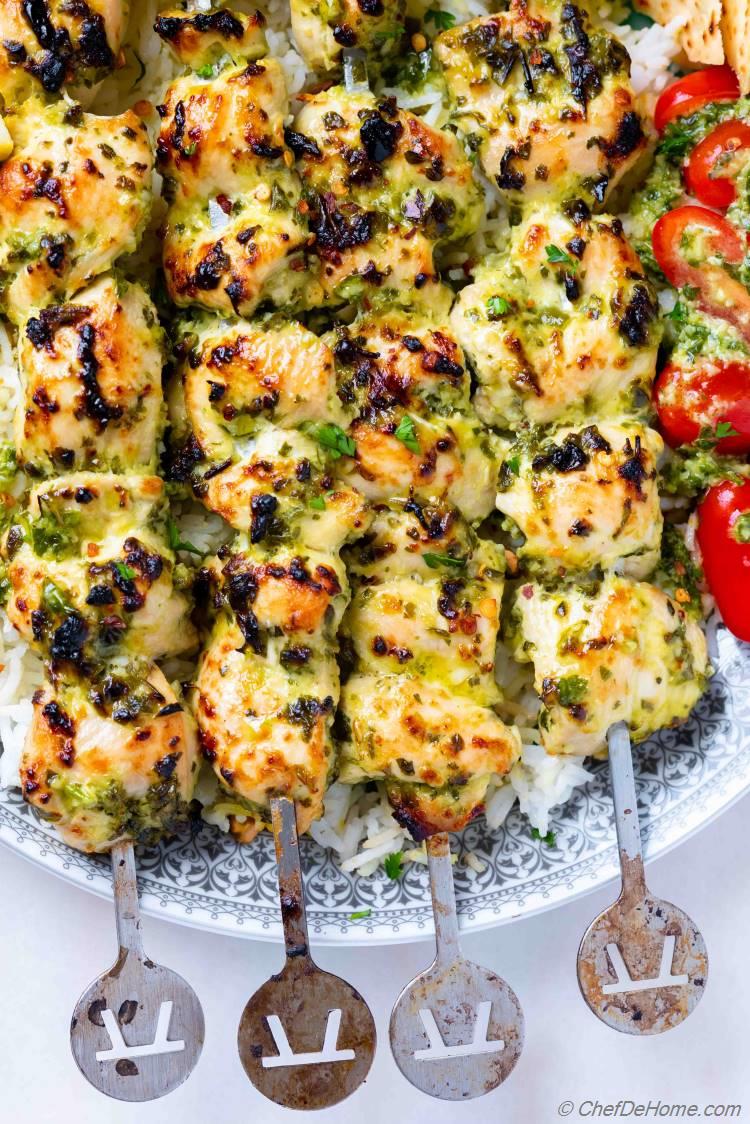 MARINATE OR MAKE-AHEAD CHIMICHURRI CHICKEN:
Marinade recipe doubles easily. Make extra, then cook one round of chicken on weekdays. You don't even need to switch-on grill. You can cook Chimichurri Chicken in the oven or on stove-top in a cast iron grill pan. My personal favorite is oven-broil method because it brings that charred grilled kabobs flavor in chicken. Just broil for 5 minutes each side and perfect grilled chicken kabobs are ready to serve.
In short, make ahead Chimichurri Sauce. Marinate chicken for 30 minutes before grill/broil. Skew, cook and serve!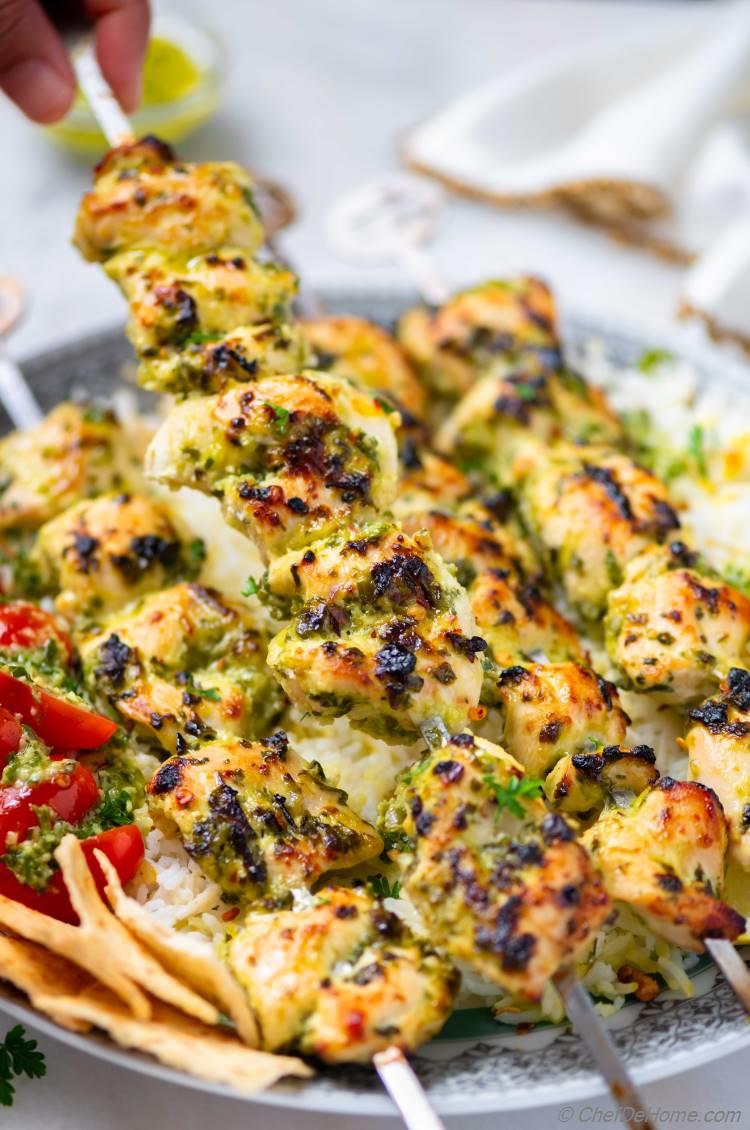 This chimichurri chicken recipe is gluten free and dairy free. You can also make Vegetarian Chimichurri Kabobs. Replace chicken with tofu or paneer. (always have something for your vegetarian guests.)
Bring Grilled Chicken to your backyard BBQ with following fan-favorite Grilled Chicken recipes:
Friends, nothing says Summer like Chimichurri Chicken grilling on an outdoor grill. Aroma of lemon, herbs, garlic with grilling chicken.. Yumm!! You got to try this recipe!
Even if you not planning to cook chicken tonight? I recommend making the Chimichurri Sauce. You can use it as salad dressing, as pour-over sauce for any grilled protein. Don't forget to save some, marinate chicken and try Chicken Chimichurri.
Check back soon with more delicious summer grill recipes.
Please Stay Healthy, Stay Safe.
-Savita x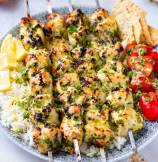 Total Time:
Prep Time:
Cook Time:
Cuisine:
Mediterranean
(

Marinade, Main Course, Dinner

)
Difficulty:
Easy
Yields:
1.5 lb skewers
- Serves:
4
Nutrition:
368 calories per serving
Ingredients
Chimichurri Chicken
For Serving
Directions
1.

Prepare Chimichurri Marinade/Sauce

:

To make the Chimichurri Marinade, in a food processor/blender jar, add all of the ingredients, except chicken, listed in the ingredient list. Blend until herbs are fine chopped, oil is emulsified. Remove half of the marinade in a medium container with lid. Reserve other half for serving with grilled chicken.

Additional Notes:

Double marinade recipe to serve more for pour-over sauce.

2.

Marinate Chicken

:

Slice chicken breast into small 1-2 inch pieces. Add to the bowl with marinade. Sprinkle generous 1-2 pinch of salt on the chicken. Next coat chicken into the marinade. Cover with lid (or close the bag), refrigerate until ready to use. Marinate for 30 minutes to an hour.

Additional Notes:

For overnight marination tips, see note 4.

3.

Make Chicken Skewers

:

Set an outdoor grill to preheat. Skew pieces of marinated chicken onto the skewers. I skewed about 4-5 long tenders per skewer. Brush/spoon any residual marinade in the bowl on chicken-skewers before grilling.

4.

Grill Chimichurri Chicken Skewers

:

Coat preheated grill with oil spray. Grill chicken until it is fully cooked from all sides. Turn occasionally to avoid burning the fresh herb marinade.

Additional Notes:

If cooking in oven, check Oven Method in notes (Note 2)

5.

Serve with More Chimichurri Sauce

:

Place Grilled Chicken on a platter. Pour-over remaining Chimichurri sauce. Serve with side of rice. Enjoy.
Savita's Notes:
Grilling Tips: a) Leave a little space towards handle of skewers for proper handling on grill.
b) If using wooden skewers, soak skewers in water so that these not burn quickly while on the grill.
c) Note: Don't use wooden skewers if broiling in the oven.
Chimmichuri Chicken Baked - To prepare in oven, preheat oven, place skewers on a baking sheet lined with foil/parchment. Set broiler on, cook 5-7 minutes each side or until kabobs are fully cooked. 
Calories/Serving: There are 368 calories per serving. It does not include side of rice. Please note, in grilled meats, oil used in marinade mostly drips away. So actually calories per serving will be lesser.
Marination Time - Small sliced chicken kabobs absorb marinade quickly. For kabobs, marinate 30 minutes up-to 2 hours. If planning to marinate overnight, use whole chicken breast or thighs. 
DID YOU MAKE THIS RECIPE?
Tag
@SAVITACHEFDEHOME
on Instagram and hashtag it
#SAVITACHEFDEHOME
© Chef De Home. Post content including video and photos are copyright protected.
We Think You'll Love