Teriyaki Chicken and Broccoli
Restaurant-style Teriyaki Chicken with healthy broccoli and delicious homemade teriyaki sauce. Better and faster than takeout with easy to find pantry ingredients, 20 minute to cook.
Posted On:

May, 26
| Author:

Savita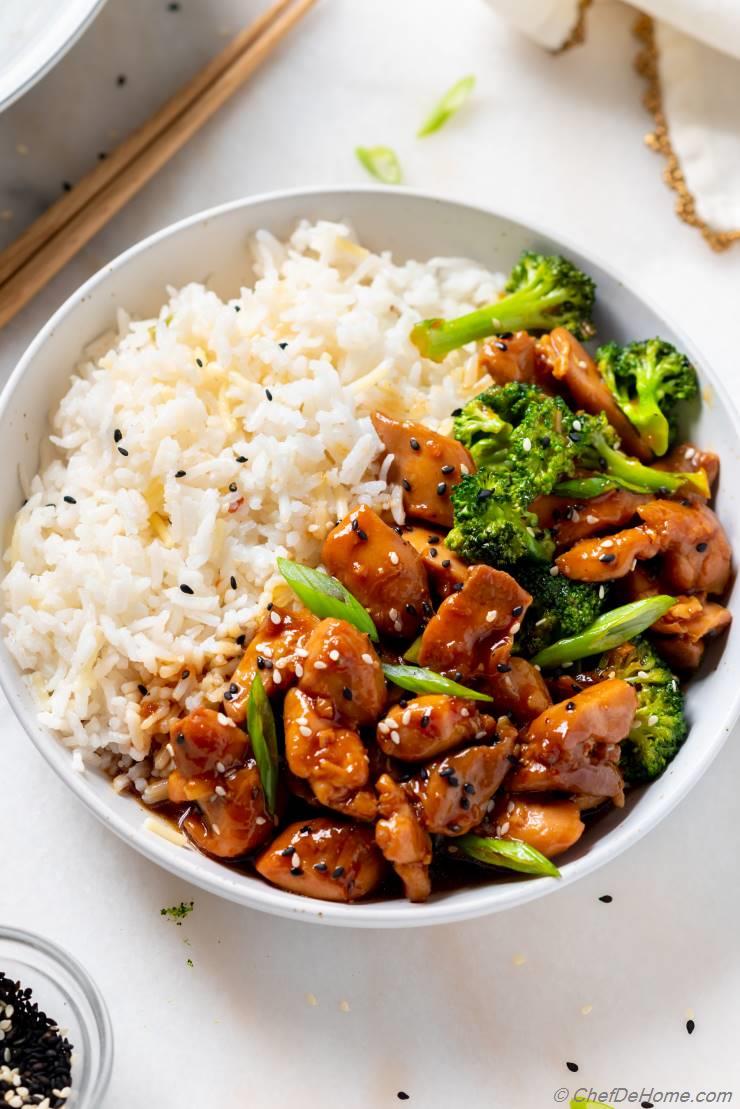 Faster than takeout, delicious Teriyaki Chicken and Broccoli stir fry. The Teriyaki Sauce recipe needs easy to find pantry ingredients and just 10 mins of prep. It is a takeout dinner that you can prepare at home faster and better than favorite restaurant. Especially since my teriyaki sauce recipe uses pantry ingredients.. You don't need market trip to enjoy this bowl of Teriyaki and Rice tonight!
Let's cook some Chicken Teriyaki!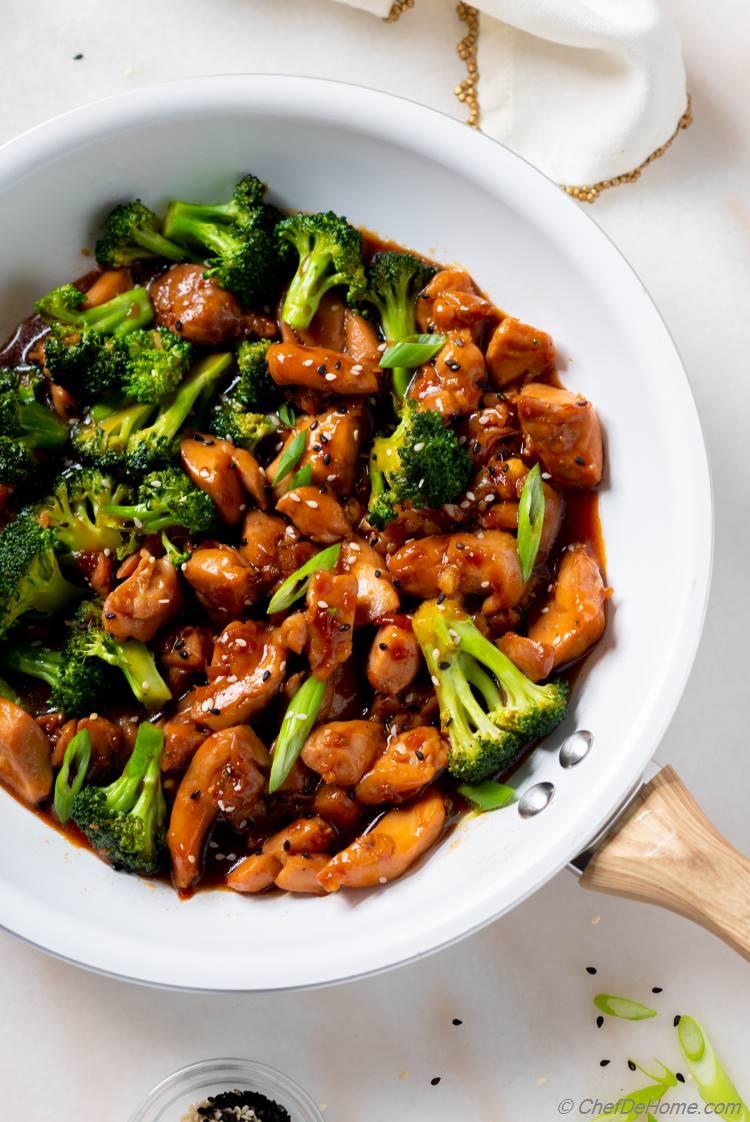 Teriyaki Chicken
Teriyaki Chicken is derived from words "teri" means shine and "yaki" means broil. No wonder, all Teriyaki Chicken dishes shine and glisten with caramelized pan-seared or grilled chicken, slathered in sweet and savory Teriyaki Sauce. 
I did not grow up eating Teriyaki but since long we have loved everything Teriyaki :). By-far, these simple dishes are more common in our home than some other elaborate Indian foods. Specially because stir-fries come together quickly, make a delicious lunch or quick dinner option, and above all these feed my love of making all restaurant favorites at home. 
About the Teriyaki Sauce
Teriyaki Sauce is the heart of a good Teriyaki Chicken recipe.
The Teriyaki Chicken recipe I'm sharing today is what we've been eating in US restaurants from many years. It is a western version of Teriyaki Chicken with touch of garlic, low-sodium soy sauce and with healthy touch of vegetables such crunchy broccoli and/or bell peppers. 
Teriyaki Chicken and Sauce Ingredients
To make authentic Japanese teriyaki sauce from scratch, you need two special ingredients - Mirin and Sake. Mirin is Japanese Cooking Wine which is slightly sweet. Sake is alcoholic beverage made with ferment rice. Sake is not a wine, it is a beer.
Over the years cooking Teriyaki for family, I have learned to substitute Sake and Mirin with right portions of easy-to-find pantry ingredients. This saves me a Asian Market Trip whenever when I'm cooking teriyaki at moment's notice.
Mirin and Sake both can be substituted with dry sherry, white wine, or rice vinegar or combination of any two. My favorite are White Wine and Rice Vinegar. Since mirin is sweeter, when using rice vinegar or white wine, add extra 1/2 teaspoon of sugar to compensate for sweetness.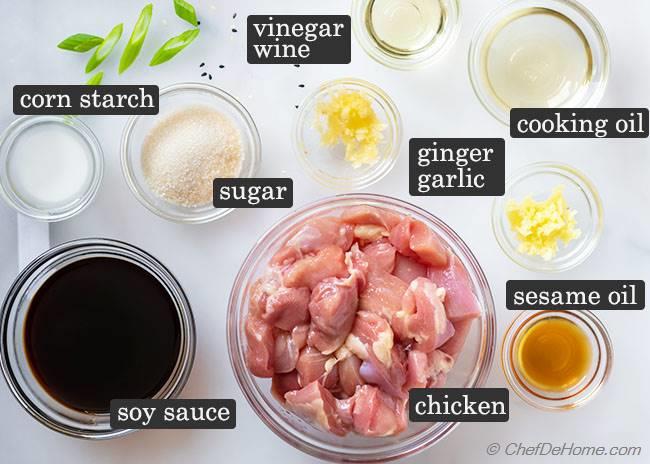 Quick and economical as well! Did you know, a 250ml bottle of good quality Mirin costs $9+.
TIP: Teriyaki Sauce recipe doubles easily. Make extra to server over rice!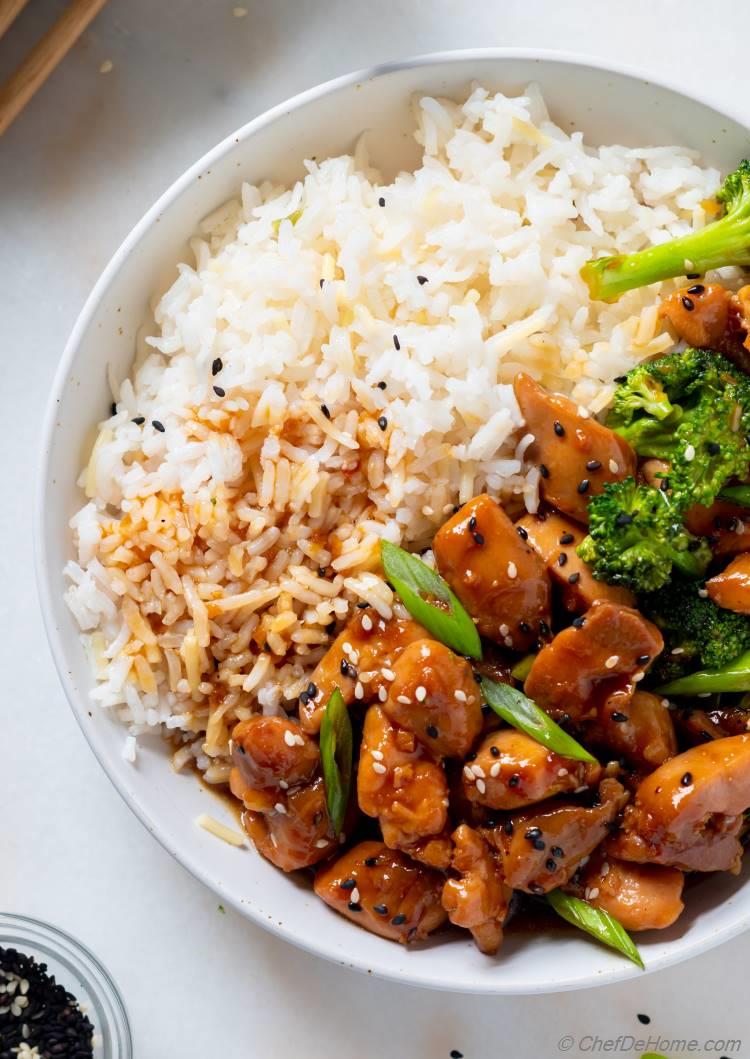 Note: If you want to make Teriyaki Chicken in authentic Japanese style, I have listed ingredient substitutes, Sake and Mirin and few more changes, in Recipe Card notes. 
Prepare Chicken for Teriyaki Chicken
Since Teriyaki Chicken is a simple recipe.. it is very important to use right type and cut of chicken. I prefer to use skinless, boneless chicken thighs, cubed. Chicken Thighs stay moist and juicy when exposed to high cooking heat such as of an Asian wok or grill. You can use cubed Chicken Breast but it dries out very quickly.
However, you can use same sauce and pan-sear full chicken breasts. Make sure chicken breast are full cooked. Ensure fully cooked chicken by checking the internal temperature on thickest part of the breast to register 175 degrees Fahrenheit. If using halved (butterflied) chicken breast, pound it to even the thickness for even cooking (no dry edges).
How to Make Teriyaki Chicken?
Teriyaki Chicken is also my favorite because you don't need to marinate the chicken. Everything is quick. Chicken cooks in sauce and picks up so much flavor. It's the best! Juicy, moist and delicious without marinade. In my home, this makes it our favorite quick weeknight dinner.
I make Teriyaki Chicken in 4 simple steps:
Mix the Teriyaki Sauce ingredients in a bowl and set aside. Dice chicken.
Heat wok, sauté chicken with garlic and seasonings.
Add Teriyaki Sauce mix and simmer until sauce thickens. Sauce will be thick and glistening, and chicken fully cooked.
Mix in broccoli. Either slightly steamed or cover with chicken for 1 minute for a steam bath.
That's it! Teriyaki Chicken is ready to hit the dinner table. Boil some rice on the side while cooking stir-fry for a complete meal in about 20 minutes.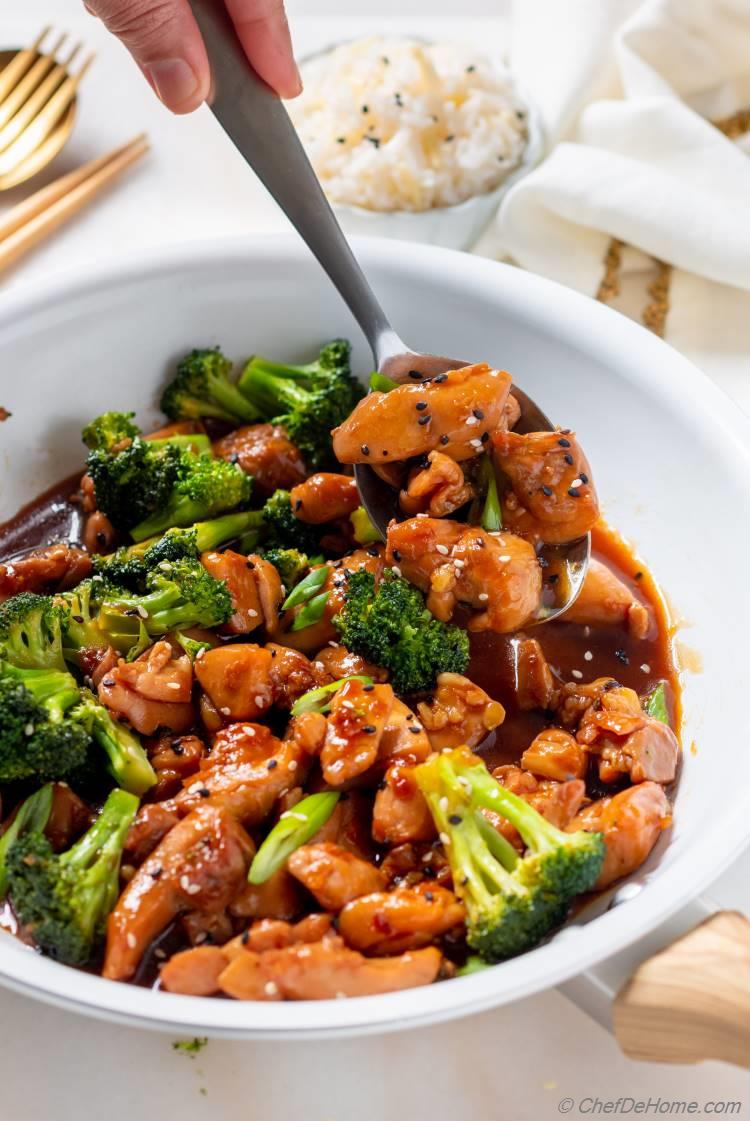 What to serve with Teriyaki Chicken?
Broccoli and Rice are our all time favorite sides with Teriyaki Chicken. I often also serve following as side dishes with Teriyaki:
I'm certain you have all ingredients you need in pantry. Delicious Teriyaki Chicken, better and faster than a takeout. Make some today and enjoy.
Stay Safe and Happy Cooking! -Savita
If you like Teriyaki Chicken? You will also love these:
Teriyaki Chicken and Broccoli
reviews

)
(2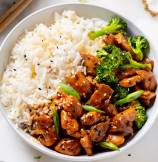 Total Time:
Prep Time:
Cook Time:
Cuisine:
Asian
(

Main Course, Dinner, Lunch

)
Difficulty:
Easy
Yields:
3 Cups
- Serves:
2
Nutrition:
444 calories per serving
(

Serving Size: 1.5 Cups

)
Ingredients
Teriyaki Sauce
Chicken and Broccoli
Garnish - Optional
Directions
1.

Prepare Teriyaki Sauce base and other Ingredients

:

Grate garlic and ginger. Mix the Teriyaki Sauce ingredients in a small bowl. Whisk until sugar dissolves completely. Set aside. Dice the chicken into 1-2 inch, bite size, pieces. Set aside.

Additional Notes:

Wash hands after handling chicken.

2.

Stir Fry Chicken

:

Heat a wok or heavy-bottom medium skillet on medium-high heat. Add cooking oil, sesame oil, and minced garlic. Fry until garlic is fragrant, just 20-30 seconds. (Don't let garlic burn.) Add diced chicken, salt and stir-fry chicken until chicken is no longer pink. About 2-3 minutes. Scoop chicken and garlic from the wok into a plate. Wipe clean the excess oil from wok.

Additional Notes:

Wiping excess oil ensures sauce thickens properly and sticks better to the cooked chicken.

3.

Cook Teriyaki Sauce

:

In now empty wok (heat on), add all of the Teriyaki sauce mixed in Step 1. Add chicken back to the wok, stirring occasionally, cook chicken and sauce on medium-high heat until sauce thickens and chicken is fully cooked. About 4-5 minutes. Add frozen broccoli florets. Cover and simmer 30 seconds to 1 minute or until broccoli is tender to your liking. Mix in black pepper. Take wok off heat.

Additional Notes:

If using fresh broccoli, slightly steam it in microwave before adding to the chicken.

4.

Serve Teriyaki Chicken Broccoli

:

Transfer chicken to a bowl. Serve while still hot with Jasmine rice. Pour remaining thickened teriyaki sauce over the chicken and rice. Garnish with diced scallions.
Savita's Notes:
I used low-sodium soy sauce. If using regular soy sauce, adjust the salt as per your taste.
I prefer to use skinless, boneless chicken thighs, cubed. Chicken Thighs stay moist and juicy when exposed to high cooking heat such as of an Asian wok or grill. If using chicken breast, make sure to no overcook as it tends to get over-cooked quickly.
If using fresh broccoli, slightly steam it in microwave before adding to the chicken.
Teriyaki Sauce recipe doubles easily. Make a double batch if you prefer extra sauce to serve over rice.
If you prefer more sticky thicker sauce, remove chicken once cooked and let sauce simmer longer. (simmer on low heat) Once sauce is desired consistency, return chicken into the sauce and coat in sauce. Always add broccoli at the end.
Check the post above recipe card for suggestion on what to serve with Teriyaki Chicken.
Mirin and Sake are substituted with mixture white wine and rice vinegar in this recipe.  Since mirin is sweeter, I add extra of sugar to compensate for sweetness. If you want to use Mirin, don't use white wine, and vinegar and reduce sugar by 1/2 tsp.
DID YOU MAKE THIS RECIPE?
Tag
@SAVITACHEFDEHOME
on Instagram and hashtag it
#SAVITACHEFDEHOME
© Chef De Home. Post content including video and photos are copyright protected.
We Think You'll Love