Shrimp Caesar Salad
Shrimp Caesar Salad recipe with spicy blackened grilled shrimp, homemade garlicky croutons and delicious Caesar dressing. A restaurant quality salad-for-dinner that you can make at home in 25 minutes.
Posted On:

Mar, 9
| Author:

Savita
Don't forget to check takeaway tips to make and stick to Salads-for-Dinner.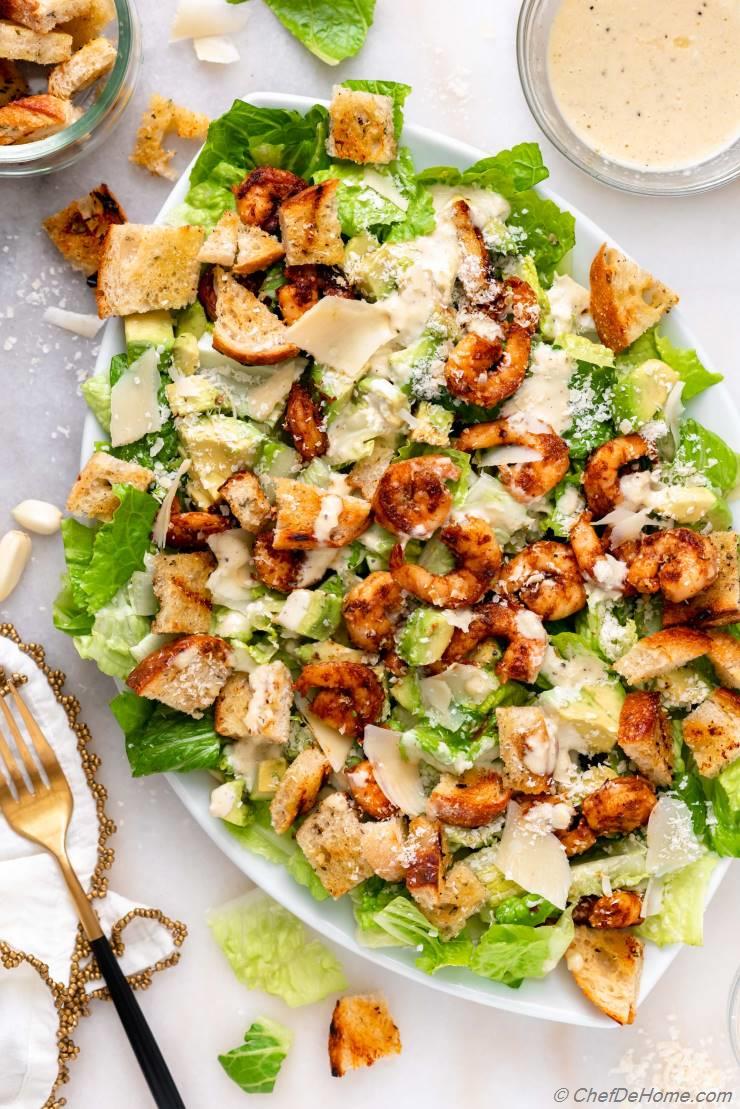 Sharing a delicious seafood-inspired take on Caesar Salad with this Grilled Shrimp Caesar Salad recipe. Every fork-full of this Shrimp Caesar is party of flavors; spicy grilled shrimp, homemade garlicky croutons, avocado, and creamy 5-min Caesar dressing. What not to like?! A must-try salad for every salad and seafood lover. 
This season, join me for a journey around the world to make healthy and delicious homemade salads-for-dinner. Last week's Crab Louie and today's Shrimp Caesar Salad fits in perfectly. I can have this Salad for dinner, every day. It's That good, filling and delicious. 
Let's make Shrimp Caesar today!
Shrimp Caesar Salad
Today's recipe is a mouthwatering fusion of American and Italian cuisine. The Sea-sar Salad is seafood version of classic Chicken Caesar Salad. You can make it with simply sautéed shrimp but I used spiced grilled shrimp to give salad an extra layer of flavor.
Also added everyone's favorite - avocado. (surprise) The creamy texture of avocado pairs very well with spicy shrimp and garlicky Caesar dressing. It is optional but I highly recommend trying this Caesar Salad with avocado.
Recipe may look lot of work but actually just needs 10 minutes of cooking. I grill shrimp and make garlic croutons, on the grill, at the same time. By the time shrimp cooks, bread is half cooked. Flip it to char other side. In meantime assemble Caesar Salad, top with grilled shrimp and croutons.
Dig in!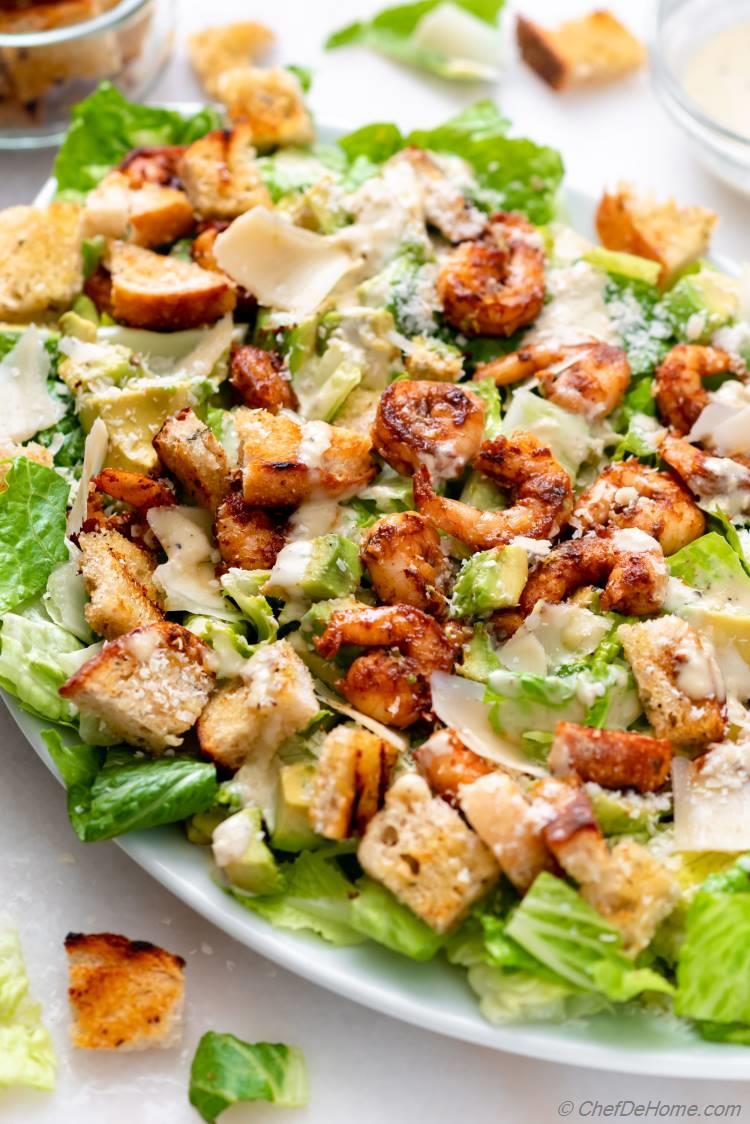 What Do You Need To Make Shrimp Caesar Salad?
Here is what you need to make Shrimp Cesar Salad:
Shrimp
Romain Hearts
Creole or Cajun seasoning
Oil
Parmesan
Avocado
Caesar Salad Dressing (recipe included)
Garlicky Croutons (recipe included)
Caesar Salad Dressing
The classic creamy Caesar salad dressing is very easy to make and a versatile dressing. I love homemade Caesar Dressing and use it often on many salads. So much so that I've also created a mayo-free vegetarian Caesar Salad Dressing. (Specially for the days when I don't eat mayo.)
For today's recipe you need following ingredients: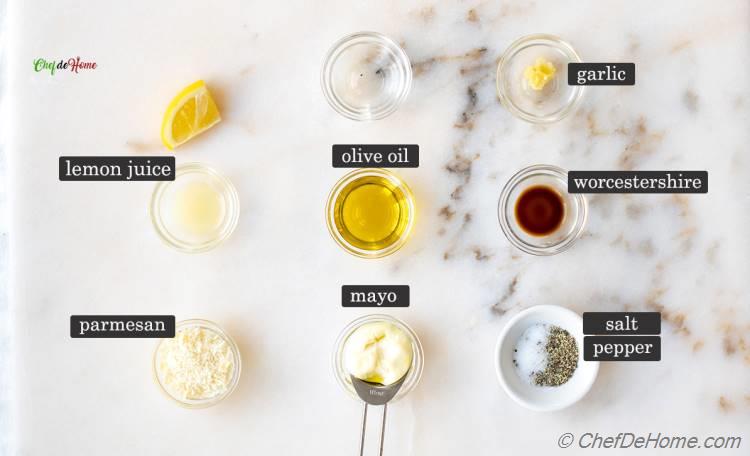 Lemon Juice
Olive Oil
Mayo
Parmesan
Garlic
Worcestershire
Salt and Pepper
Use good quality mayo. If you can find Classic Mayo, even better. Try homemade mayonnaise recipe.
To make the Caesar Salad dressing, in a medium bowl mix all ingredients except oil. Add oil to emulsify. Taste and adjust salt. 
Grilled Shrimp For Caesar Salad
To make the grilled shrimp, season shrimp with oil and seasoning. Grill until shrimp curls and is pink. It just needs 2-3 minutes each side to cook.
If you don't have access to an outdoor grill; Use a sheet pan and grill shrimp in single layer. Or broil shrimp in the oven.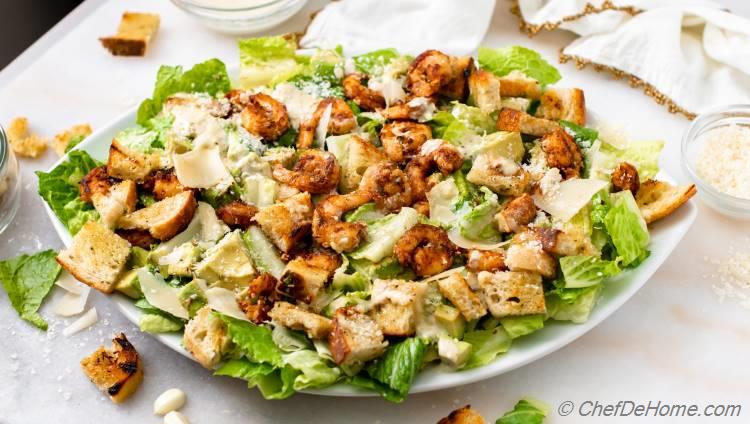 Grilled Garlic Croutons For Shrimp Cesar Salad
Homemade grilled croutons are very to make. You just need three ingredients. (Salt and peeper on the house.)
A day old rustic bread such as French/Country bread slices.
Olive Oil
Grated Garlic
I make the grilled croutons while I grill shrimp for Caesar Salad; Brush the bread with mix of oil and grated garlic, season, and then place on one side of the grill. Grill until nice grill marks appear.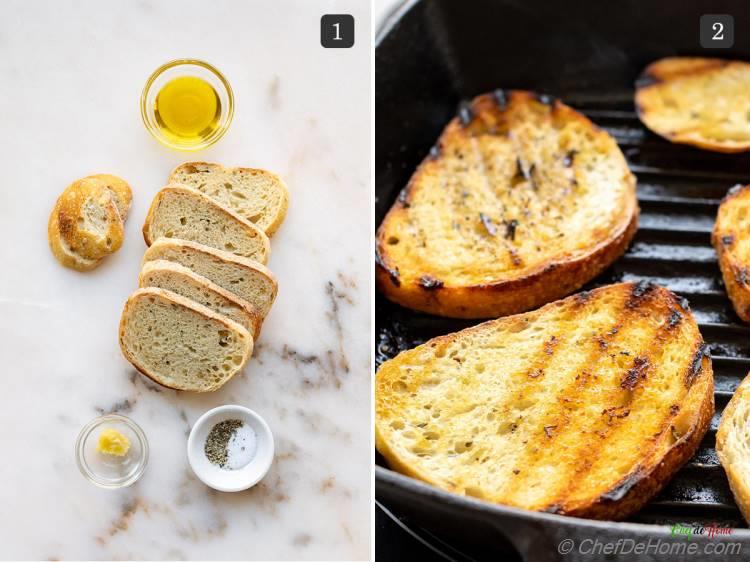 Croutons are ready for salad! Yes, it's that easy!
Honestly, making a delicious filling salad such as this Shrimp Cesar Salad at home helps me fit this easily to my diet preferences. For example;
Skip crouton and salad is Gluten Free.
Skip cheese and salad is Dairy Free.
Swap half of the romaine with spinach and arugula for greens loaded Shrimp Salad.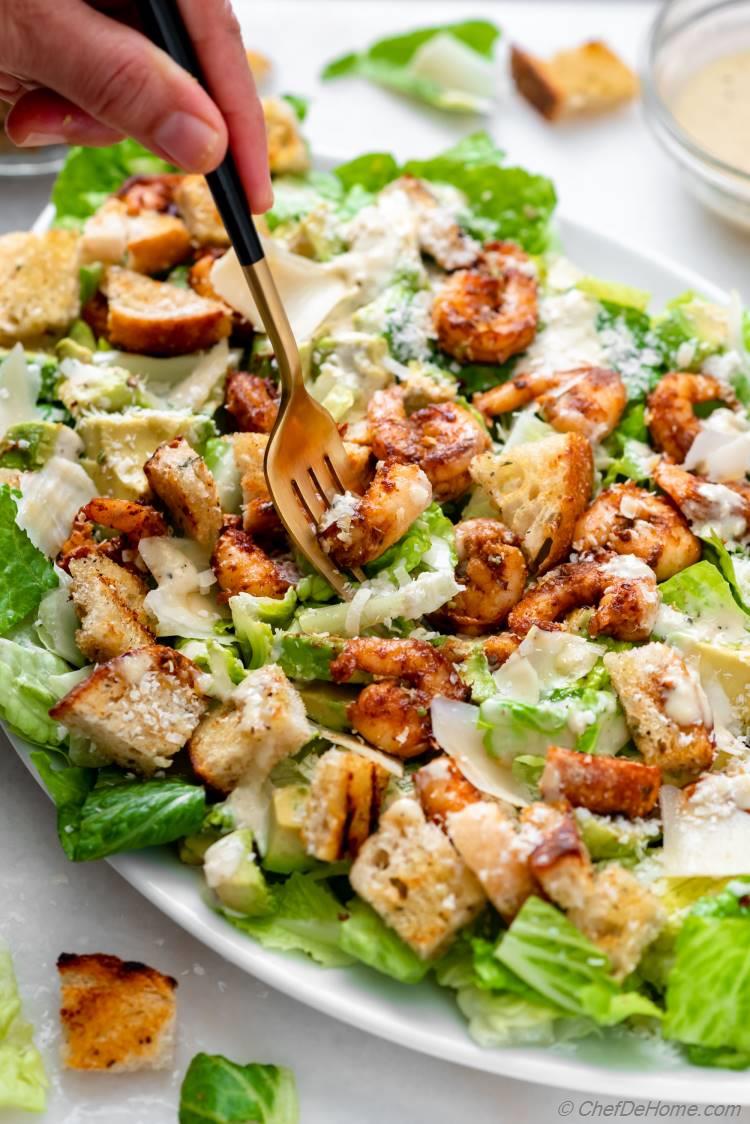 I only request to not change the shrimp. This shrimp recipe is utterly delicious. The spicy Cajun blackened shrimp bursts in flavor when paired with grated parmesan cheese and creamy Caesar dressing. (yum!)
Four takeaways to delicious Dinner Salad
To sum it all up, when you're using planning to have salad for dinner, keep salad delicious and worth looking forward to by following these four tips:
Pick greens you love. For example, my husband loves crisp-crunch of romaine more than any other salad green.
Add lean protein to make a balanced yet healthy salad. This, in my opinion, is the most important way to stick to salad diet. Protein also helps keep full longer. Such as spicy shrimp in this Cesar Salad. 
Add crunch and pick a delicious dressing which goes well with salad greens and protein. Such as 5 minute Caesar dressing in this salad.
Add a filling raw vegetable to which will keep full longer. Such as avocado or roasted red bell peppers.
Last, but no way the least, don't be scared to customize salad to fit your diet needs. e.g. Make lite dressing by replacing half or all of the mayo with sour cream.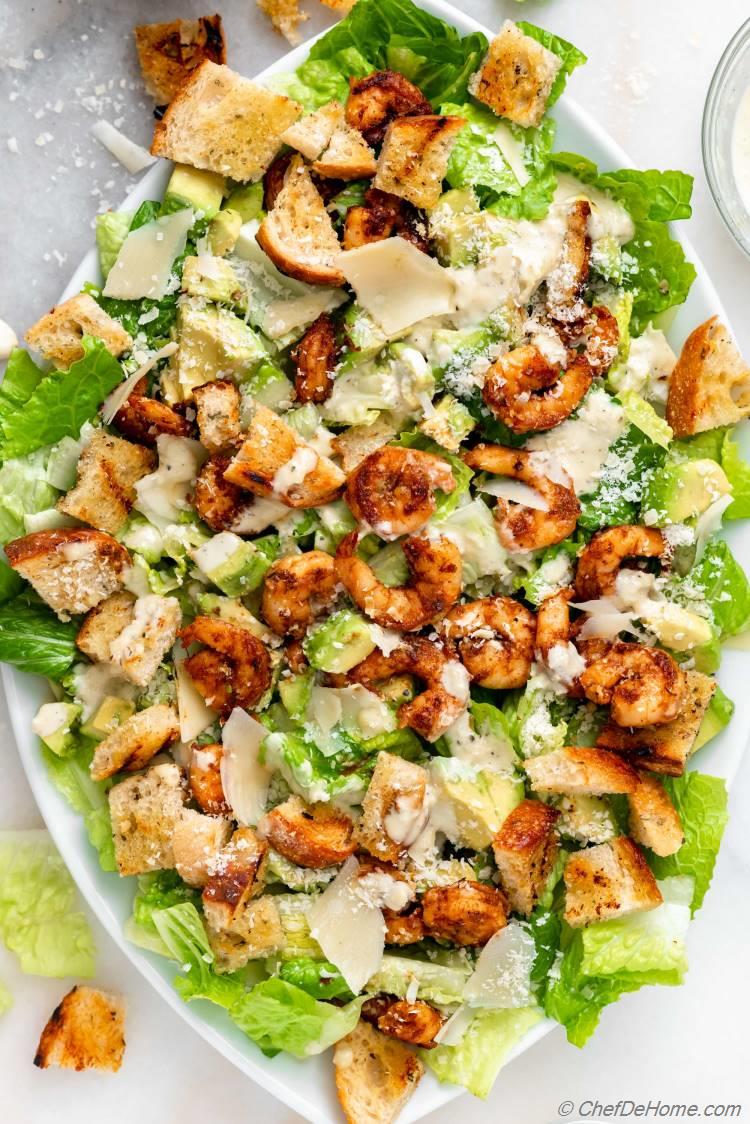 My 5 Top Favorite Salads for Dinner
Friends, Crab Louie and this week's Shrimp Caesar Salad have joined my endeavor to help you eat more salads. There are plenty of Dinner Salads on the blog. I'm listing my top 5 favorites below:
Check more in Salads Category, or try search. You can also write to me to create a salad that you can't find on blog. I'm always excited to test and share new recipes.
Watch Video
Shrimp Caesar Salad
Learn how to make Shrimp Caesar Salad with real Cesar Salad Dressing and homemade Garlic Croutons. This Shrimp Caesar Salad recipe is my seafood-take on classic Chicken Cesar Salad. It makes a restaurant quality salad-for-dinner in just 25 minutes. A must recipe in every Salad Lover's repertoire.
Salads for Dinner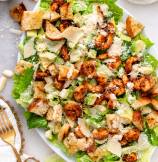 Total Time:
Prep Time:
Cook Time:
Cuisine:
Italian
(

Salad, Main Course, Lunch

)
Difficulty:
Easy
Yields:
4 Servings
- Serves:
4
Ingredients
Spicy Shrimp Caesar Salad
Caesar Salad Dressing
Garlic Croutons
Directions
1.

Prepare Ingredients for Shrimp Caesar Salad

:

In a small bowl, add shrimp with oil, seasoning and generous two pinch of salt and pepper. Coat shrimp in seasonings and set aside. For croutons, in a small bowl, mix of oil and grated garlic. Set aside.

2.

Make Caesar Dressing

:

In a medium bowl, add all ingredients but olive oil for dressing with half of parmesan cheese, 1/4 tsp each of salt and pepper. Whisk until everything is well mixed. Add oil and whisk. Add a tbsp water at a time to adjust the consistency of dressing as per preference. (I use 2-3 tbsp water.) Taste and adjust salt and pepper.

3.

Grill Shrimp

:

Preheat a grill pan. Spray or brush grill with a light coat of oil. Place seasoned shrimp in single layer. Grill until shrimp curls and is no longer pale. (about 2-3 minutes each side)

4.

Make Garlic Croutons

:

Brush the bread with mix of oil and garlic, season, and then place on one side of the grill. Grill until nice charred grill marks appear. Slice or tear bread slices to make bite-size croutons.

5.

Assemble Shrimp Caesar Salad

:

Layer chopped romaine hearts on a platter or large salad bowl. Top with diced avocado, grilled shrimp, garlic croutons. Drizzle Caesar dressing on the top. To with remaining parmesan cheese. Serve immediately. Enjoy!
DID YOU MAKE THIS RECIPE?
Tag
@SAVITACHEFDEHOME
on Instagram and hashtag it
#SAVITACHEFDEHOME
© Chef De Home. Post content including video and photos are copyright protected.
We Think You'll Love