Nicoise Salad (Tuna Niçoise)
The classic Niçoise Salad with 10-minute perfectly cooked black pepper tuna and bold Mustard Vinaigrette dressing.
Posted On:

Jul, 3
| Author:

Savita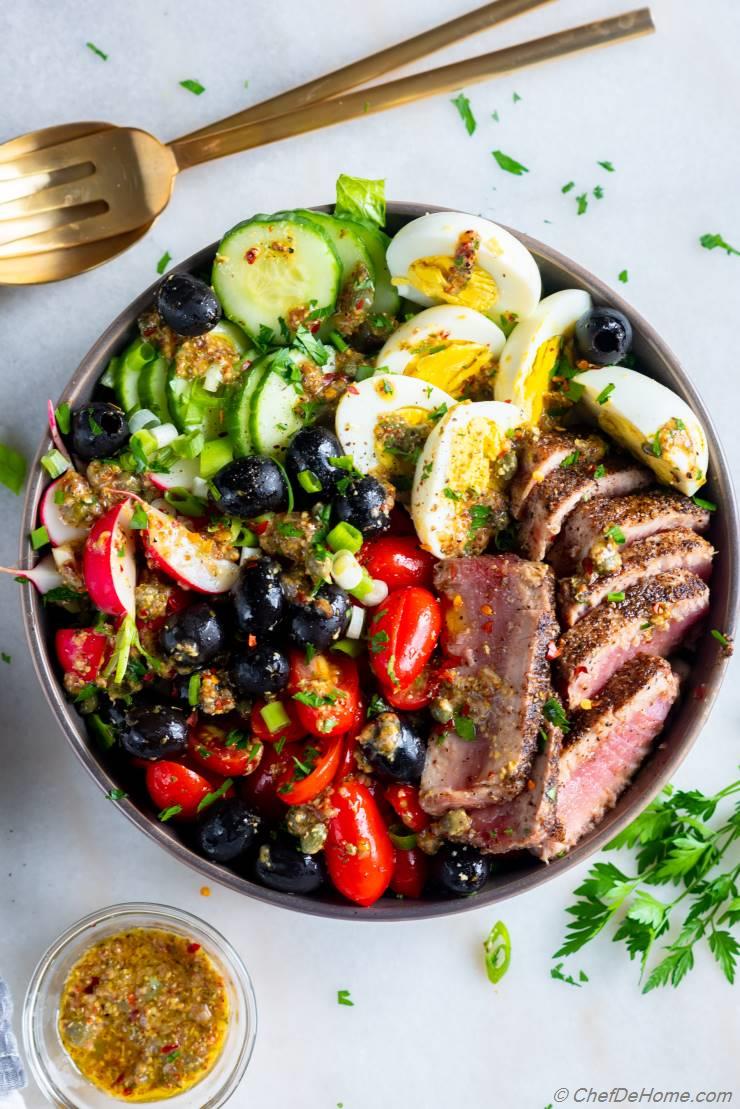 Nicoise Salad is a Mediterranean Salad bursting with fresh flavors of tomato, cucumbers, tasty olives, hard boiled eggs, pan-seared black pepper tuna and flavorful mustard vinaigrette dressing.
Vibrant and bold flavors of Nicoise makes it The perfect Summer Salad! Good to entertain or even eat as salad-for-dinner.   It is a must try for every Mediterranean food lover. Gluten free, Dairy free and Keto Diet friendly. With today's recipe for Niçoise; I'm giving you a 
1) Classic Mediterranean Salad Nicoise with lean protein, low carbs, lots of fresh ingredients and bold flavors. 
2) A 10 minute easy recipe to cook Tuna Steaks just like you order in top-dollar seafood restaurant. You can now cook'em at home, in no time and with just 3 ingredients. 
So let's make Niçoise (nee-swaaz) Salad today!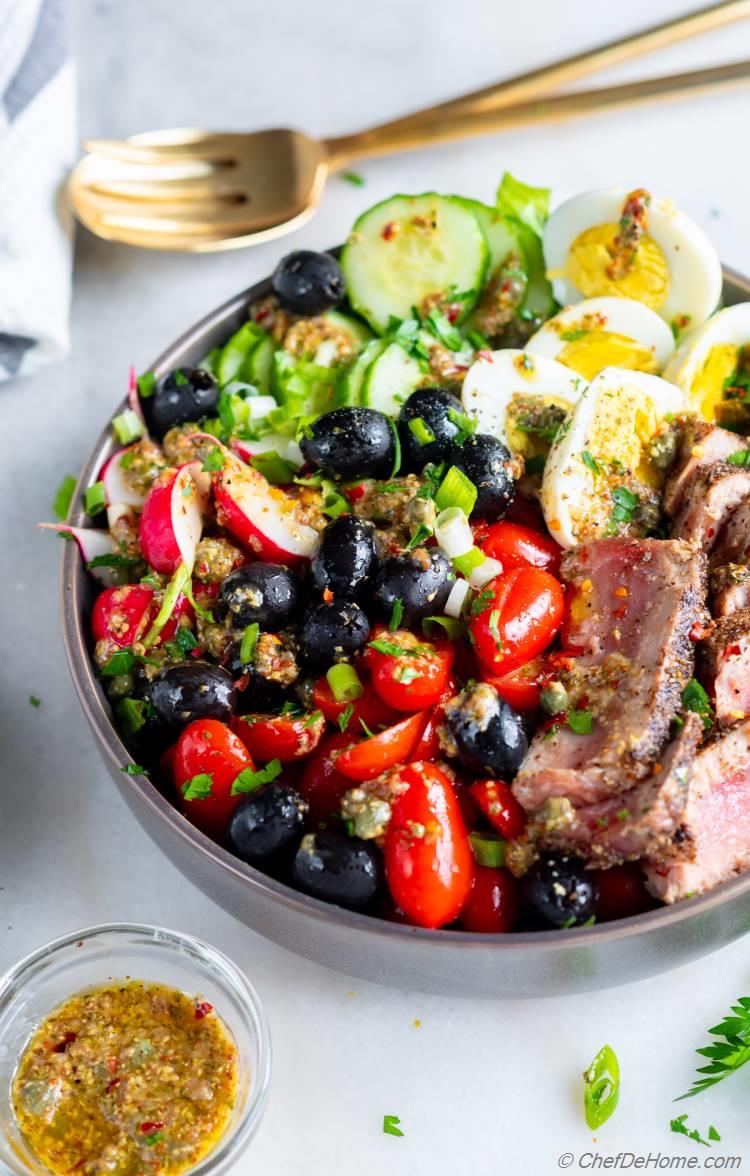 Does it looks delicious or what?

NICOISE SALAD
Nicoise or Niçoise (pronounced - nee-swaaz) is an olives, eggs, anchovies, and tomato salad of Mediterranean origin. Just like many other Mediterranean recipes, Nicoise is also a healthy, veggie-forward salad with lean fish protein. It looks so pretty. You wanna eat with eyes. One of my favorite salad to serve in dinner parties.
WHAT IS IN NICOISE SALAD?
The Mediterranean version of this salad use no cooked vegetables but all fresh veggies especially tomatoes moistened with love oil and salt, boiled eggs, Nicoise olives, and seafood protein such as anchovies, salmon or tuna.
The classic Nicoise Salad ingredients are: 
Hard Boiled Eggs
Nicoise Olives (if you can't find. Feel free to use your favorite marinated olives from olive bar)
Fish Protein - Tuna, Anchovies, Salmon. Any one will work. I recommend not to mix more than one seafood for this salad as it distroyes the flavor. I highly recommend using cooked Tuna.
Garlic
Tomatoes seasoned with olive oil and salt.
Raw salad veggies of choice. I often use red radish, cucumber, arugula or romaine. Pick you favorites.
A mustard vinaigrette dressing.
Optional ingredients - artichokes, spring onion, basil, bell pepper.
As described in Wikipedia, the updated version of Nicoise Tuna Salad often include cooked vegetables such as boiled potatoes, and green beans. Feel free to add some if you prefer.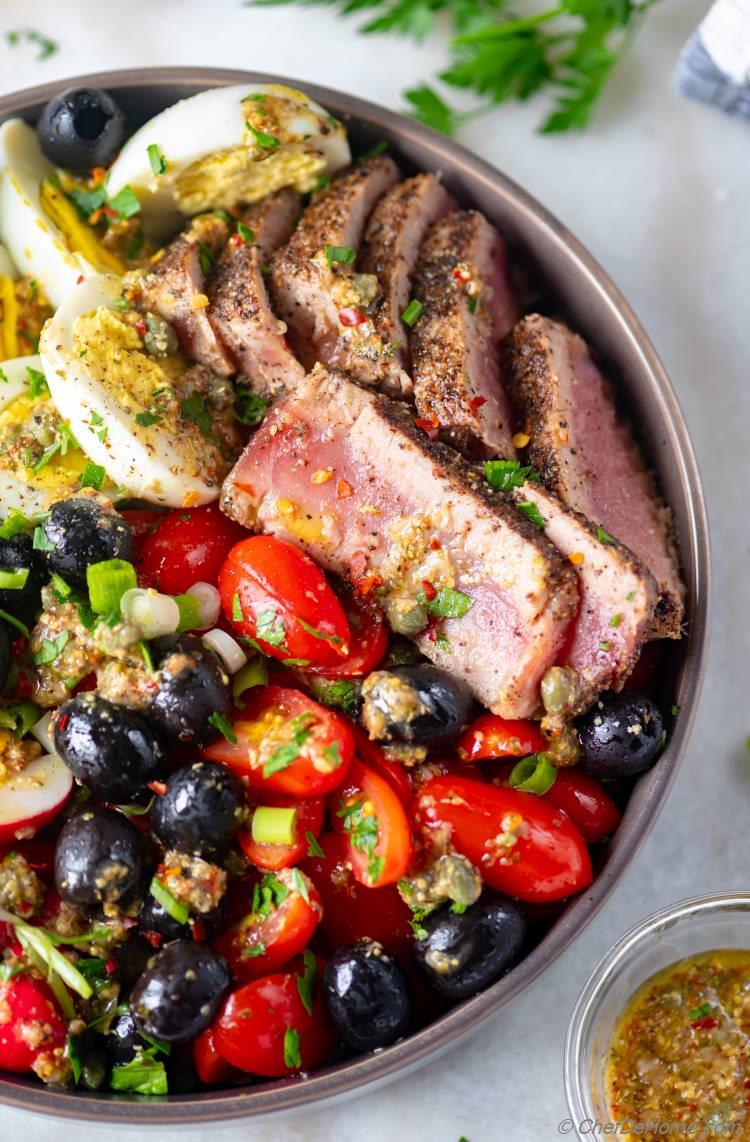 TUNA OR ANCHOVIES?
We love pan-seared black pepper crusted tuna. So I decided to use tuna for this salad. You can also use anchovies or canned tuna (oil packed). But honestly, nothing beats the flavor of fresh cooked tuna. So, if you can invest some time and money then I recommend using fresh cooked tuna for Salad Nicoise. 
Tip: If you are time pressed and still don't want to use canned tuna. I recommend trying Asian black pepper tuna sold in most international grocery stores. It is definitely better than canned and saves a grocery tip to get the fresh tuna.
HOW TO COOK TUNA FOR NICOISE SALAD:
I love pan seared tuna steaks with generous crust of black pepper. It looks great and taste even better.
If you ever wondered how fancy restaurants make tuna steak look so good. I got you covered. It takes less than 10 minutes to cook tuna steaks to perfection. No one will believe it is so easy and can be easily done at home.
Simply, season liberally with salt and black pepper. Press black pepper on tuna steak to make a crust. (that is the key), and then sear in hot pan until both sides are cooked 1/4 way leaving center pink. That's it! You have cooked the perfect seared tuna steaks. (picture below)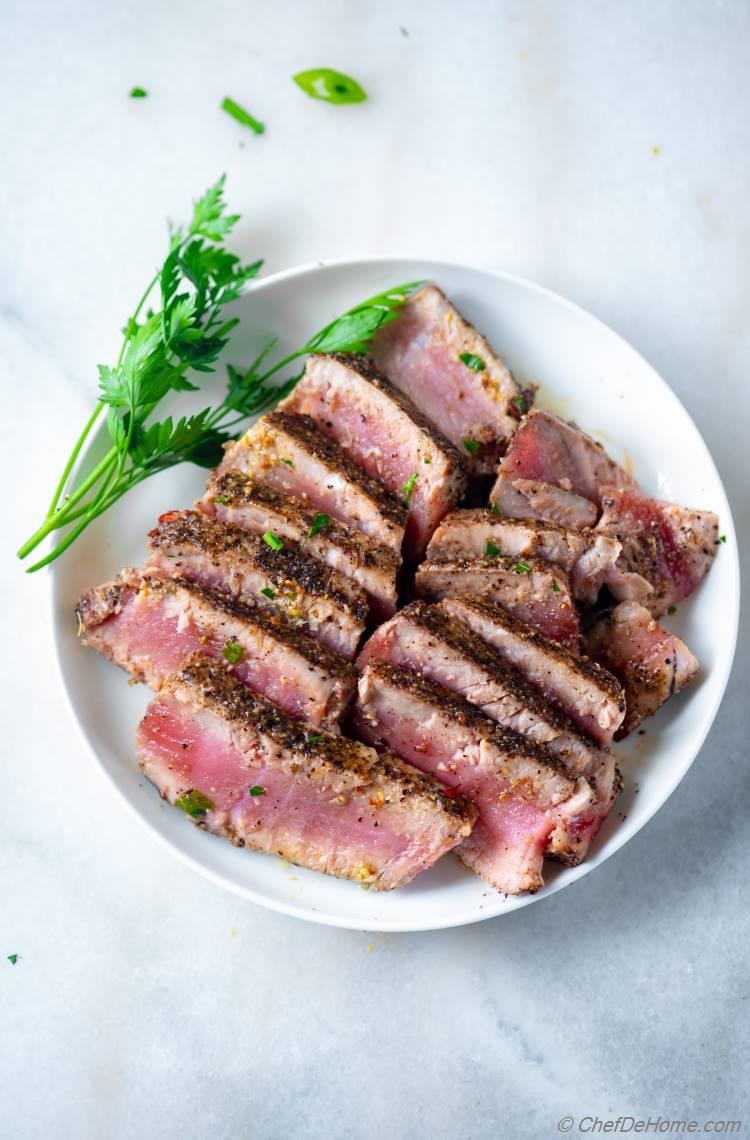 NICOISE SALAD DRESSING:
Dressing for this salad packs punch of flavor. Plus it takes just 5 minutes to mix a batch. Ingredients for dressing will be in your pantry right now. Stone ground mustard, capers, apple cider vinegar, garlic, chili flakes, and olive oil. The dressing has consistency of sauce. SO you spoon it over the salad specially tuna instead of coating everything in the salad. The texture of stone ground mustard, capers makes every bite of salad extra delicious.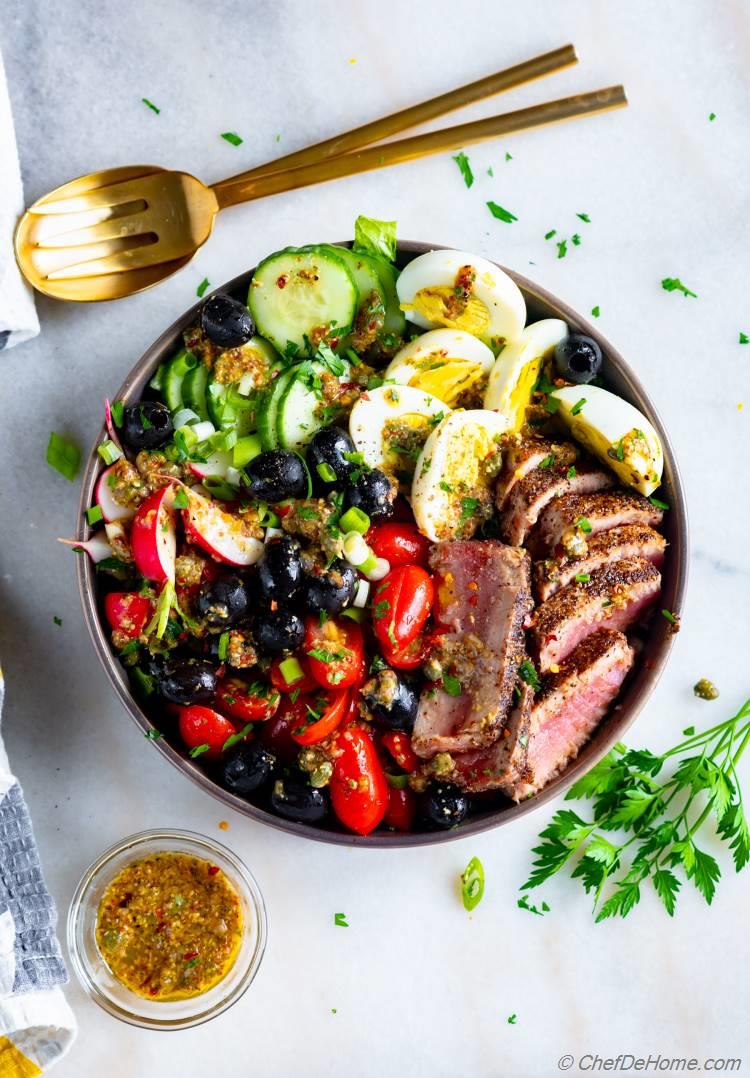 MORE MEDITERRANEAN SALADS TO TRY:

I'm certain this salad will soon make to your dinner table.
Oh, and don't forget the idea to serve a platter of Nicoise Salad when entertaining. The fresh and bold flavors of Salad Nicoise will make all your guest helping themselves with second servings. Score!
Have a wonderful holiday of July 4th. Happy entertaining!
Love Salad for dinner? How about these delicious recipes?!
Nicoise Salad (Tuna Niçoise)
review

)
(1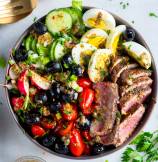 Total Time:
Prep Time:
Cook Time:
Cuisine:
Mediterranean
(

Salad, Main Course

)
Difficulty:
Easy
Yields:
2-6 Servings
- Serves:
6
(

2 substantial or 6 side servings.

)
Ingredients
Seared Tuna Steaks
Nicoise Salad Dressing
Nicoise Salad
Directions
1.

Nicoise Salad Dressing: To prepare Nicoise Salad Dressing. In a small bowl add all salad dressing ingredients (except capers) with 1/4 tsp of salt. Whisk well to emulsify. Mix in chopped capers. Set aside.

2.

In a bowl, add halved cherry tomatoes with generous pinch of salt, black pepper, and a drizzle of 1 tbsp olive oil. Toss to combine. Set aside.

3.

Cook Tuna Steaks: Heat a medium skillet with a tbsp olive oil. Season tuna with generous pinch of salt and black pepper. Press with hand to adhere black pepper on tuna surface as much as possible. Place tuna in pan with hot oil. Let cook undisturbed for 1-2 minutes, flip and then cook other side until tuna is cooked from both sides but still pink in middle. Remove from pan and set aside in a plate.

4.

Assemble and Serve Nicoise Salad: To assemble salad, layer greens on a salad platter. Top with sliced veggies - radish, scallion, cucumber, cherry tomato in layers along with sliced cooked tuna. Spoon dressing on the top. Garnish with fresh chopped parsley. Serve and enjoy!
Savita's Notes:
DID YOU MAKE THIS RECIPE?
Tag
@SAVITACHEFDEHOME
on Instagram and hashtag it
#SAVITACHEFDEHOME
© Chef De Home. Post content including video and photos are copyright protected.
We Think You'll Love