This recipe is Copyright of ChefDeHome.com

Sabudana Kheer
This is eggless Tapioca Pudding recipe very popular by name of Kheer - tapioca cooked at slow heat in milk. I sometimes use soy milk or almond milk instead of regular dairy to avoid some calories and it is good for people on special diet too. Likewise you can replace sugar in pudding with other natural sweeteners like agave syrup or honey or even sugar free with Stevia.
Pairing Ideas:
Craving for more?
Join us: Weekly Newsletter, Facebook, Google, Twitter, Pinterest
Shop products we use: CDH Amazon Shop (affiliate links)
Tapioca Pudding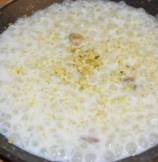 Total Time
Prep Time
Cook Time
Serves
2
Ingredients
3 Cup

Milk

(Prefer whole fat milk or use skim milk if trying to avoid calories.)

1/2 Cup

Tapioca Pearls

1/4 Cup

Sugar

2-3

Cardamom

2 tbsp

Pistachio

(Crushed for garnish - optional )
Directions
1.

Add 2 cups of milk in a heavy bottom pan, bring to boil. Add tapioca pearls, cardamom and simmer for 15 minutes or till pearls are slightly translucent and milk has reduced and has thick consistency.

2.

Now add remaining 1 cup milk, sugar and simmer for another 10 minutes or till milk has reduced to half and Tapioca pearls can be mashed easily if pressed between two fingers. Garnish and serve hot or cold for dessert course.
Savita's Notes:
Agave is sweeter than sugar so use less quantity to start with and then mix more later after tasting and per your liking.

© Chef De Home. All contents and images are copyright protected. DO NOT copy or re-use content/images/videos. For all content/post mentions with link back, contact ChefDeHome for permission.

Craving for more?
Join us: Weekly Newsletter, Facebook, Google, Twitter, Pinterest
Shop products we use: CDH Amazon Shop (affiliate links)
What would you like me to cook next?: Request a Recipe