This recipe is Copyright of ChefDeHome.com

Mild Spicy Curry
This Coconut Chicken Curry has spicy flavor and little sweetness from coconut milk. This curry reminds me of Thai Style Red curry but I have not used any curry paste to get the luscious red color. I have just used spices and good tomatoes sauce to make it. Coconut based curries are very famous in my family. We mostly make coconut curries with chicken and seafood, you can check one more cardamom infused coconut chicken curry recipe in Chicken Recipes section of my website. If you are looking for mild yet very flavorful spicy curry, this is the recipe for you. Steamed rice are my personal favorite with coconut curry. So give it a try and let me know how you like it.
Pairing Ideas:
Craving for more?
Join us: Weekly Newsletter, Facebook, Google, Twitter, Pinterest
Shop products we use: CDH Amazon Shop (affiliate links)
Coconut Chicken Curry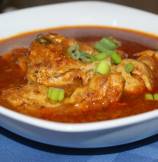 Total Time
Prep Time
Cook Time
Serves
2
Ingredients
1/2 Cup

Coconut milk

1 lbs

Chicken

(Skinless thighs or drumsticks)

1 & 1/2 tbsp

Red Pepper Powder

1/2 tbsp

Turmeric

1 Cup

Red Onion

(Fine Chopped)

1/2 Cup

Tomatoes

(Tomato Puree)

1 tsp

Garam Masala

1 & 1/2 tbsp

Salt

2 Cup

Water

3 tbsp

Canola Oil

2 tbsp

Ginger Garlic Paste

2-4 tbsp

Green Onion

(Optional)

1 tbsp

Coriander Powder

1 tbsp

Cumin Powder
Directions
Hide Step Photos
1.

Heat 1 tbsp. oil in a heavy bottom pan, sprinkle chicken with 1/2 tbsp salt and 1/2 tbsp red pepper powder (cayenne). When oil is hot, sear chicken on both sides till caramelized.

Additional Notes

Make sure not to press chicken with spatula while cooking because that release all good juices and chicken will end up being very dry.

2.

In same pan, add 2 tbsp oil, heat oil, first add all dry spices and sauté for 2 minutes (spices will start sticking to the bottom of the pan). Now add fine chopped onion, ginger and garlic mixture and fry till onion are brown.

3.

Add Tomato Puree, salt and fry till oil separates.

4.

Now add coconut milk mixed with 1 cup water and chicken into the onion mixture. Bring to boil and then simmer at medium heat till chicken is fully cooked and liquid has reduced to half. (about 15 minutes)

5.

Garnish with cilantro or chopped green onions (optional) and serve hot with your choice of flat bread.

6.

I even love Coconut Chicken Curry with fresh steamed Basmati Rice.
© Chef De Home. All contents and images are copyright protected. DO NOT copy or re-use content/images/videos. For all content/post mentions with link back, contact ChefDeHome for permission.

Craving for more?
Join us: Weekly Newsletter, Facebook, Google, Twitter, Pinterest
Shop products we use: CDH Amazon Shop (affiliate links)
What would you like me to cook next?: Request a Recipe