Kimchi
Make traditional Napa Cabbage Kimchi at home with this easy recipe. This kimchi is easy to assemble and has flavor like Korean fermented kimchi. Must try!
Posted On:

Aug, 4
| Author:

Savita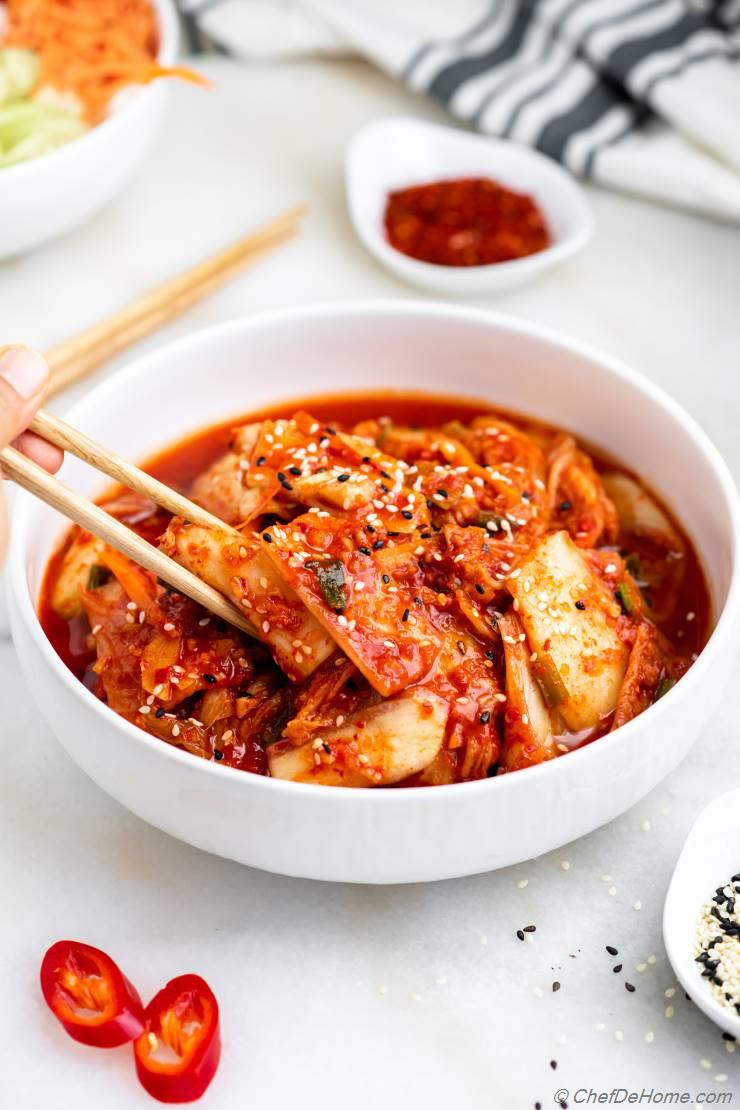 Learn to make traditional Napa Cabbage Kimchi at home with this easy recipe. One of our favorite Kimchi, I always keep a jar of this in my refrigerator. Kimchi makes a great condiment loaded with delicious aroma. Plus it is also packed with probiotics. I personally love the fact that homemade kimchi is preservatives free, made ingredients easily available in most grocery stores. 
Once fermented, kimchi develops delicious tangy-pungent flavor. Top it over a bowl of rice with some protein and it is healthy lunch worth looking forward to.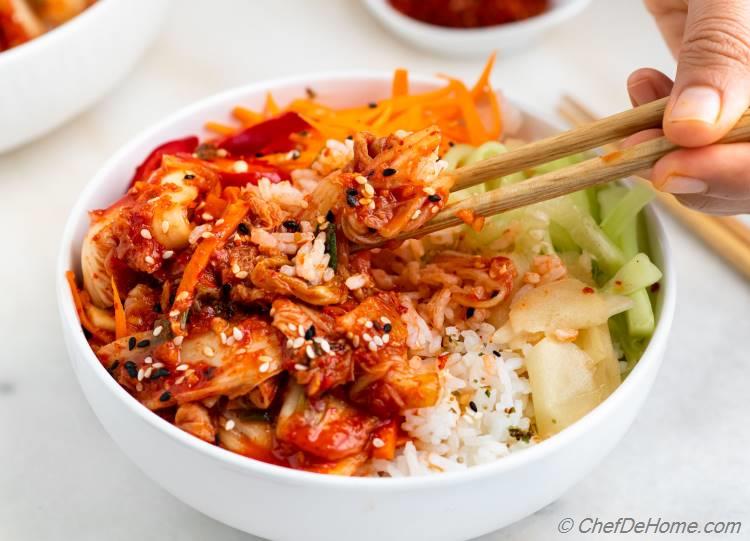 The above picture shows Kimchi  (fermented for 7 days in refrigerator) along with sticky rice and vegetables for a delicious Rice and Kimchi dinner.
Earlier I shared Vegan Kimchi recipe. This recipe I'm sharing on repeat requests for regular Kimchi. The main difference between this recipe and vegan recipe is the use of Fish Sauce (or shrimp paste). This recipe is made the traditional way where fish based sauce or paste is used as the source of salt and flavor in the Kimchi Paste.
What Do You Need to Make Kimchi?

For homemade Kimchi you will need two special Korean ingredients i.e. Gochugaru - Korean Chili Flakes and Sweet Rice Flour.

Gochugaru is Korean Chili Flakes that are bright roasted chili flakes with distinct fruity flavor. Gochugaru is mild to medium spicy.

Sweet Rice Flour is fine rice flour. You can get this in most Asian stores or buy online. For kimchi, sweet rice flour act as Kimchi Paste thickener. It is the key ingredient to make a consistent Kimchi Paste that sticks to cabbage. In my opinion, it is a must ingredient to make authentic Kimchi.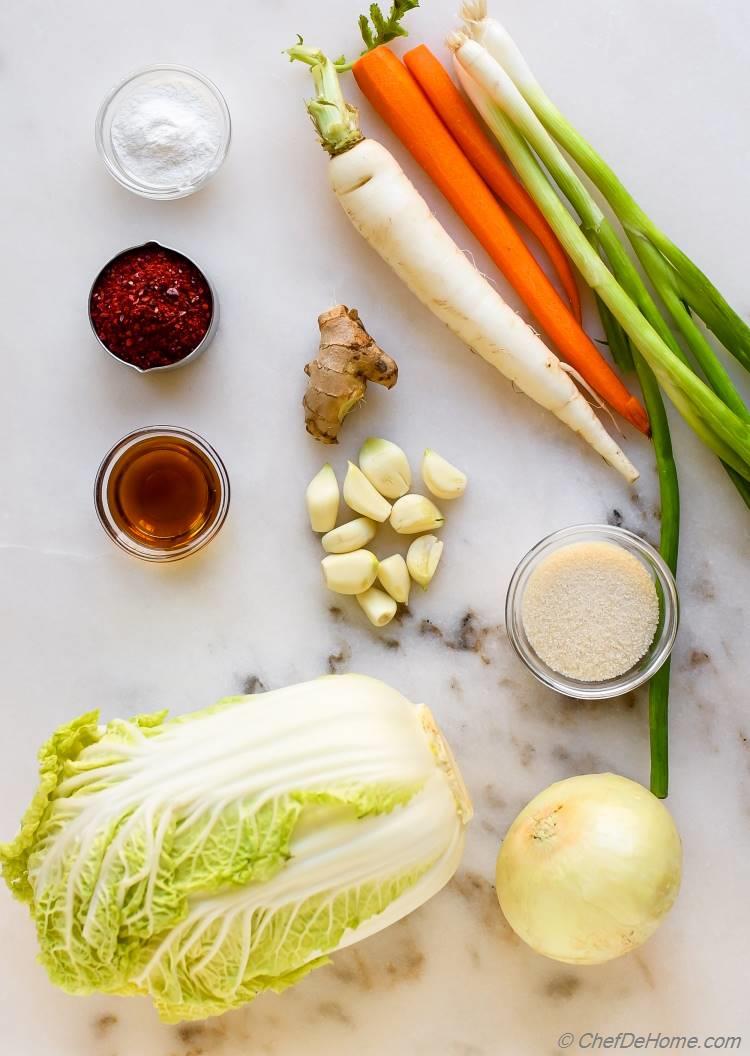 Here is a complete list of ingredients to make Kimchi:
Napa Cabbage
Sweet Rice Flour
Gochugaru
fish sauce (or fish paste)
Ginger
Garlic
Onion
Carrots
Radish - optional
Green Onion
Salt and Sugar
Salt Cure Napa Cabbage
Make of Kimchi starts by salting the Napa Cabbage i.e. Salt Cure Cabbage. Salt draws out moisture from the cabbage.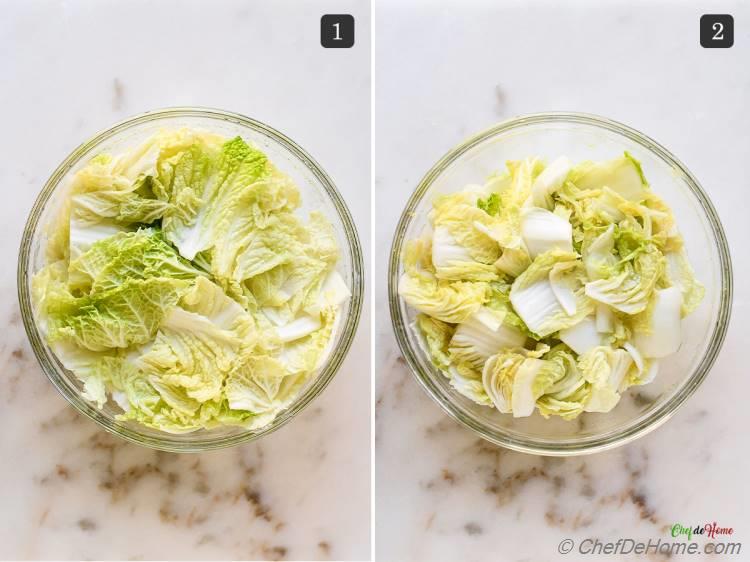 This process helps cabbage ferment properly and Kimchi stays fresh longer.
In the picture above, notice the difference in volume of cabbage in the bowl. On the left is fresh salted Napa cabbage. On the right, cabbage has lost water, is slightly wilted (salt-cured) and there is water collected at bottom of the bowl.
Make Kimchi Paste
Kimchi Paste is mixture of rice flour paste, Korean chili flakes, and grated ginger, garlic and onion. Rice paste gives kimchi paste some thickness which is much needed to make kimchi paste stick to the cabbage leaves. This speeds up the fermentation. Also make thick glistening fermented Kimchi sauce.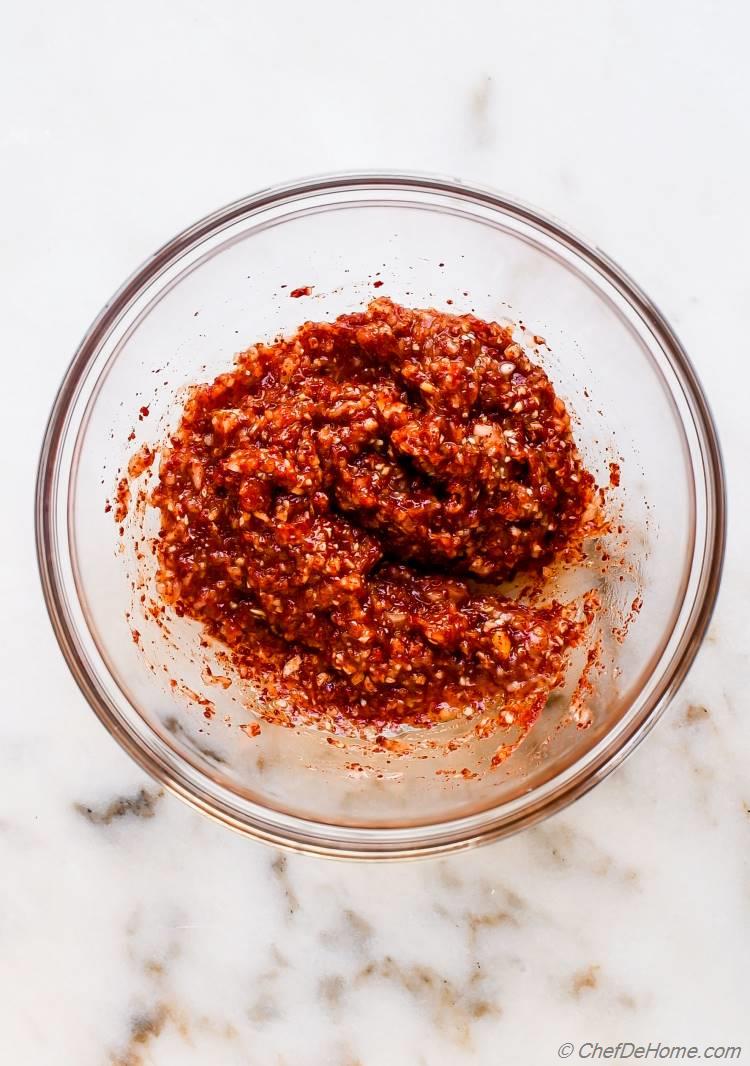 Fish Sauce is used in Kimchi to add flavor and salt. If you can find Shrimp Paste use that or use a good quality Fish Sauce. If you don't prefer very fishy taste; replace half of the fish sauce with soy sauce or liquid aminos.
Fermenting Kimchi
To keep longer, refrigerate Kimchi after assembly. Let it ferment slowly.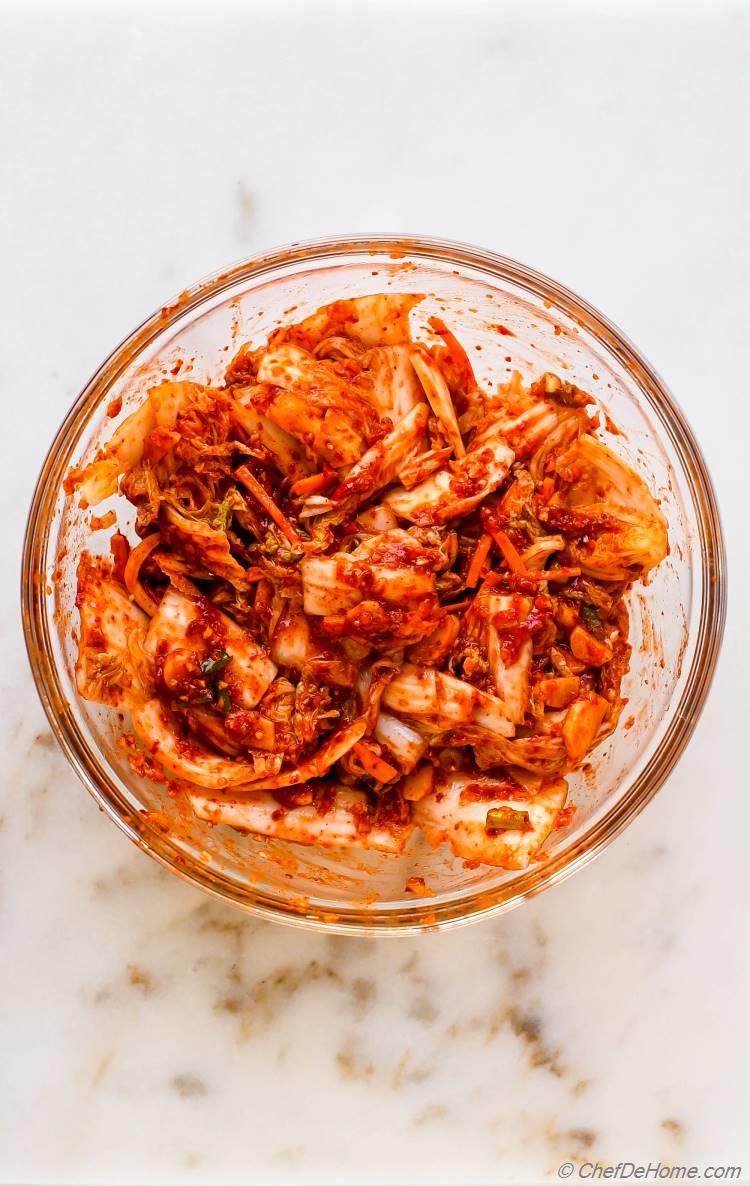 Above picture shows the salt treated Napa Cabbage mixed with Kimchi Paste. It starts fermenting in 24 hours. You can also keep a small jar of kimchi at room temperature to ferment quickly. Refrigerate remaining to use as needed.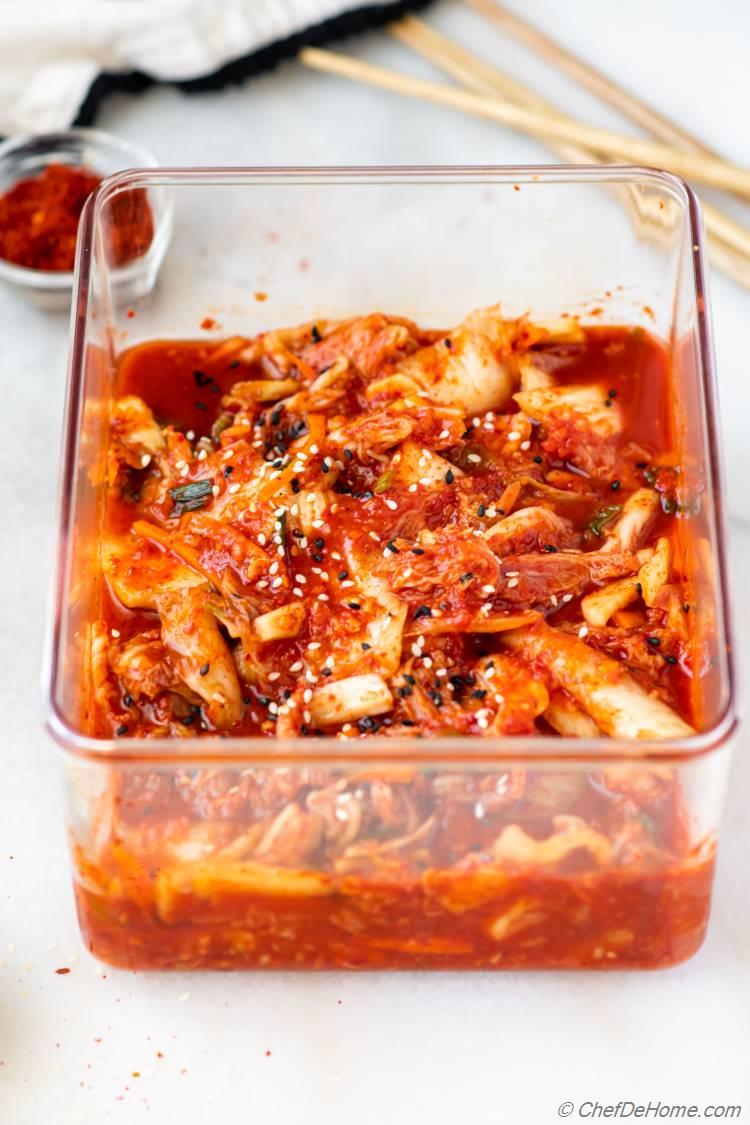 After a week, kimchi has delicious fermented aroma and flavor is spot-on; just like store-bought Napa Cabbage Kimchi.
How To Use Kimchi?

Honestly, I love Kimchi as a pickle/condiment with almost every meal. Specially a bowl of rice, grilled meat, and soups are best ways to use. 
My Kimchi Cauliflower Fried Rice and Kimchi Fried Rice recipes are my other two favorite ways to eat more Kimchi.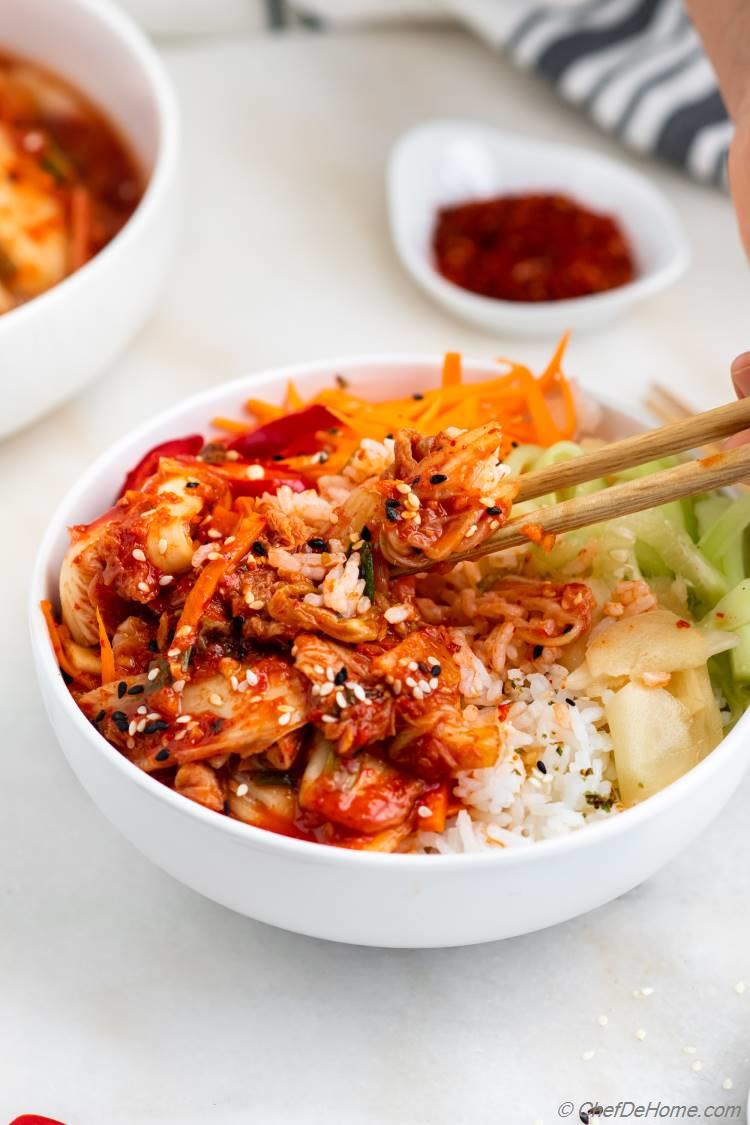 The homemade fermented Kimchi is healthy, and preservative free. It is a great source of probiotics. Plus kimchi makes a great condiment to serve with rice or BBQ. I love to include a serving of kimchi with every meal. Not just for health benefits but also for the amazing flavor. This Kimchi recipe is not very spicy because Korean Gochugaru Chili Flakes are not very spicy. I'm sure you will love kimchi.
This season, bring home some fresh Napa Cabbage, Korean Chili Flakes and try homemade Kimchi!
Serve Kimchi On Side With: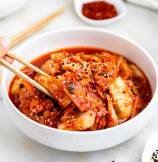 Total Time:
Prep Time:
Cook Time:
Cuisine:
Asian
(

Side Dish, Condiment, Ingredient

)
Difficulty:
Easy
Yields:
1-1.5 lbs Kimchi
- Serves:
24
(

Idle Time: 2 hours. Fermentation Time: 2-7 days.

)
Ingredients
Kimchi
Kimchi Paste
Directions
1.

Prepare Cabbage for Kimchi

:

Slit each Napa cabbage in half lengthwise and then cut each half lengthwise into two. Cut each quadrant into 3-4 pieces. Soak in cold water or run through cold running water until all cabbage leaves are thoroughly wet.

2.

Salt Cabbage

:

Transfer few leaves of cabbage (soaked and drained) in a large mixing bowl (use bowl that can hold all of the cut cabbage or use two bowls). Sprinkle a teaspoon salt on the leaves. Scatter one more single layer of leaves on the top of salted leaves. Sprinkle a teaspoon of salt on top again. Repeat this process until all cabbage is salted. Set aside for 2 hours.

3.

Toss Cabbage

:

Every 30 minutes, toss the cabbage leaves up side down. This helps leaves get even salt treatment. By 2 hours, cabbage will shrink very slightly and loose water that will collect at the bottom of bowl.

4.

Cook Rice Paste for Kimchi

:

In a small bowl, mix sweet rice flour with sugar until well combined. In a small sauce pan, add water with flour-sugar mix. Stir well. Bring to boil on medium heat, stir often with whisk to avoid lumps. Cook for 3-4 minutes or until paste is bubbling and shining. Stir often so that rice don't catch at the bottom. Set aside to cool completely.

5.

Mix Kimchi Paste

:

Use food processor (or grater) to small mince garlic, ginger and onion. Add to a large mixing bowl. Mix in gochugaru Korean chili flakes, fish sauce, shrimp paste and cooled rice flour paste made in the step above. Add thin sliced carrot, radish, and scallions. Mix well. Set aside.

6.

Rinse and Drain Salted Cabbage

:

Discard water collected at the bottom of bowl with kimchi. Rinse salted cabbage thoroughly under running cold tap water. Shake off excess water.

7.

Mix Cabbage with Kimchi Paste

:

Add cabbage to the kimchi paste mixed in Step 5. Using *hands gently coat all leaves in the kimchi paste thoroughly.

Additional Notes:

*Always wear gloves when handling chili peppers.

8.

Ferment Kimchi

:

Transfer kimchi to a container with air tight lid. Refrigerate until ready to use. Kimchi starts to ferment in 24 hours. Mix Kimchi once every day to ensure good distribution of the flavor as it ferments.

Additional Notes:

For good flavor, let kimchi ferment for at-least 2 day up-to week.
Savita's Notes:
To enjoy Kimchi within 24 hours of assembly, let Kimchi ferment at room temperature. Do not refrigerate. 
To keep Kimchi longer, refrigerate Kimchi after assembly. Let it ferment slowly. 
Kimchi flavor is the best after a week fermentation in refrigerator.
DID YOU MAKE THIS RECIPE?
Tag
@SAVITACHEFDEHOME
on Instagram and hashtag it
#SAVITACHEFDEHOME
© Chef De Home. Post content including video and photos are copyright protected.
We Think You'll Love