This recipe is Copyright of ChefDeHome.com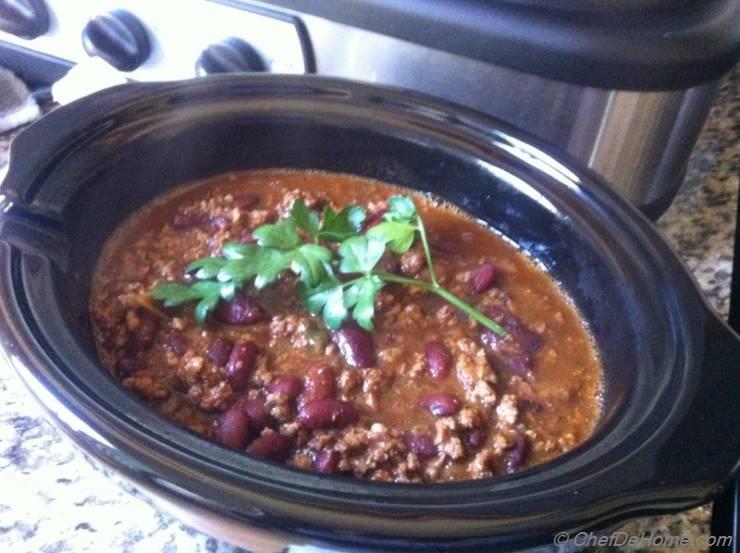 This easy to follow Lamb and Red Beans Chili is all time popular Mexican specialty. Spicy lamb with smoky chili flavor is favorite of every one in my house. Originally Lamb Chili is served topped with salsa verde and corn tortilla on side but I prefer it with cilantro lime rice. Try to get good quality 80-20 lamb that works best for Lamb Chili. For chili part of it, I use homemade Ancho Chili paste (called by some Pasilla chiles) but you can use store bought paste too.
To make Ancho Chili paste at home, Soak ancho peppers in hot water for 15 minutes. Remove from water and keep the water for later use. Remove stems and seeds from peppers. Process with little amount of Ancho Chili pepper water to a fine puree. Strain to get rid of hard skin. Mix paste with 1/2 tsp white vinegar and refrigerate for upto 1 week.
Pairing Ideas:
Craving for more?
Join us: Weekly Newsletter, Facebook, Google, Twitter, Pinterest
Shop products we use: CDH Amazon Shop (affiliate links)
Lamb Chili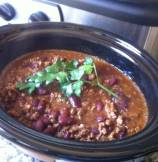 Total Time
Prep Time
Cook Time
Difficulty
Easy
Yields
4 Servings
Serves
4
Ingredients
2-3

Garlic

(cloves, fine chopped)

1.5 lbs

Lamb

(ground)

1.5 Cup

Kidney Beans

(Canned or pre-cooked Red Beans)

1 Cup

White Onion

(Or Red onion fine chopped)

1 tbsp

Salt

1/2 tbsp

Black Pepper

1 tsp

Coriander Powder

1 tsp

Cumin Powder

1

Lemon

(Zest and juice)

1 tsp

Thyme

1 tsp

Parsley

(dry or 2 tbsp freshly chopped)

1 tsp

Smoked Red Pepper

1 tbsp

Ancho Chili Paste

(mixed with 2 tbsp water)

1 tsp

Red Pepper Powder

2 Cup

Dark Lager Beer

2 Cup

Chicken Stock

(Low Sodium)

2 tbsp

Canola Oil

(Or Olive oil)

1-2

Bay Leaf

1 tbsp

Tomato Paste
Directions
Hide Step Photos
1.

Heat oil in heavy bottom Dutch oven. Add lamb and fry till lamb is brown. Break lamb into small chunks as you fry it. It takes about 10 minutes to dry moisture in lamb and another 10 minutes to brown it. Remove on a plate with slotted spoon leaving most of oil behind.

Additional Notes

Fully thaw the ground lamb before this is step if using frozen lamb.

2.

Add chopped onion and garlic in same dutch oven and fry till translucent. Do no worry about lamb bits sticking to bottom of pan as these will come out when we add some liquid and will enhance flavor or lamb chili.

3.

Now add bay leaf, lemon zest and all seasonings and continue frying for two more minute. Add tomato paste, chili paste, lemon juice and fry for another two minutes. Add some water if is sticking to bottom of the pan.

4.

Add beer, chicken stock, salt and bring to boil. Add kidney or red beans and simmer at low medium heat for about 30 minutes or till lamb is tender. Taste and adjust salt. Serve with Rice and salsa. Enjoy!!!
© Chef De Home. All contents and images are copyright protected. DO NOT copy or re-use content/images/videos. For all content/post mentions with link back, contact ChefDeHome for permission.

Craving for more?
Join us: Weekly Newsletter, Facebook, Google, Twitter, Pinterest
Shop products we use: CDH Amazon Shop (affiliate links)
What would you like me to cook next?: Request a Recipe