Guacamole
Make Guacamole at home with this tested fresh Guacamole recipe. It tastes delicious, clean and comes together super quick.
Posted On:

Feb, 12
| Author:

Savita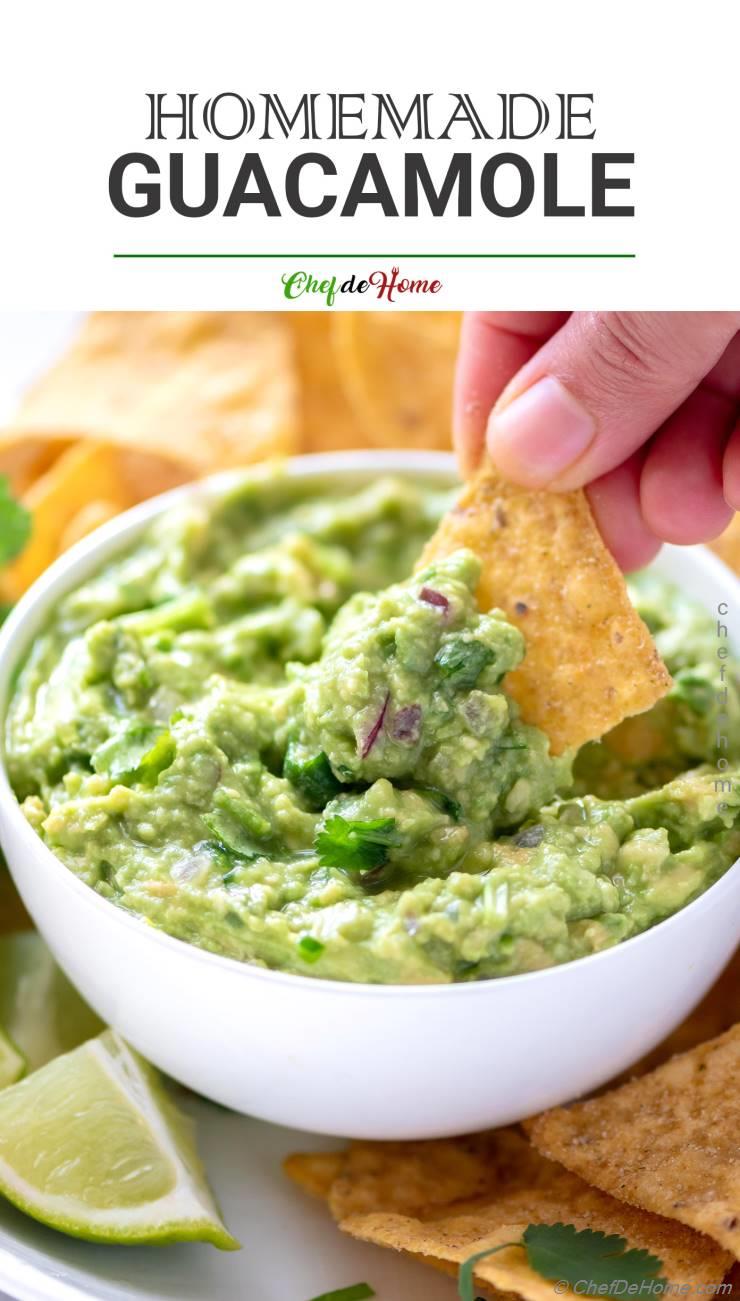 Traditional piquant Guacamole made right with whole simple 6 ingredients.This real easy guacamole recipe is only one you need for all entertaining. This homemade dip is must-have in every party, is easy to prepare and tastes just like served in restaurants. Healthy, Clean, Keto, Whole30, Gluten Free are pure bonus.
Oh, if you ever think guacamole gets dark quickly?! Let me help you change that with two simple kitchen tricks. Guacamole made with my recipe stays fresh in refrigerator for 5 days. Feel free to make ahead and serve it chilled out-of-refrigerator with seasoned tortilla chips. 
Let's make Guacamole!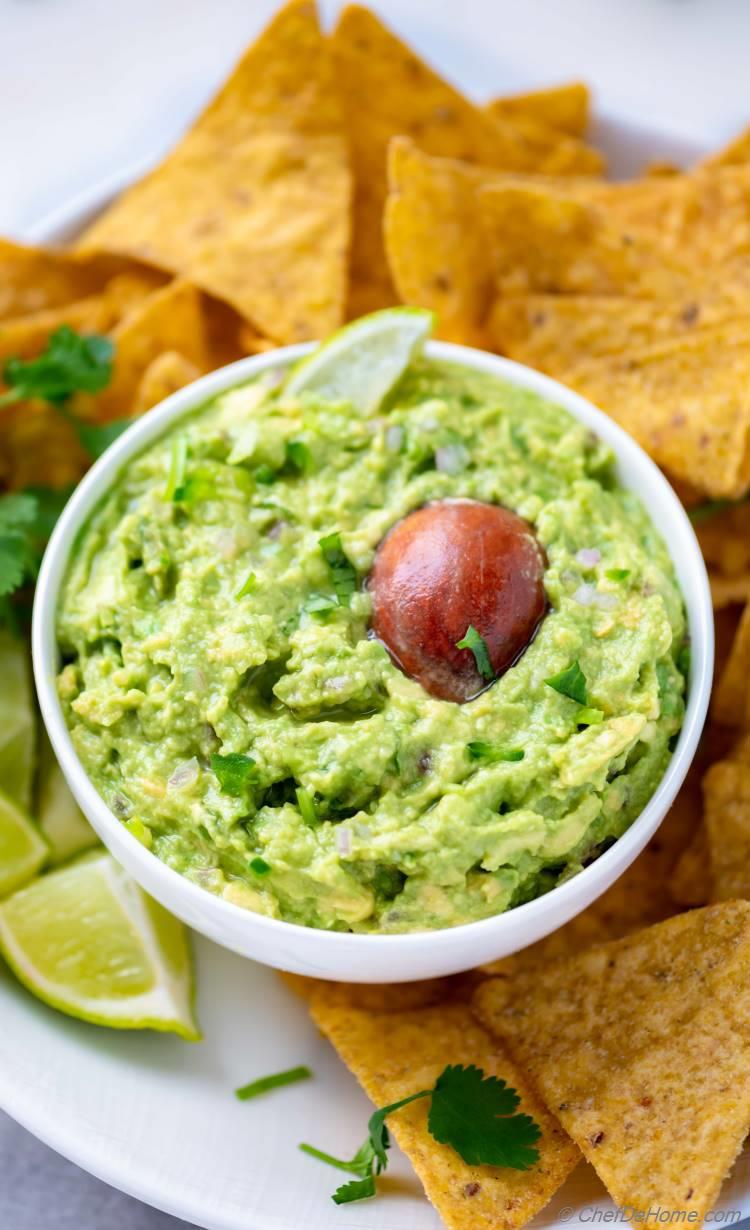 GUACAMOLE
Guacamole is a very simple avocado dip. It needs real simple, fresh whole food ingredients such as avocado, lime, jalapeno, red onion, garlic and little bit of herb cilantro. Can it get healthier than this? I guess not. It is keto, paleo, loaded with healthy fats. No cheese or even oils required to make this creamy dip. 
To make guacamole, I start by preparing the ingredients. Slice and remove seeds from Jalapeno and small dice. Grate garlic clove. Small dice red onion. Chop cilantro and juice two-three limes to get 2-3 tbsp lime juice. My secret ingredients to give depth of flavor to guacamole are: garlic and toasted cumin seeds powder. I highly recommend adding both for a delicious good Mexican guacamole. (Taste of cumin is very subtle. You just need 1/4 tsp. But little goes long way and adds ton of depth of flavor. Must try!)
Note: Don't cut avocados until you have prepared rest of the ingredients.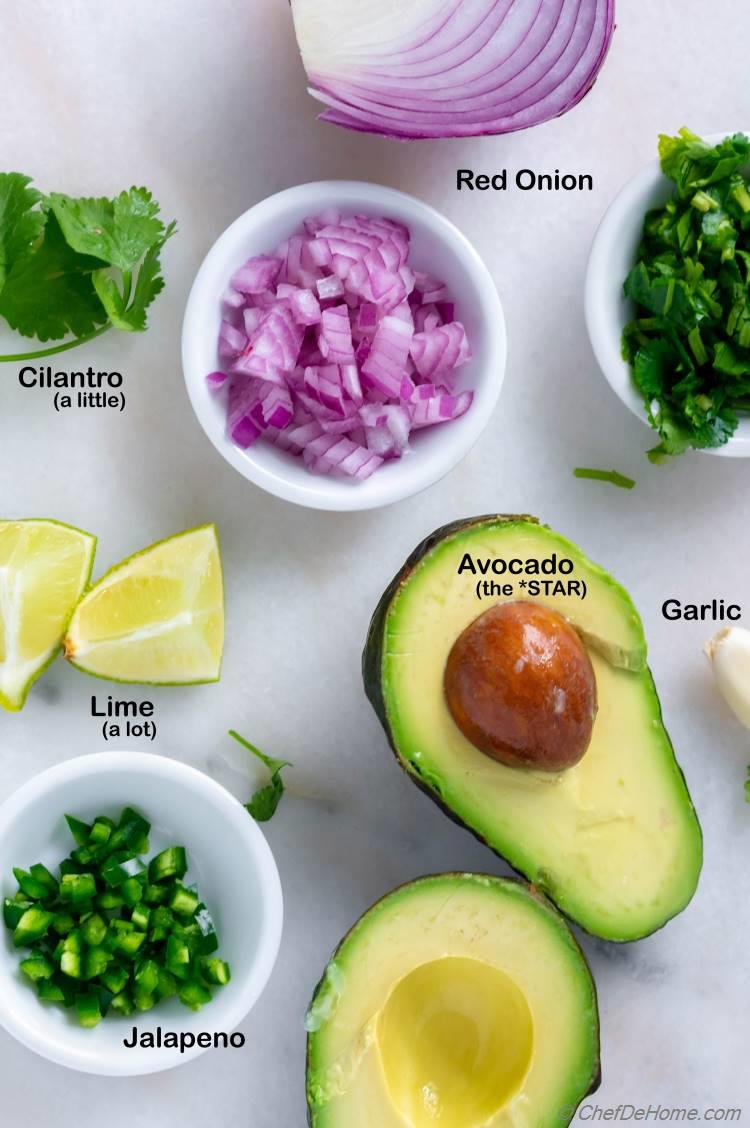 Once guacamole ingredients are ready. Into a large bowl, add all ingredients except 1 tbsp of lime juice and avocado. Mix well. Now cut avocado, add to bowl with rest of ingredients. Add lime juice. Mash with back of a large fork until guacamole is of consistency you prefer. 
Did you know mashing guacamole with fork also enhances it's flavor? The juices from the red onion, jalapeno and garlic mix into avocado as it is mashed, making guacamole even more tasty.
That's it!
Holy moly guacamole is ready to make your next meal super delicious.
Just cut, mix and mash. Isn't it so simple to make guacamole at home? Why serve store bought?!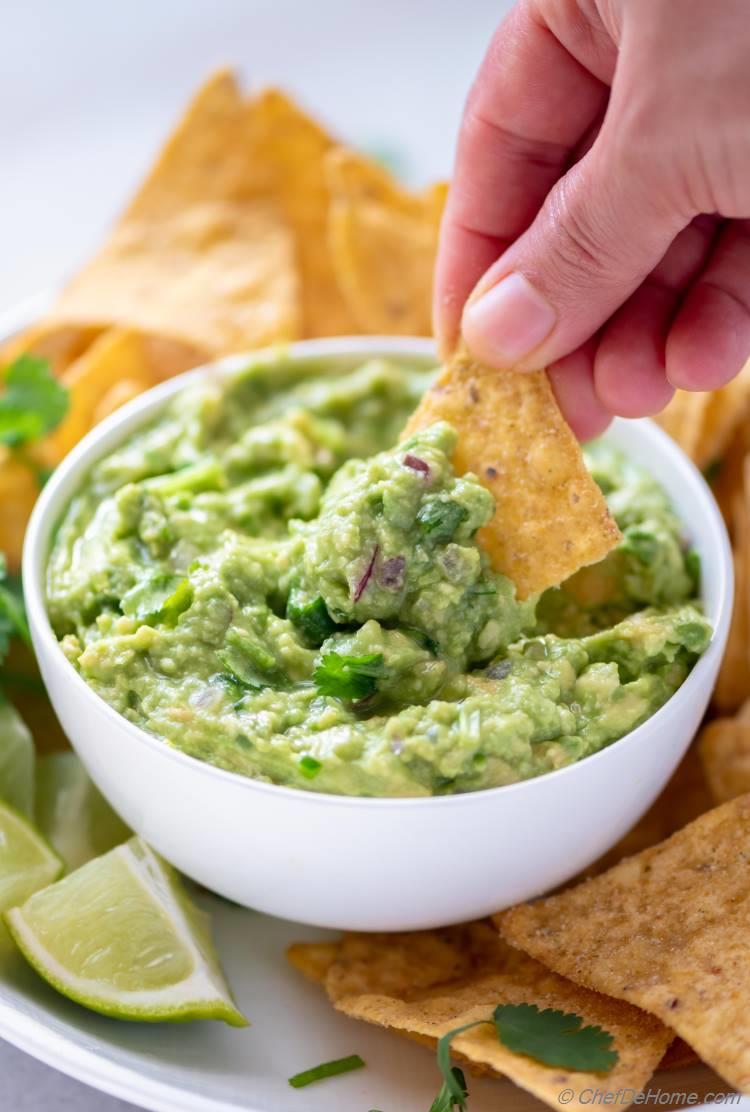 MAKE AHEAD GUACAMOLE
To increase make-ahead life of Guacamole, try following:
Always make guacamole with fresh ripe avocado (not bruised) and lots of fresh lime juice (check recipe for quantity of ingredients)
Don't discard pits of avocado. Add it to prepared guacamole before refrigerating. It prevents quick oxidation. Also makes great presentation.
Store guacamole in refrigerator in air-tight container. Don't open-close container too many times. This will prevent quick oxidation. If you need to serve guacamole multiple times. Store it into the small containers instead of one big container. 
Always splash extra lime juice on surface before closing the container.
By following these simple steps, I'm able to keep guacamole fresh for more than 4 days. Whereas it is asked to make fresh or to consume within 24 hours. 
SPICY GUACAMOLE
Yes, please! Because here is no room for bland. We love heat/spices in our food. So this guacamole will not disappoint you. It has just right amount of kick of jalapeno and earthy flavor of cumin. It is fresh and vibrant but the depth of flavor is amazing with little heat and spice.
However, you can make it more hot or not hot at all. Follow this chart to make Guacamole mild/medium/hot spice.
Mild Hot - Half Jalapeno
Medium - Half to 1 Serrano. Preferably seeds removed and small diced. Add 1/2 first. Taste and add rest as per preference.
Hot - 1 Serrano and 1/4 tsp cayenne. Or 1 Serrano and few (or lot) dash of Tabasco sauce.
In addition to above, add 1/4 to 1/2 tsp of toasted cumin seed powder. This adds flavor that will surprise you.
As you saw, this very same recipe can be a Spicy Guacamole recipe with update of just 1-2 ingredients. I call this the magic of home cooking. So many options!
Tip: By all means you can buy prepared guacamole. But I highly recommend following the above tips to fix it's flavor, refresh and make it delicious. 
CHUNKY GUACAMOLE
You can make guacamole chunky any day. In-fact this recipe does not need any food processor. I just mash the avocado with back of a fork which yields somewhat chunky guacamole. Trick is simple. for smoother guacamole, mash a little more, work on big chunks. It is a good workout as well. ;)
Or If you want fully smooth guacamole, add it to food processor and pulse until guacamole has desired consistency.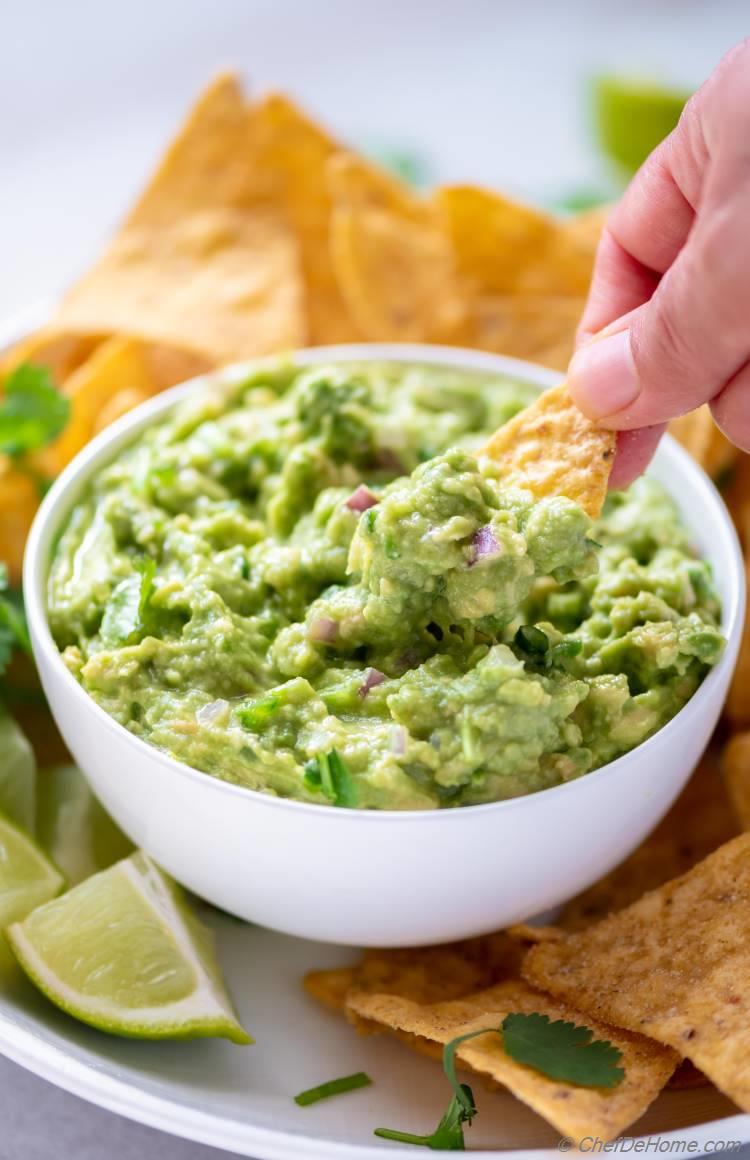 WHAT TO SERVE WITH GUACAMOLE?
Chips and Guacamole are match made in heaven. There is no Guacamole Dip without a bag of seasoned (not plain) tortilla chips. I also love guacamole on toast for a healthy Omega rich breakfast.
No Mexican meal is complete without a dollop of guacamole. You can also enjoy guacamole on the side of Taco Bowl, Enchiladas or Burritos.
This reminds me, I'm fan of Chipotle's Guacamole and chips. (One of my favorite restaurant.) Have you tried my series of Chipotle Copycat recipes? If not, start with Chipotle Tofu Sofritas. My Sofritas recipe has made even meat-eaters love tofu. It is That good.
Trivia question of the day.
Did you know when is Guacamole Day?
If you like Mexican food especially avocados, you will be glad to know that September 16 Guacamole Day in United States. Celebrate with big bowl of guacamole and tortillas chips.
For your next event, don't buy but make fresh guacamole at home with this easy recipe. Enjoy!
Love Avocados? Try these Avocado Salads for more healthy Omegas in your diet.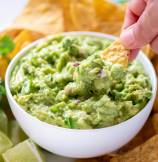 Total Time:
Prep Time:
Cook Time:
Cuisine:
Mexican
(

Dip, Appetizer, Spread

)
Difficulty:
Easy
Yields:
1.5 Cups
- Serves:
6
Nutrition:
103 calories per serving
(

Recipe doubles easily.

)
Directions
1.

Toast Cumin Seeds

:

To toast Cumin Seeds, heat a dry skillet on medium heat. Toast cumin seeds in skillet until fragrant. About 1 minute. Don't let them burn. Remove from heat. When cool to touch, grind in mortar pestle or spice grinder. You can also place toasted seeds in fold of paper and press back-and-forth with back of a spoon to grind. Coarse grind is fine.

2.

Prepare Guacamole Ingredients

:

Slice and remove seeds from Jalapeno and small dice. Grate garlic clove. Small dice red onion. Chop cilantro and juice limes to get 2-3 tbsp lime juice.

3.

. Make Guacamole

:

In a large bowl, add small diced red onion, minced jalapeno, lime juice, cilantro, 1/4 tsp cumin powder, and 1/4 tsp of salt and mix together. Cut and remove pit from avocados. Don't discard the pits. Add the avocado flesh into the bowl with onions. Using back of a large fork, mash avocados until guacamole is desired consistency. It takes 1-2 minutes to mash avocados to medium smooth consistency.

Additional Notes:

Alternatively, you can add all these ingredients except avocado in a food processor and pulse few times. Then add avocado flesh and pulse until guacamole is smooth to your liking.

4.

Season and Serve

:

Taste and adjust salt and lime juice. For best results refrigerate for 20-30 minutes. To refrigerate, transfer guacamole to a container with lid. Place 1-2 of reserved pit in the guacamole. This helps prevent blackening. Discard pits before serving. Serve guacamole with seasoned tortilla chips.
Savita's Notes:
Planning to serve guacamole later? Reserve 1-2 Avocado Pits and place in the guacamole before refrigerating. This simple hack keeps guacamole fresh longer. (prevents the quick darkening of avocados) For me, it also makes great presentation.
Avocado Pit in not substitute for lime juice/lemon juice (citric acid). Don't skip lemon/lime juice in guacamole.
For longer make-ahead life,  it is very important only use fresh ripe avocado that are not bruised or spotty. 
Recipe doubles easily. For large crowd, double the quantity of ingredients. Guacamole with 4 avocados will yield about 3 cups.
Guacamole gets better with time. Allow at-least 20-30 minutes for flavors to marry. It tastes even better the next day.
DID YOU MAKE THIS RECIPE?
Tag
@SAVITACHEFDEHOME
on Instagram and hashtag it
#SAVITACHEFDEHOME
© Chef De Home. Post content including video and photos are copyright protected.
We Think You'll Love