Chipotle Shrimp with Avocado Sauce Zucchini Noodles
Carb free, healthy and flavorful mid week dinner with creamy avocado sauce zucchini noodles and spicy Chipotle Shrimp.
Posted On:

Jan, 24
| Author:

Savita
A sunny day (for a change) and "chipotle" cravings begin again.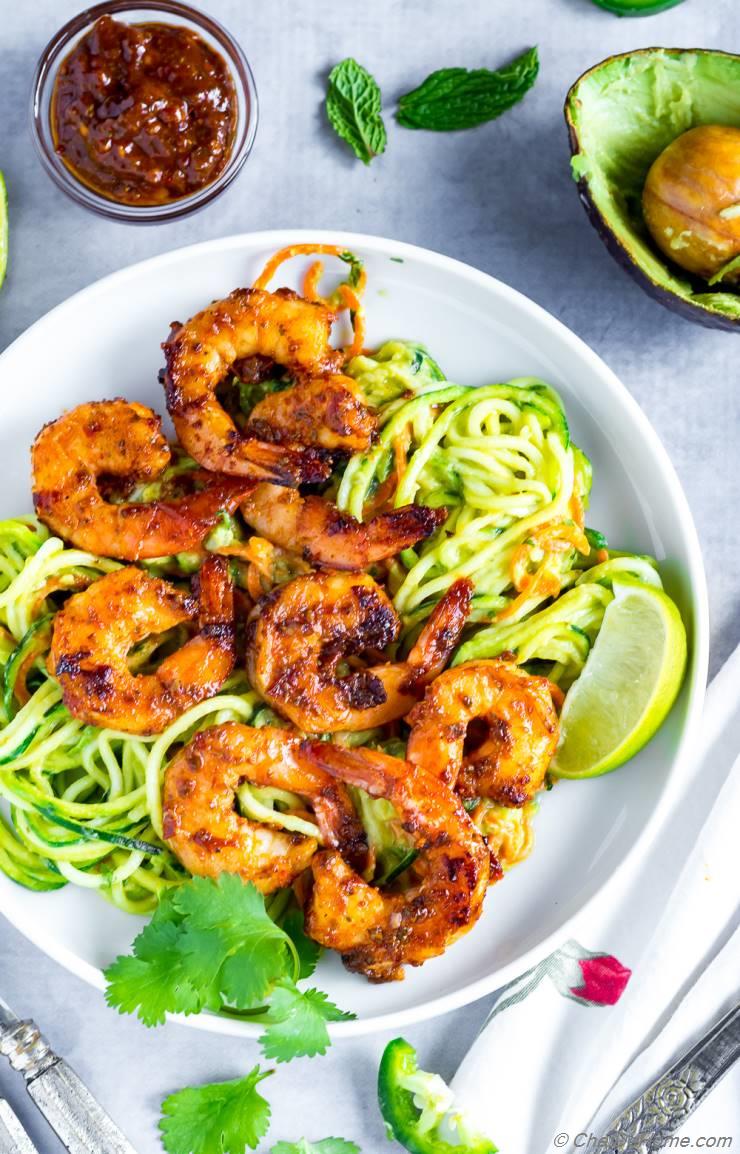 Sweet Spicy Chipotle Shrimp with Zucchini Noodles pasta coated in dairy-free avocado sauce for Wednesday dinner. 
I say, bring it on! 
Honestly, not just Wednesday... I love this zesty combination of flavors any day of the week. Plus it is gluten free, no-carb, and dairy-free. Recipe also comes with bonus of lean protein, anti-oxidants, and healthy fats.
You know what? It's even okay if you are not looking for healthy dinner because above all, this recipe is packed with ton of flavor. (a must-have in my kitchen).
These three things make this recipe extra special:
1) Sweet and Spicy Chipotle Glazed Shrimp
2) Fresh Avocado Sauce
3) No-Carb Veggie Zucchini Noodles
Oh, before we dig into this scrumptious Shrimp Pasta.. I would like to mention that this recipe has two components prepared in Food Processor (or blender). (Remember our "Food Processor" series? Head to homepage to check more recipes.)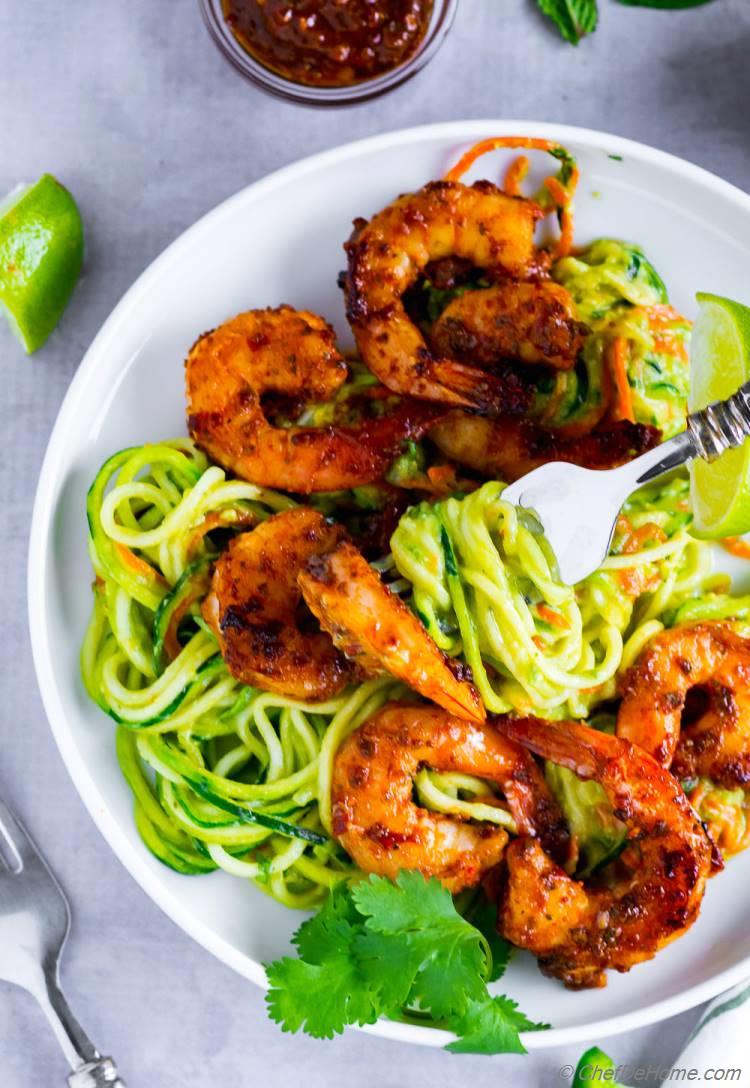 Sweet and Spicy Chipotle Glazed Shrimp
I'm certain you are not new to my love of Chipotle chilies or Chipotle Sauce.
From Chipotle Sofritas to Chipotle Barbacoa, my family is crazy for chipotle. You will even find a Chipotle Chocolate Pudding Cake on blog. Not crazy, but really smokey chipotle chilies pair so well with chocolate. It is a must try recipe. A sweet-spicy surprise for your Valentine. (hint hint)
I fell in love with Chipotle chilies when I was working on my Chipotle Sofritas recipe. This Chipotle Shrimp recipe is my sweet and spicy homage to chipotle chilies. For this dish, I served shrimp over pasta but really it is also a perfect appetizer or cocktail party snack. 
The chipotle sauce is combination of easy-to-find zesty ingredients: chipotle adobo (of course), cumin, oregano, garlic, and lime. I often use agave or honey for sweet and spicy flavors.
Shrimp (even frozen) is cooked with chipotle sauce for about 6 minutes. The sweetness in sauce caramelize shrimp giving it delicious color and flavor. It looks amazing and tastes even better. When I was testing this recipe.. Vishal enjoyed 3-4 batches of Chipotle Shrimp. It was so well recieved that even tonight, I've been asked to make some for dinner. There is no such thing as too-much-chipotle in our home. :-)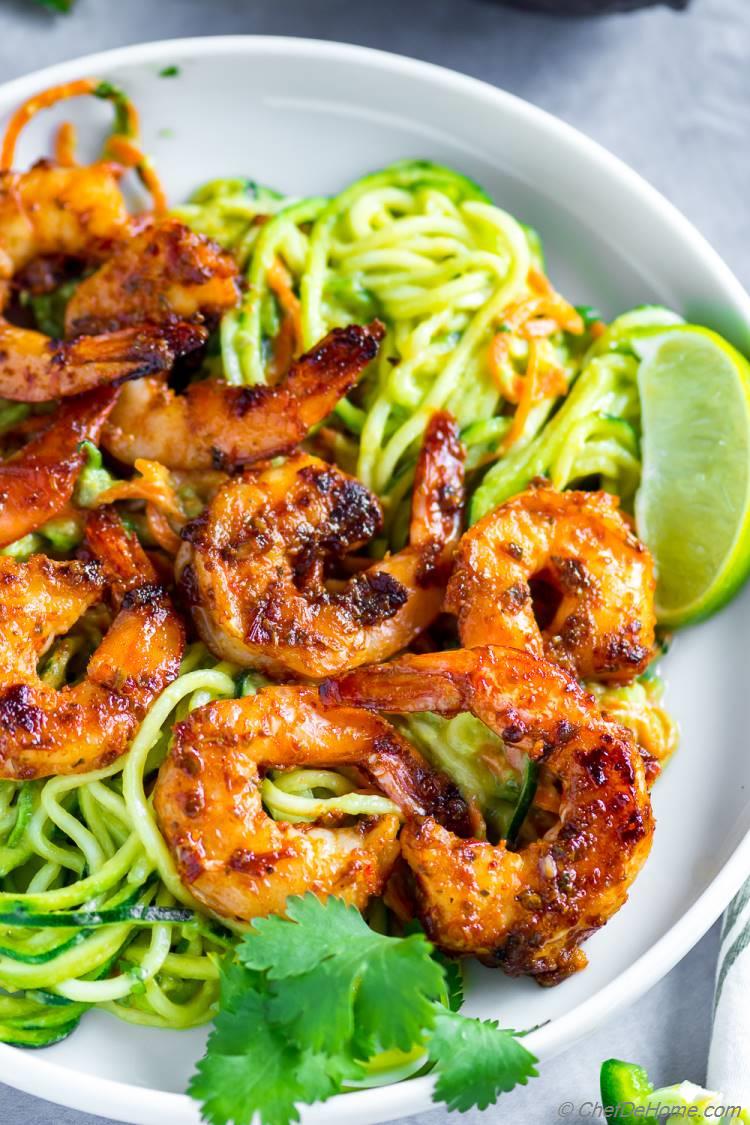 Avocado Sauce:
Avocado sauce compliments the spicy flavor of shrimp. Plus tt's creamy texture coats pasta well. It does not feel like a no-cream, dairy-free pasta sauce. It is also high in good fats, antioxidants, and is filling.
I decided to keep avocado sauce little less spicy. This way it worked well with heat of chipotle in shrimp. If you looking for spicy avocado sauce pasta, I recommend trying my earlier Spicy Avocado Pasta Recipe.
Zucchini Noodles:
Zucchini Noodles in this recipe steal the show. These tie the whole dish together. Every fork-full of zoodles coated in creamy avocado sauce with spicy shrimp.. It is a dream-come-true dinner experience when dieting or focusing on healthy eating. This recipe proves that healthy can be delicious. I usually call this Weight Watcher's Freestyle made healthier.
I always say, don't eat zucchini noodles assuming these as fake-pasta. Eat it like zucchini. Trust me. Zucchini is a flavorful vegetable. You can eat it raw, par-cooked or fully cooked. It is full of nutrients and neutral-flavor to piggy-back any main flavor. Appreciating zucchini for being a vegetable will make you love it more than just a spiralized-pasta-substitute.
Honestly, if I not had spiralizer, I would eat a bowl of sauted sliced zucchini on side with chipotle shrimp and avocado sauce. 
Since we talking about spiralizer... In past 1.5 years, I have used and retired so many of these. I was searching for something that will not make me double-guess my dinner. You know that feeling.? When your mind says, I would rather eat whole zucchini than going through 10-steps of making noodles...

...this changed when I bought my OXO Good Grips 3-Blade Tabletop Spiralizer. (affiliate link)
I LOVE it. It is so easy to use and clean. These days I never have to think twice before spirlaizing fresh veggies. Like in 5 minutes of deciding to eat zucchini noodles... I have a bowl full to get going. This is the reason for all spiralizer recipe on the blog. (more to come)
This recipe is part of South Beach Diet series. If you trying to loose wait or following lite-food regime past-holidays. I highly recommend exploring South Beach Diet collection.
I hope you get chance to try this delicious pasta tonight! :) If not, make sure to pin it for later.
-Savita
More Shrimp Recipes on blog:
Chipotle Shrimp with Avocado Sauce Zucchini Noodles
reviews

)
(2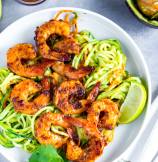 Total Time:
Prep Time:
Cook Time:
Cuisine:
American
(

Pasta, Main Course

)
Difficulty:
Easy
Yields:
4 Servings
- Serves:
4
Ingredients
Avocado Sauce Zucchini Noodles
Chipotle Shrimp
Smart Swap: Replace olive oil with avocado oil.
Directions
1.

In food processor, combine all ingredients for Chipotle sauce - all chipotle en adobo, 1 tbsp olive oil, 1 tbsp agave syrup, 2 garlic clove, 1/2 tsp cumin powder, and 1 tsp oregano. Pulse until pureed.

2.

Remove in a bowl, add shrimp, coat and set aside. You need a heaping tablespoon sauce for each 10 shrimp pieces. Save remaining sauce to use when serving (Step - 5)

3.

In food processor, combine remaining ingredients for avocado sauce - avocado, jalapeno, cilantro stem and leaves, 2 tablespoon olive oil, 1 garlic clove, 1/2 tsp cumin, 1 tsp oregano with a tablespoon of water. Pulse until pureed and creamy. If sauce appears too thick, add 1-2 tbsp more water. Taste and adjust salt, black pepper, and lime juice.

Additional Notes:

You can also replace water with chicken stock for more flavor.

4.

Heat a tsp oil in a saute pan, add spiralized zucchini and carrot. Saute on high heat until slightly charred at edges (1-2 minutes). Remove in a wide bowl. Heat remaining oil in a saute pan, add marinated shrimp, cook until pink and slightly caramelized from both sides. (2-3 minutes each side)

5.

Transfer avocado sauce to bowl with pasta. Toss to coat pasta with sauce. Transfer to serving plates. Top with cooked shrimp. Garnish with more cilantro. Serve lime wedges on side. Enjoy!

Additional Notes:

I love to spoon any remaining chipotle sauce on top for extra spicy kick.
DID YOU MAKE THIS RECIPE?
Tag
@SAVITACHEFDEHOME
on Instagram and hashtag it
#SAVITACHEFDEHOME
© Chef De Home. Post content including video and photos are copyright protected.
We Think You'll Love