Avocado Salsa (Guacamole Salsa)
Guacamole And Salsa in one dip. This zesty Avocado Salsa is perfect party-pleaser with side of warmed corn tortilla chips. If you like guacamole, this will become next favorite Avocado Dip. Must try!
Posted On:

Jan, 11
| Author:

Savita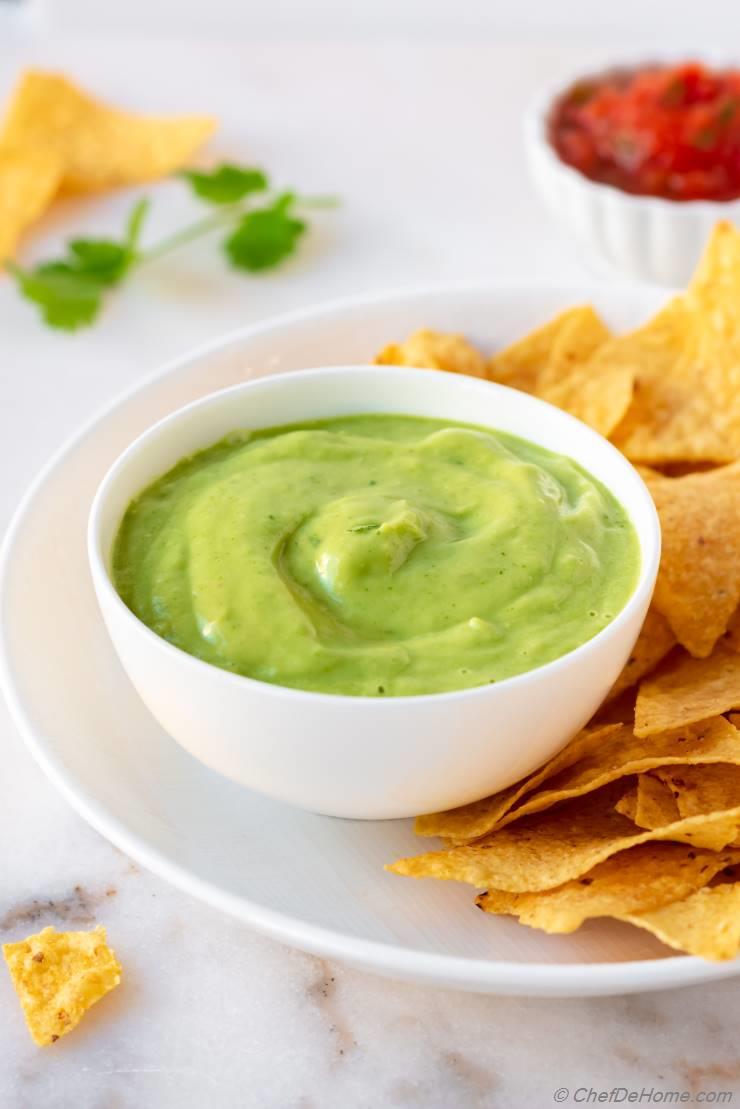 The close relative of Guacamole, Avocado Salsa is delicious Guacamole and Salsa in a vibrant zesty green dip. The heat of serrano peppers, tang of tomatillos and lime juice with creamy fresh avocado, I call this a heavenly green sauce of a foodie's paradise! Really a must try recipe once in lifetime. 
This Tomatillo Avocado Salsa recipe is also very versatile. You can serve it as Salsa with chips, as sauce with favorite burrito or tacos. Plus it is an easy recipe that needs a few ingredients, and 20 mins to make. Gluten free, no artificial ingredients or color, and good-fats are pure bonus.
If you are fan of Mexican flavors? I'm sure you love many other salsa recipes on the blog: Taqueria Salsa, Guacamole, Spicy Mango Salsa, Pineapple Salsa, Hot Salsa to name a few.
Let's make some Holy-guacamole Salsa today!
Guacamole Salsa
All of my favorite Mexican restaurants offer an Avocado Salsa. Few versions are spicy, few are more creamy and mild spicy. All known by different names - avocado salsa, guacamole salsa, tomatillos salsa and so on. In-fact, there are many brands of bottled guacamole salsa. I'm sure you have heard of Tostitos Avocado Salsa, Herdez Guacamole Salsa.
Names aside, all of these salsa translate to a tangy, spicy and creamy dip with everyone's favorite Avocados! Honestly, guacamole salsa ingredients i.e. avocado, garlic, peppers, tomatillos and lime juice speak for itself in the flavor of salsa. Vibrant and fresh.
In short, it is not a chunky guacamole, but a smooth and creamy guacamole sauce.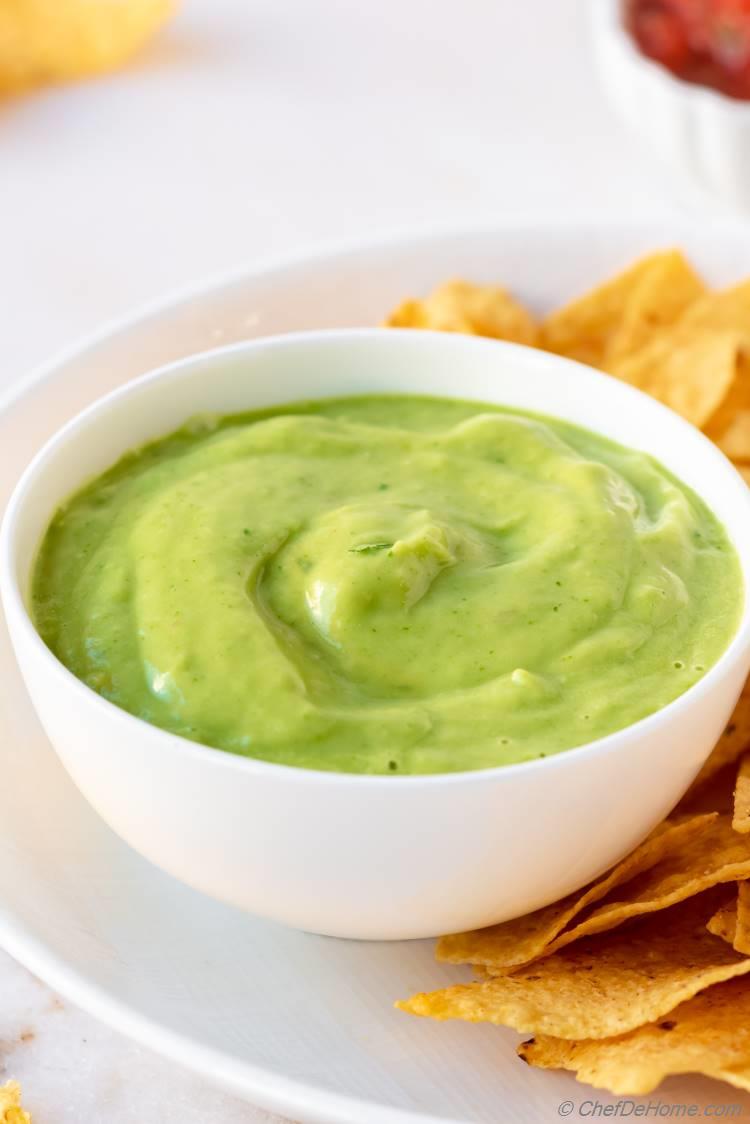 What Do You Need To Make Avocado Salsa?
The ingredients to make Avocado Salsa are same as the Guacamole Ingredients plus Husked Green Tomatillos. Tomatillos give salsa tang and distinct flavor. 
For best results, always use good ripe avocados.
To make Avocado Salsa, I first ready the tomatillos. Remove husk and rinse tomatillos thoroughly under running water. Place in medium sauce pan, cover with water and then cook until tomatillos turn olive green and very soft.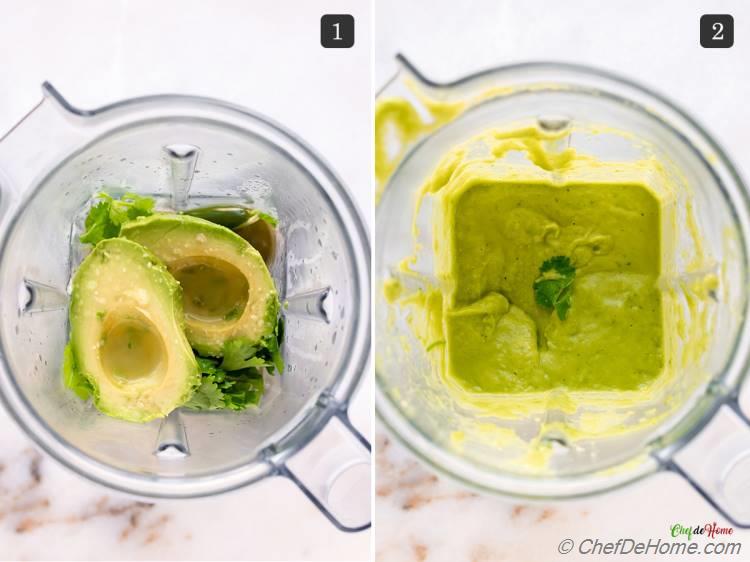 Once tomatillos are ready, rest of salsa is ready in blender or a food processor in 5 minutes.
This Avocado Salsa recipe is extra flavorful because:
Cooked tomatoes give right amount of acidity to the salsa without overpowering the flavor.
I use fresh garlic and pepper (serrano) to add bright garlic and pepper flavor. A must in a good Mexican Salsa recipe.
What to Serve with Avocado Salsa?
The best way to enjoy Creamy Avocado Salsa is with chips or spooned over fresh homemade Fajitas or Tacos. Take a look at my Air Fryer Chicken Fajitas where I used same Avocado Salsa to devour fajitas with warm tortillas. (yum)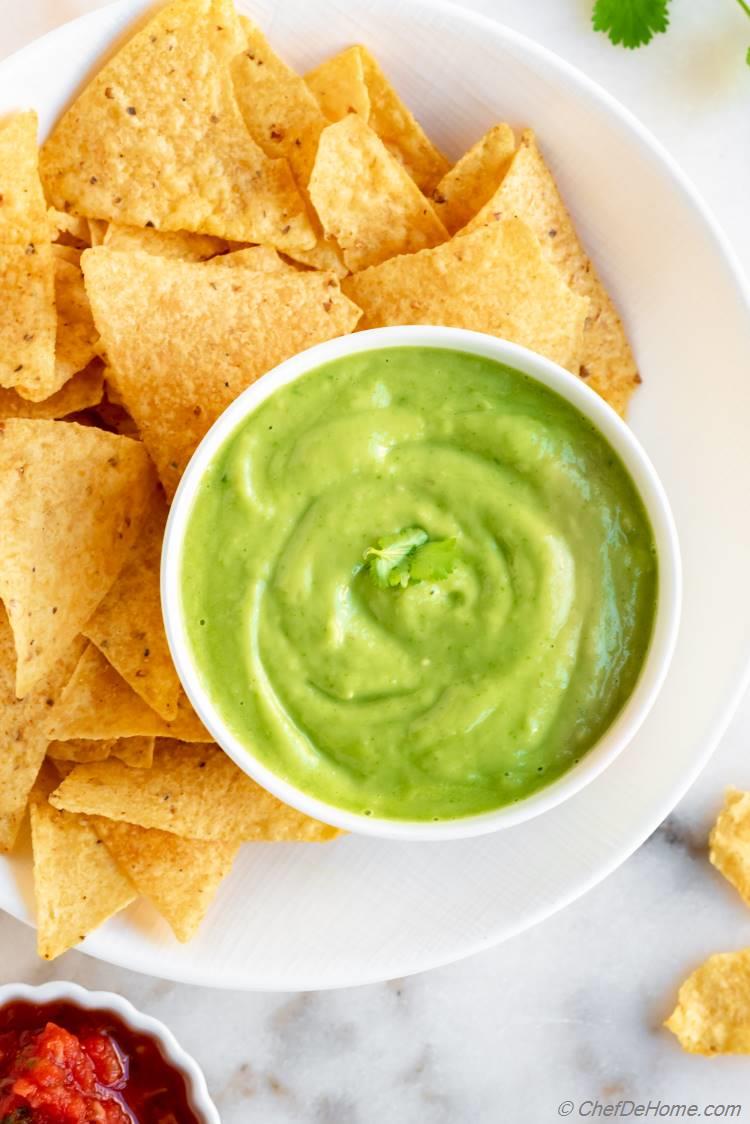 Tips for Success
Thoroughly rinse tomatillos before using. Always use fresh and firm green tomatillos (without blemish or wrinkled skin). 
Cook tomatillos until these are soft, olive green in color but not yet started to break apart. For best results simmer on medium heat.
Use non-fibrous and ripe avocados.
Always taste and adjust seasonings - salt and lime juice to taste.
Salsa stays good for 4-5 days. To refrigerate, add salsa to a container with lid. Place a cling wrap touching the surface of salsa and then place lid. Refrigerate until ready to use. This helps prevent discoloration of the salsa.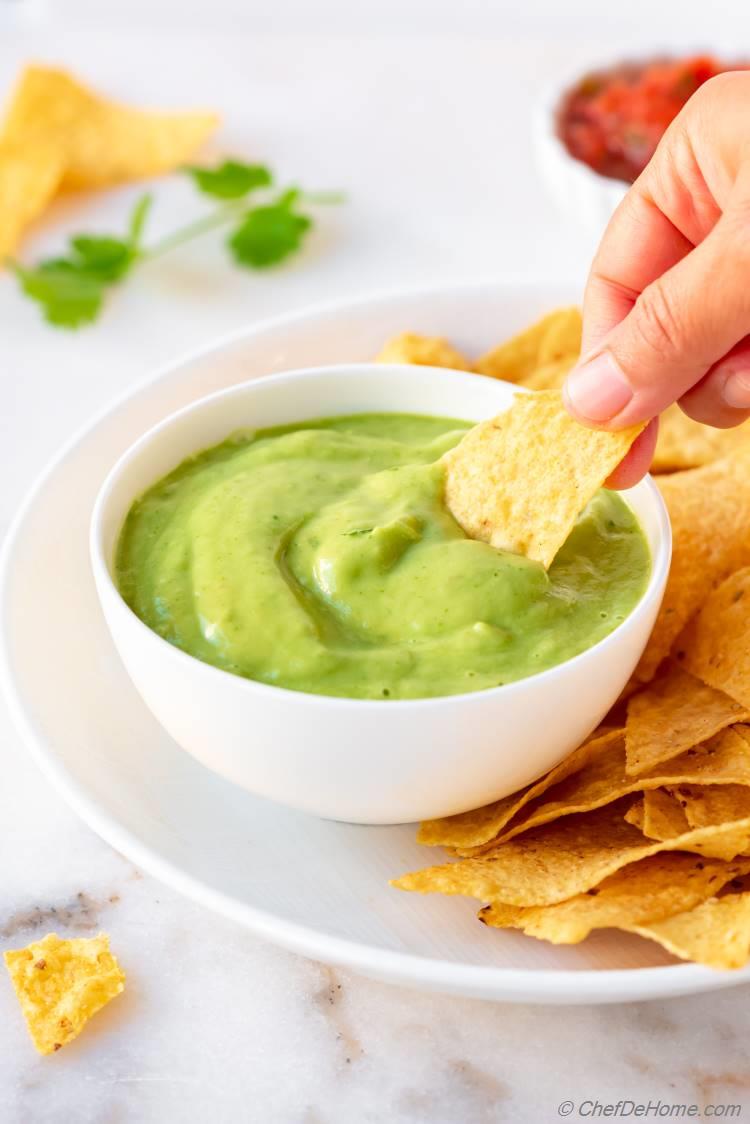 Friends, try a different Salsa this Taco Tuesday! If you ever wondered how does Mexican restaurant make green salsa? This is the recipe to try. Specially if you have never tried Avocado Salsa before then I highly recommend make this recipe.
Serve Avocado Salsa on the Side:
Avocado Salsa (Guacamole Salsa)
reviews

)
(5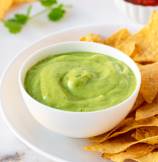 Total Time:
Prep Time:
Cook Time:
Cuisine:
Mexican
(

Dip, Sauce, Condiment

)
Difficulty:
Easy
Yields:
1.5 Cups
- Serves:
6
Directions
1.

Prepare Salsa Ingredients

:

Pit, peel, and rough chop avocado. Rough chop garlic cloves, cilantro leaves and stem serrano, and green onion (or white onion, if using).

Additional Notes:

See Note 1 to adjust heat.

2.

Cook Tomatillo

:

Husk and thoroughly rinse tomatillos under running water. In a medium sauce pan, add tomatillo and cover with water. Bring to boil, then cover and boil until tomatillos are cooked (these with be soft and olive green in color when ready), about 8-10 minutes.

3.

Make Salsa

:

In a blender or food processor jar, transfer tomatillos with slotted spoon (discard liquid), chopped avocado, and chopped serrano, garlic, onion, cilantro leaves and stems, olive oil, 1/2 tsp of salt, and half of lime juice and 1/4 cup of water. Process at medium speed until everything is pureed to a smooth sauce. Add 1 tbsp more water, at a time, only if necessary to facilitate pureeing.

4.

Adjust Seasoning and Serve

:

Once smooth, taste and adjust lime juice, and salt. Transfer salsa to a clean bowl. Refrigerate until ready to use. See Note 2.
Savita's Notes:
Fresh chopped Serrano Chile pepper give nice pepper flavor and heat to the avocado salsa. If you prefer less heat, do one of the following:
a. Use only one Serrano or Replace one serrano with half jalapeno (deseeded)
b. Cook Serranoes (whole) with tomatillo.
Salsa stays good for 4-5 days. To refrigerate, add salsa to a container with lid. Place a cling wrap touching the surface of salsa and then place lid. Refrigerate until ready to use. This helps prevent discoloration of the salsa. 
DID YOU MAKE THIS RECIPE?
Tag
@SAVITACHEFDEHOME
on Instagram and hashtag it
#SAVITACHEFDEHOME
© Chef De Home. Post content including video and photos are copyright protected.
We Think You'll Love