Chicken Marbella
Chicken Marbella, a savory chicken main dish with vibrant flavors of prunes, olives, capers and oregano. It tastes as delicious as it looks and is easy, mess-free to make; as easy as - marinate, bake.
Posted On:

Mar, 2
| Author:

Savita
Chicken Marbella travels well. This is perfect served hot or room temperature. Specially great main dish for summer picnic. (hint hint)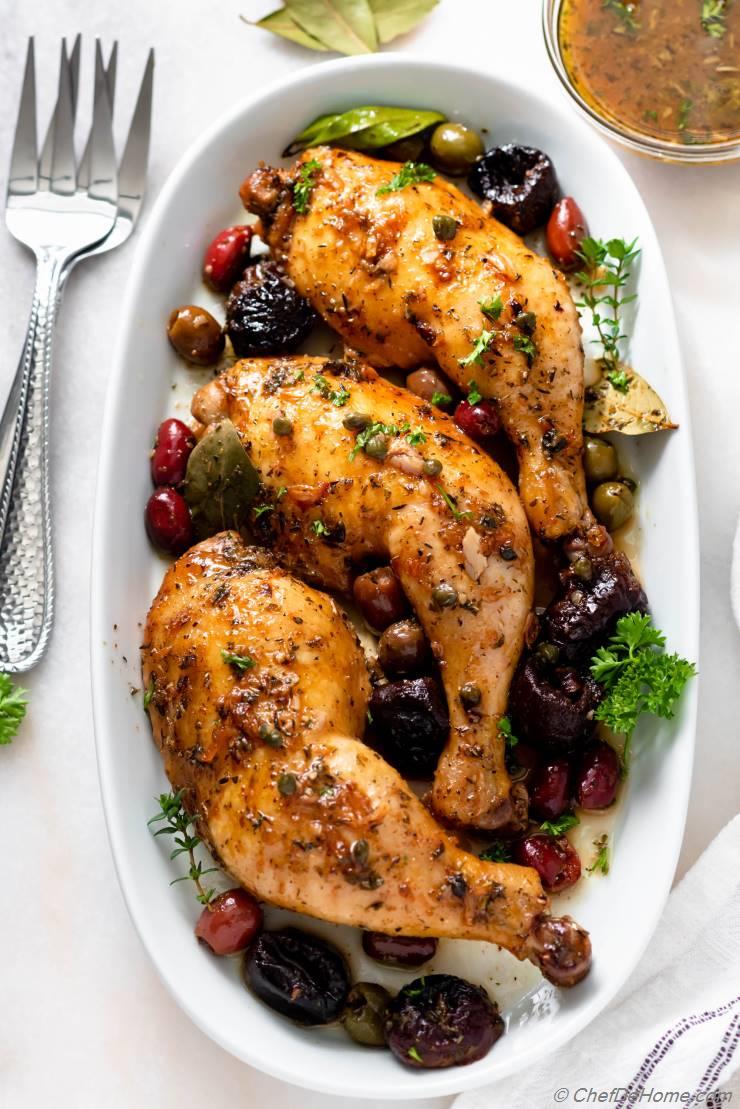 Chicken Marbella, a delicious savory chicken bake with chicken marinated with vibrant flavors of prunes, olives, capers, oregano and red wine vinegar and then baked topped with little brown sugar. The aroma of chicken cooking with prunes, olives, sugar and garlic makes everyone look forward to the dinner. 
This savory chicken bake needs only 10 minutes of prep. Gluten free, Dairy Free. 
Chicken Marbella
Chicken Marbella is a Spanish and Moroccan fusion dish made of chicken cooked with prunes, olives, capers and white wine. 
The history of Chicken Marbella goes back to 1977. Recipe I'm sharing first appeared in 1977 in Manhattan, New Yok, in a small take-away shop The Silver Palate. Owned and operated by Julee Rosso and Sheila Lukins, this catering company became a huge success. Sheila Lukins is credited for creating a marvelous Spanish and Moroccan inspired dish Chicken Marbella which was first main-course dish in their take-away menu.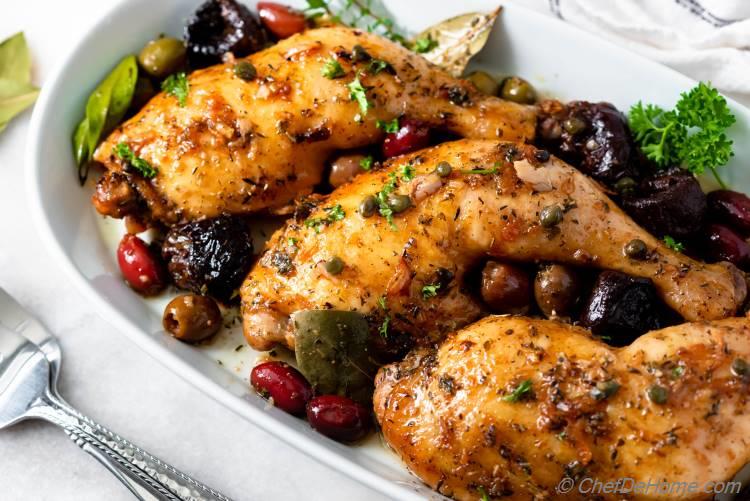 The Chicken Marbella recipe later appeared in "The Silver Palate Cookbook" co-authored by Sheila and Julee. According to the cookbook and I quote
"Chicken Marbella was the first main-course dish to be offered at the Silver Palate Shop, and the distinct colors and flavors of the prunes, olives, and capers have kept it a favorite for years. It is good hot or at room temperature."
Chicken Marbella (ready to slide in oven)
Here is a picture of marinated Chicken Marbella with colors of prunes and olives; gorgeous shine of light brown sugar; ready to slide in the oven. (yum!)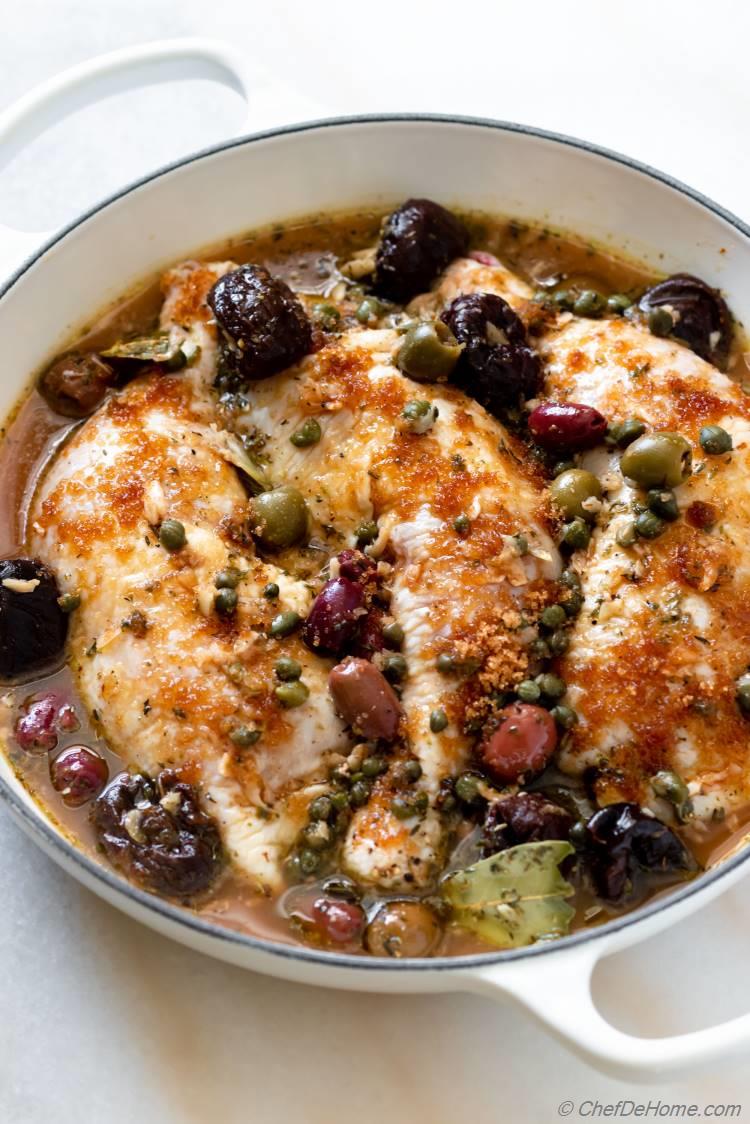 Cookbook gave many chefs and cooks around the world an opportunity to try Chicken Marbella at home. I first learned to make Chicken Marbella from Ina Garden. Later also from Andrew Zimmerman. The story about a take-way shop in Manhattan was so fascinating that I later bought the book and have tried many recipes from it since then.
This recipe for Chicken Marbella is adapted and updated Chicken Marbella from The Silver Palate Cookbook. Here is what I did differently:
Original recipe calls for 4 whole Chicken. We are a small family. Since beginning, I've been making 1/4th to 1/2 recipe of Chicken Marbella. So for today's recipe, I made Chicken Marbella suitable for a family 4 or 2 (with a portion for lunch). Used skin-on, bone-in legs instead of whole chicken.
To have extra sauce (flavored with pan drippings of cooked chicken, white wine and garlic) to pour over chicken and mop with bread, I add a little bit of chicken stock with white wine. It keeps chicken moist and makes enough sauce to serve on the side. Specially important when making 1/4thof the recipe. When making 1/2 or full it is not required.
Instead of Spanish Olives, I go for pitted mixed California olives. This saves me a market trip as always keep a small pet container of pitted olives in refrigerator for afternoon snack craving. All I'm saying is, use pitted olives you can find. I only recommend to go for water packed olives instead of oil packed.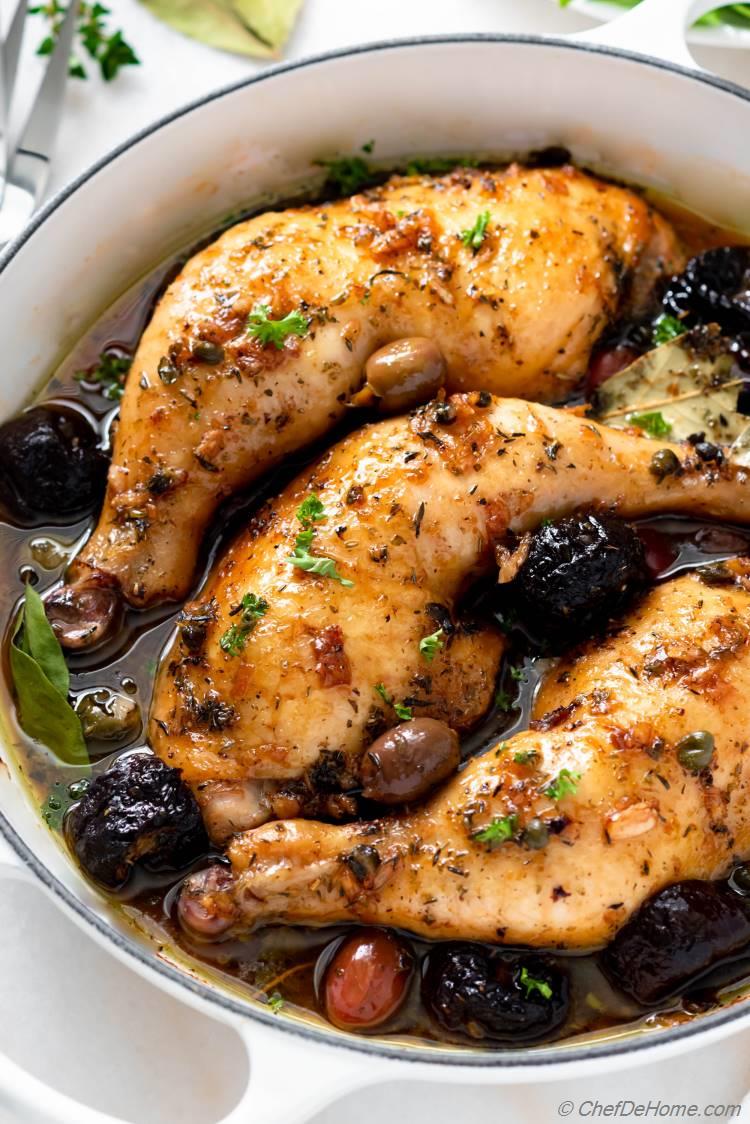 Recipe doubles easily. Feel free to make as much as you want.
What Do You Need To Make Chicken Marbella?
The main ingredients for Chicken Marbella are chicken, prunes, olives, capers and oregano. These not only make a colorful presentation but are laces with flavor when cooked with chicken.

Here is the list of ingredients for Chicken Marbella:
Whole Chicken Legs or Thighs
Prunes
Olives
Capers
Garlic
Oregano
Brown Sugar
Red White Vinegar
White Wine
I highly recommend using the skin-on chicken. Skin picks up so much flavor from the marinade. Plus skin gets savory delicious when cooks in the oven topped with brown sugar. 
Complete ingredient list with quantity is included with the Recipe Card. You can also Print the recipe.
Cooking Chicken Marbella
When Chicken Marbella cooks in the oven, the flavor of oregano cooked with marinated chicken and white wine perfumes the kitchen with a delicious aroma.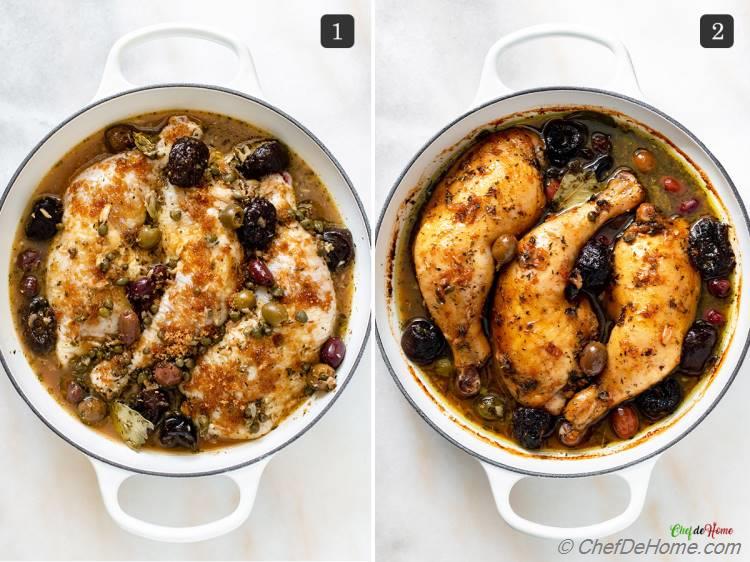 By using chicken thighs or whole legs (can use quartered chicken), Chicken Marbella becomes more approachable for weeknights or Sunday super. Making this dish is simply a two step process:
Marinate the Chicken with delicious marinade of garlic, oregano, olive oil, vinegar, capers, olives and prunes overnight. At-least for 4 hours up-to 24 hours.
Before cooking, transfer to rimmed baking sheet or dutch oven with all the marinade and white wine (and chicken stock). Bake topped with brown sugar. Transfer chicken to platter and serve sauce on the side.
Note: For best results, don't forget to baste chicken with juices collected at the bottom. I baste 2-3 times, every 15-20 minutes with turkey baster.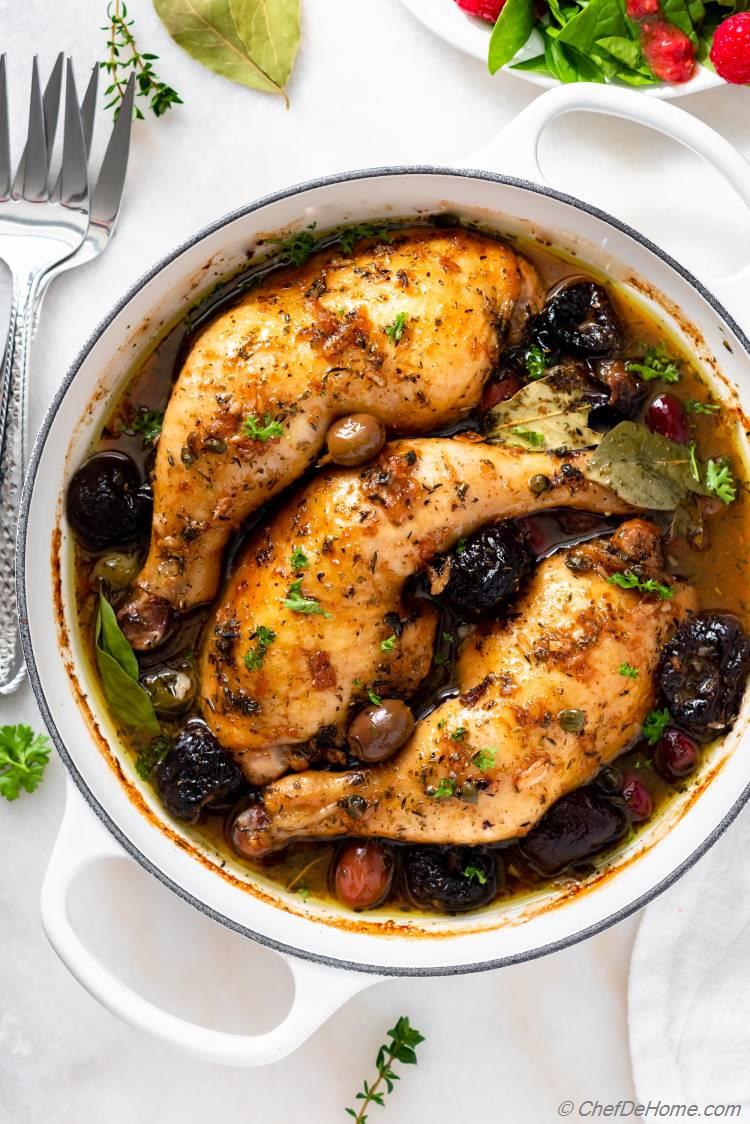 Recipe doubles easily. If cooking for a crowd or serving to family for Sunday dinner, I make sure to marinate Chicken Marbella a day before. Two hours before serving, I proceed to slide chicken in the oven for an hour or so to cook. Remaining time is perfect to arrange chicken on an oven safe platter and let it rest. Reheat is slightly before serving. Serve pan sauce for table side serving.
What to Serve with Chicken Marbella (10 Side Dishes)
A Chicken Roast this delicious calls for complimenting sides dishes. Lightly seasoned (olive oi, garlic, parmesan) angel-hair pasta, creamy risotto or a spinach salad is our all time favorite sides for Chicken Marbella.
Here is the list of 10 side dishes which compliment Chicken Marbella.
Garlic Parmesan Mashed Cauliflower or Mashed Potatoes.
Lemon Olive Pasta or Buttered Noodles
Spinach Salad (as shown in picture below)
Creamy Risotto
Grilled or Roasted Vegetables Salad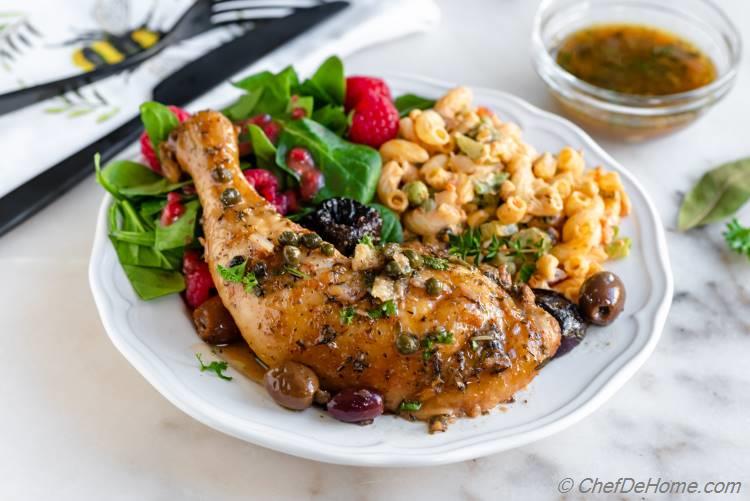 Tip: Leftovers of Chicken Marbella (if I get lucky to save some) are perfect for lunch as-is or shredded on a romaine salad/sandwich.
Chicken Marbella - My favorite chicken dish to make-ahead for a picnic, and to bring to friends, family or new neighbors that need a meal. The flavor of Chicken Marbella improves even better the second day. This travels well, and freezes well.
I hope you will get chance to try Chicken Marbella. I'm sure you will love the flavor. Happy Cooking!
More Side Dish Ideas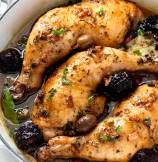 Total Time:
Prep Time:
Cook Time:
Cuisine:
Moroccan
(

Brunch, Dinner, Main Course

)
Difficulty:
Easy
Yields:
2.5 lbs
- Serves:
4
(

Additional 4 hours to Overnight Marinate Time

)
Ingredients
Chicken Marbella
For Garnish/Serving
Directions
1.

Marinate Chicken

:

In a large bowl, mix all ingredients for marinade i.e. olives, capers, prunes, garlic, bay leaves, oregano, olive oil, vinegar, salt and pepper. Add chicken. Mix to coat in marinade. Cover and refrigerate at-least 4 hours - overnight. See Note 1.

2.

Preheat Oven

:

On day of cooking, set oven to preheat at 350 degrees Fahrenheit.

3.

Prep Chicken for Baking

:

In an oven proof rimmed baking dish or wide Dutch oven, place chicken legs, skin side up. Spoon olives and prunes on the side. Mix white wine and stock in marinade left in the bowl. Pour on the sides. Sprinkle sugar on top of the chicken pieces.

4.

Bake Chicken

:

Place in oven to bake for 45-55 minutes. Every 15-20 minutes spoon juices from the sides and drizzle over the chicken. Continue baking until juices run clear when chicken is pierced with fork.

5.

Garnish and Serve

:

Transfer cooked chicken pieces to a serving platter. Spoon cooked olive and prunes on the side. Spoon soon marinade on top and serve remaining on the side. Before serving, garnish chicken with fresh chopped herbs such as parsley.
Savita's Notes:
Marinating infuses chicken with lots of flavor. Highly recommended. Silver Plate cookbook recommends minimum overnight marinate. For chicken thighs or whole legs, I marinate for at-least 4 hours up-to 24 hours. 
For recipe, I used skin-on, bone-in whole legs. Chicken Thighs or quartered chicken will also work great.
Recipe doubles easily. Only make sure to not double the chicken stock unless you want extra sauce to serve with rice.
Chicken Marbella travels well and is perfect to serve at room temperature for summer picnic or potlucks.
The flavor of Chicken Marbella improves even better the second day. Cooked Chicken Marbella stays good in refrigerator for 3-4 days and also freezes well.
Try with Garlic Brown Rice or Mashed Cauliflower on the side.
For best results, don't forget to baste chicken with juices collected at the bottom. I baste 2-3 times, every 15-20 minutes with turkey baster. This way chicken cooks moist, flavorful and evenly delicious. 
Serve additional pan juices on the side. It is delicious with steamed white/brown rice. Check more side dish ideas in the post above the Recipe Card.
DID YOU MAKE THIS RECIPE?
Tag
@SAVITACHEFDEHOME
on Instagram and hashtag it
#SAVITACHEFDEHOME
© Chef De Home. Post content including video and photos are copyright protected.
We Think You'll Love