Sesame Chicken
Try homemade crispy, sticky and sweet Sesame Chicken with this easy recipe. It has all delicious flavor of Sesame Chicken from your favorite restaurant including sweet and sticky sesame ginger sauce.
Posted On:

May, 5
| Author:

Savita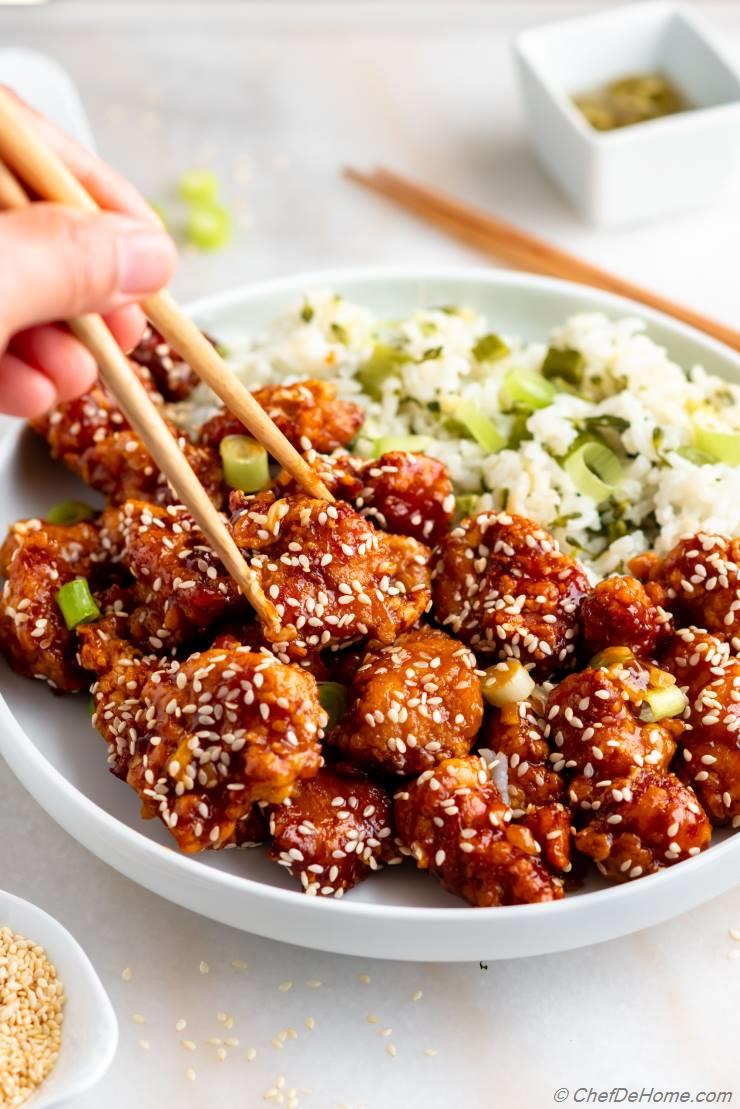 Sharing today an easy Sesame Chicken recipe that makes crispy, sweet, sticky, and finger-licking good Sesame Chicken! Crispy fried chicken coated in sweet and sticky Sesame Sauce with sprinkle of toasted sesame seeds and you have a delicious take-out classic chicken dinner, homemade from the scratch (including the step photos). 
Really, kitchen is filled with the aroma of Asian flavors of seasme, soy, ginger as Seasme Chicken cooks with the sauce. It always transports me to my favorite local Chinese take-out restaurant. I relied on my trusted recipe and made a lot of this Sesame Chicken during lockdown time.
This recipe makes crispy breaded Seasme Chicken. I'm sharing a simple, always-in-pantry ingredient that will make chicken breading extra crispy. This is my tired and tested method to make perfect crispy breading any time, for any recipe.
Oh, if you love Asian take-out, I'm sure you will enjoy these recipes on the blog: Thai Basil Chicken, Orange Chicken, Teriyaki Chicken, Sweet and Sour Pineapple Chicken.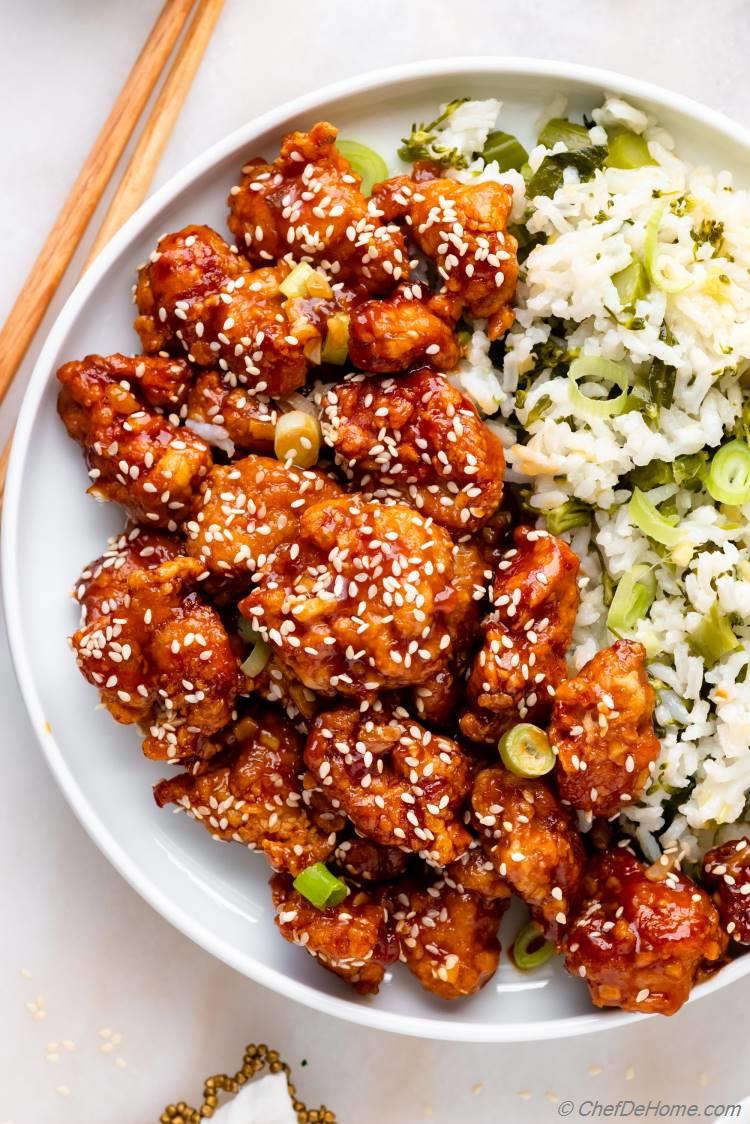 Sesame Chicken
In Sesame Chicken, chicken is breaded and fried until crispy and then is coated in Sesame Sauce made with sesame oil, soy sauce, sugar or honey and vinegar.
Seasme Chicken is very similar to Orange Chicken or General Tao's Chicken. The main difference is Seasme Chicken is sweeter and has more pronounced seasme flavor. There is double dose of sesame: 1) seasme oil in the sauce, 2) and toasted sesame seeds on top. A treat for sesame recipe lovers!
This recipe also works great to serve finger-food appetizer such as Seasme Chicken Bites/Nuggets.
For takeout -style dinner, I love to serve Sesame Chicken with rice. Specially the Jasmine Rice such as plain steamed rice. For these pictures, I made  Broccoli Jasmine Rice. I also recommend trying Coconut Rice.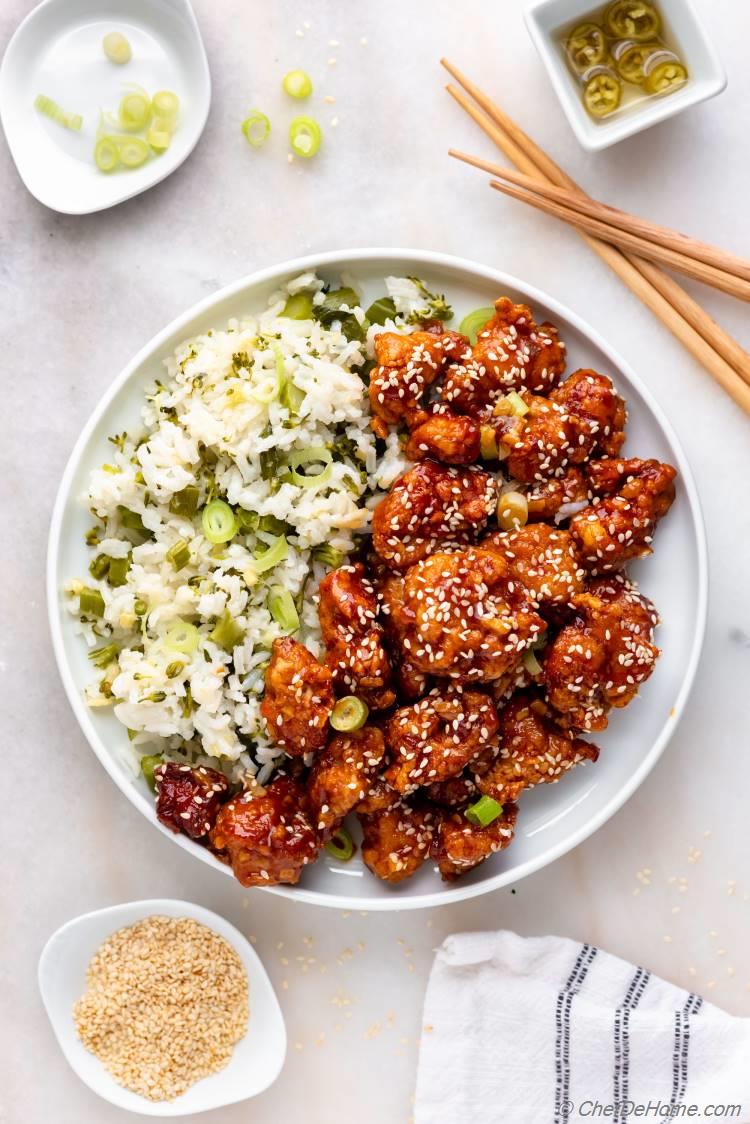 How to Cook Seasme Chicken?
To make Seasme Chicken, start with marinating chicken in soy, ginger and sesame marinade. Chicken can be marinated a night before. This helps infuse chicken with lots of flavor. Plus, marinade tenderizes the chicken.
To make breaded chicken, dry coat (dredge) the marinated chicken in breading mix of corn flour, all-purpose flour and baking powder. The traditional Asian bread chicken use only corn starch.  I use two additional ingredients to make crispy Seasme Chicken i.e., Baking Powder and All-Purpose Flour. 
Egg White, Corn Starch with baking powder crisp the flour as chicken is fried in hot oil. As a result, fried Seasme Chicken has extra crispy breading. (Just like you get in Panda Express.)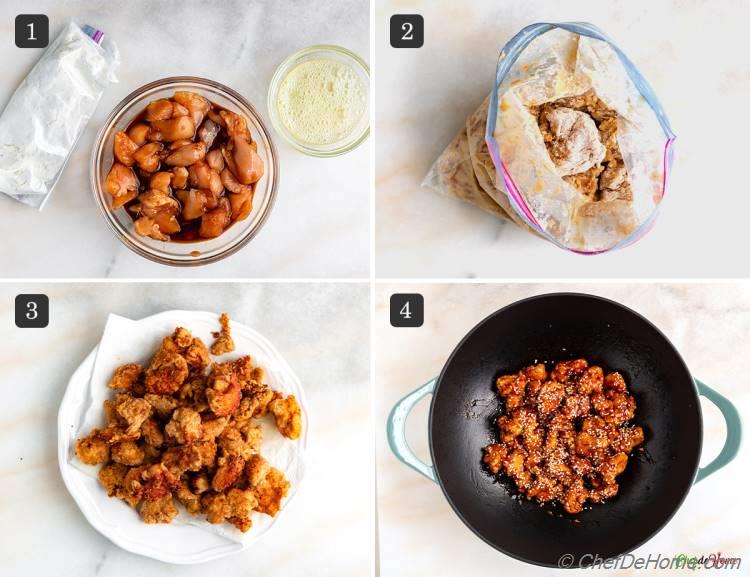 Sesame Chicken Sauce
Once chicken is ready, next make Seasme Chicken Sauce.
Seasme Chicken Sauce is mix of easy to find pantry ingredients. Follows the complete list of ingredients to make the sauce.
Seasme Oil
Soy Sauce
Sugar or Honey
Vinegar
Ginger
Garlic
Stock or bouillon mixed with water.
Cook the sauce until it bubbles, add fried chicken and coat in the fragrant sesame sauce. (yum)
Sesame Chicken is ready to devour. Garnish with scallions and toasted Sesame Seeds. Serve while still hot with side of rice.
Tip: Sauce recipe doubles easily. Make extra to serve over the rice.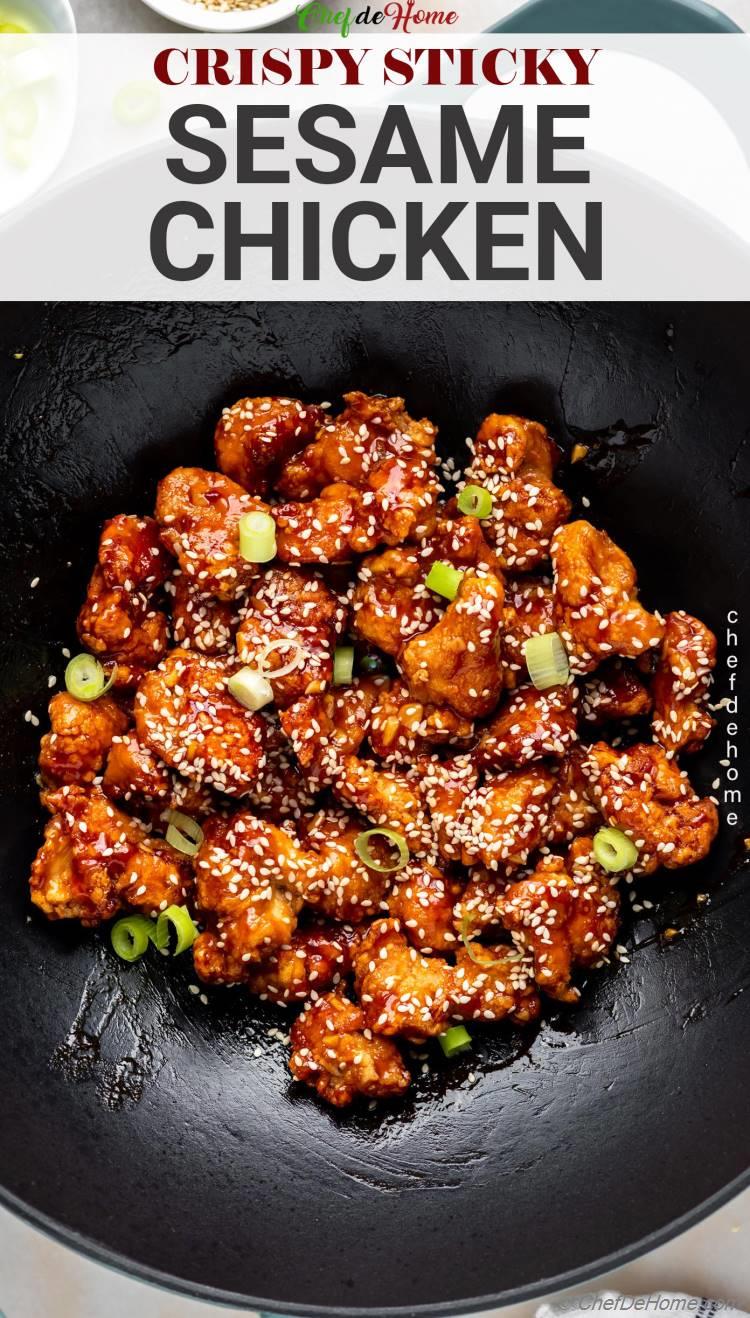 Sticky Honey Sesame Chicken
This Sesame Chicken Sauce recipe is already sweet, thick, and sticky. If you like even more sticky sauce? Simply replace sugar in the sauce ingredients with the honey.
Honey will be less sweet than sugar. So, adjust the quantity as per taste. I would use 1-2 tbsp more than quantity listed for sugar.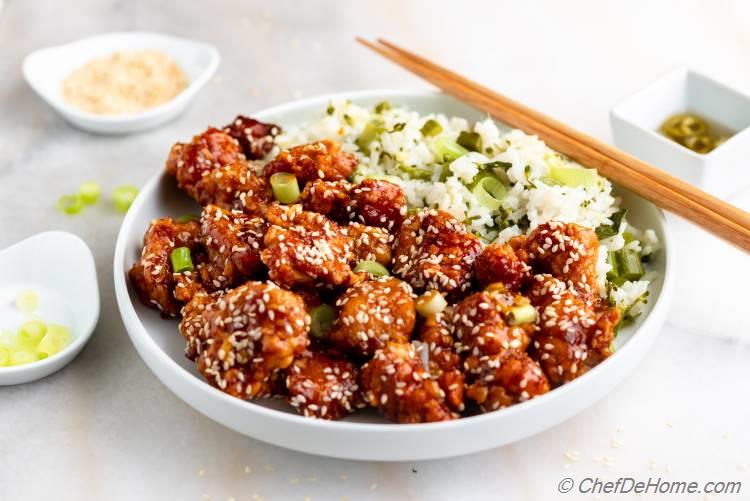 Tip: Use same recipe to make Seasme Chicken Bites. Cut a little big bite size piece of chicken. Rest of the recipe stays the same.
This Sesame Chicken recipe is extra flavorful because:
Marinating the chicken before breading seasons and tenderizes chicken breast from with-in.
Sesame Chicken is extra crispy with help of flour and baking powder.
Sesame Chicken Sauce is easy to assemble, is sweet and sticky. It sticks to the flavorfully crispy breading chicken, making Seasme Chicken lip-smacking delicious.
What to Serve with Sesame Chicken?
Serve one of the following tasty sides with Sesame Chicken.
Coconut Rice
Broccoli Rice (I served Sesame Chicken with Broccoli Rice today.)
Steam Broccoli or Asparagus
Chow mien Noodles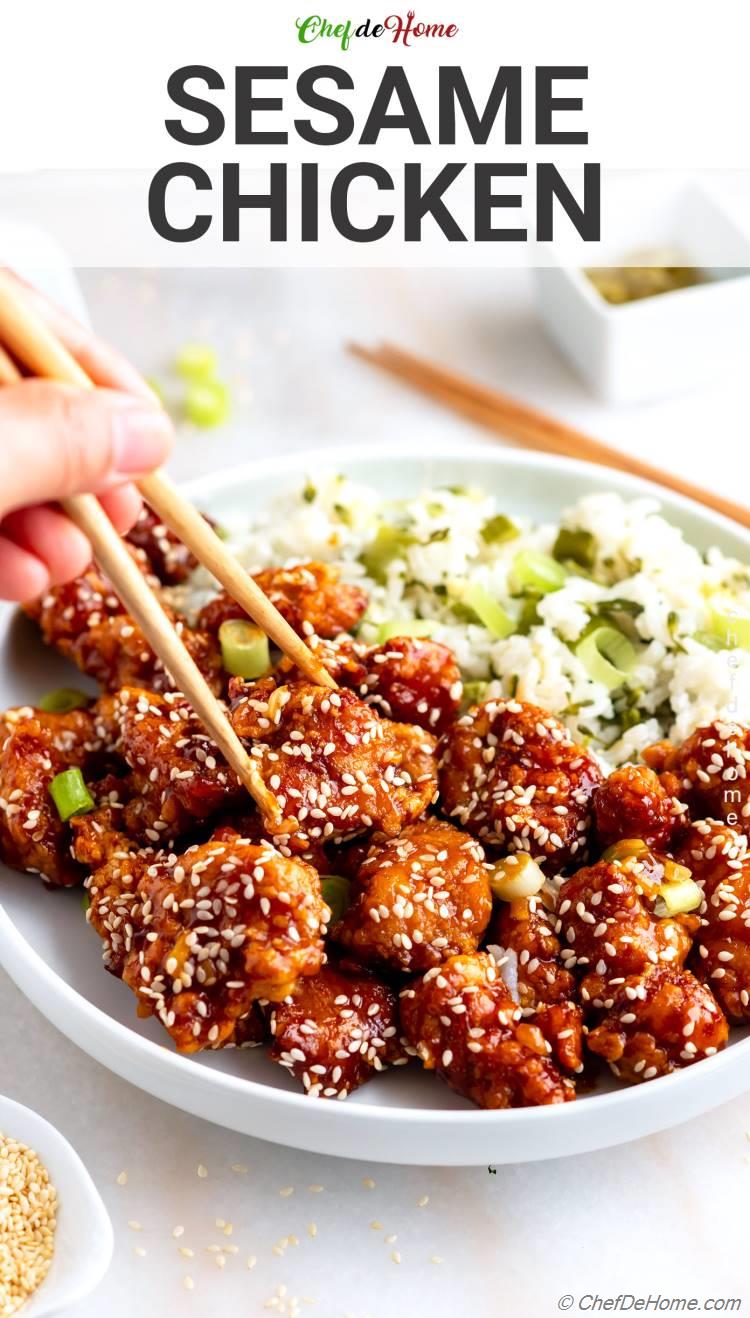 Friends, now you can make Chinese restaurant's favorite Sesame Chicken at home. Make some Broccoli Jasmine Rice and this homemade crispy Seasme Chicken. I can't wait to hear how you liked it. Happy Cooking!
Serve Sesame Chicken with: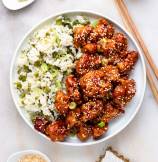 Total Time:
Prep Time:
Cook Time:
Cuisine:
Asian
(

Main Course, Dinner, Appetizer

)
Difficulty:
Easy
Yields:
1.5lb Sesame Chicken
- Serves:
4
Nutrition:
627 calories per serving
(

Additional Marinate Time: 30 minutes

)
Ingredients
Chicken Marinade
Dry Coating
Sesame Chicken Sauce
Garnish
Directions
1.

Prepare Ingredients for Sesame Chicken

:

Dice chicken into bite size pieces. Set aside. Grate ginger and garlic. Place sesame seeds in a small dry skillet. Heat until sees are slightly toasted about 1 min. Take off heat. Set aside.

2.

Marinate Chicken

:

In a medium bowl, add diced chicken, soy sauce, vinegar, egg white, and half of ginger. Toss to coat chicken in soy-ginger mix. Refrigerate until ready to use. Marinate for at least 30 minutes, up to overnight.

Additional Notes:

You can marinate chicken a night before cooking.

3.

Prepare Ingredients for Sauce

:

In a small bowl, mix all Sesame Chicken sauce ingredients with half of grated ginger remaining from the marinade. Whisk until sugar is fully dissolved and corn starch is lump free. Set aside.

4.

Dry Coat (Bread) Chicken

:

In a plastic bag or large bowl, add all of the dry coating ingredients. Use fork to combine. Using a slotted spoon, lift chicken from marinade and add to dry coating. Discard the marinade. Toss chicken using a clean spoon until all chicken pieces are coated in flour mix.

5.

Shallow Fry Chicken

:

Start by heating 1/2 inch oil for frying in a heavy bottom dutch oven pan. When oil is hot and shimmering, add breaded chicken. Working in batches, fry breaded chicken until crispy golden from all sides and is fully cooked.

6.

Cook in Batches

:

I fried chicken in 3 batches, 5-6 minutes each batch. Remove fried chicken on a paper lined plate to drain excess oil.

7.

Cook Sauce for Chicken

:

Drain and wipe excess oil from the skillet. Add sauce mixed in Step-3 and heat until sauce starts bubbling. (30 sec to 1 min). Add fried chicken and coat in the sauce, heat until chicken is heated through and glistens (1 min). Take off heat.

8.

Garnish and Serve Sesame Chicken

:

Transfer chicken to a serving bowl. Garnish with sliced scallions and toasted sesame seeds. Enjoy with side of rice.
Savita's Notes:
Sauce recipe doubles easily. Make extra to serve over the rice.
Use same recipe to make Seasme Chicken Bites. Cut a little big bite size pieces of chicken. Rest of the recipe stays the same.
For a healthier Sesame Chicken, skip breading chicken. Sauté chicken in skillet with some oil until cooked through. Rest of the recipe stays the same.
DID YOU MAKE THIS RECIPE?
Tag
@SAVITACHEFDEHOME
on Instagram and hashtag it
#SAVITACHEFDEHOME
© Chef De Home. Post content including video and photos are copyright protected.
We Think You'll Love