Restaurant Style Palak Saag Paneer
Ditch the delivery with restaurant-style yet super easy palak saag paneer - curry spiced spinach with Indian fried paneer!
Posted On:

May, 18
| Author:

Savita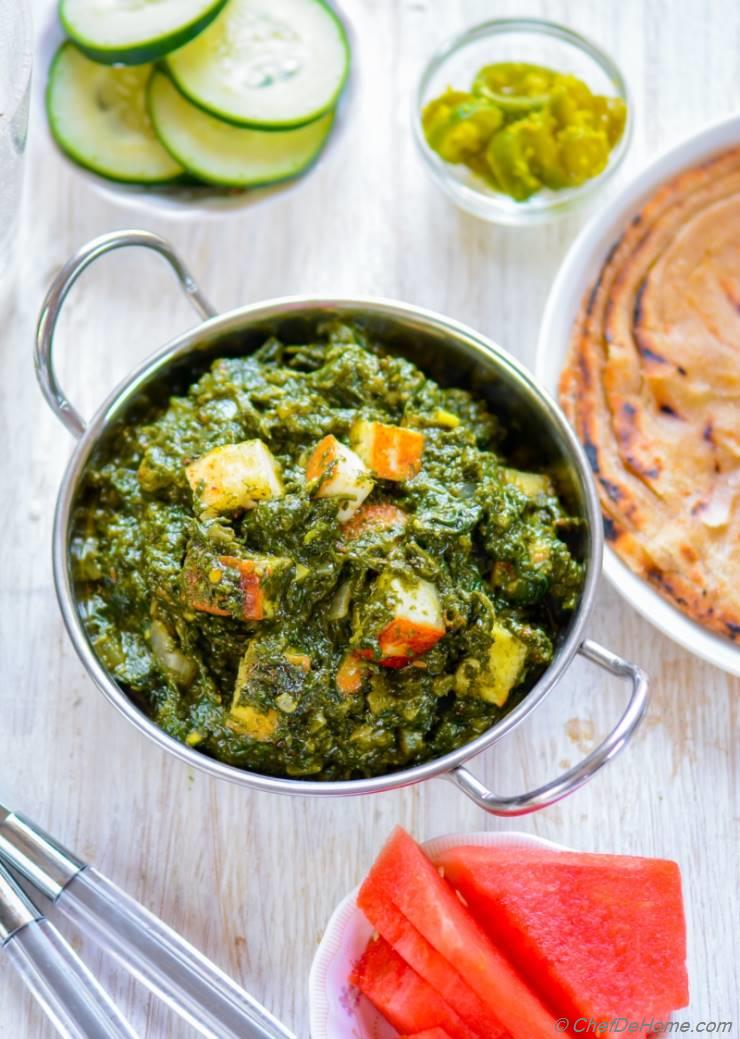 Saag Paneer or Palak Paneer or Indian creamed spinach and paneer curry, no matter what I call it, it is a delicious and easy spinach and Indian cheese main course curry which I always order in one of my favorite Indian restaurant! 
Oh, yes! Even though I cook and have shared many Saag recipes on the blog.... I'm always impressed when someone shares a delicious plate of my fav food with me. So, this recipe is re-take on my own palak paneer recipe... to give it that restaurant-style taste, texture, and aroma!
For vegetarians, Saag Paneer is always one of the main vegetarian choice in Indian Buffets/Eateries. If you have ever ordered veggie thali (plate), I bet you are not new to flavor of that creamy Saag Paneer. 
Oh, and there is nothing special needed to make this curry. Other than obvious spinach and paneer (or tofu if you like), rest everything is very pantry-friendly. No special preps here, it's all in the style of cooking!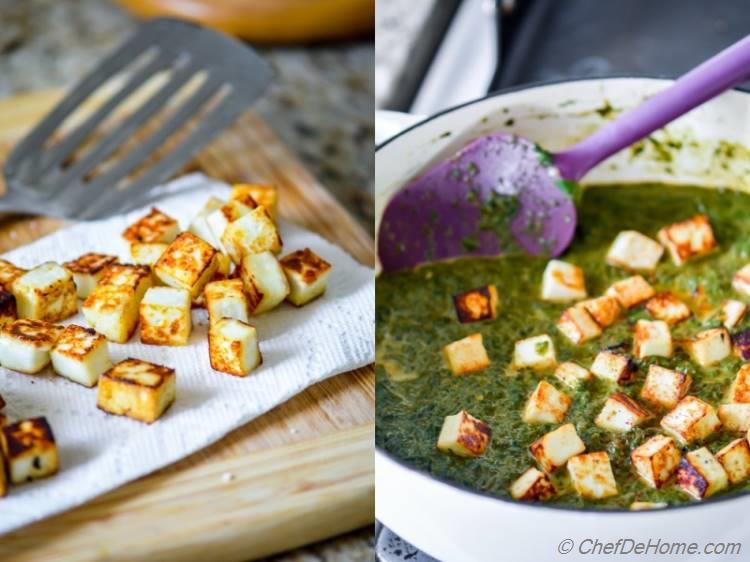 As a kid, I have vivid memories of eating Palak Paneer (this is what we call it in my home) every few days. Even after being from meat-lovers family, (both parents and in-laws), there are still few days in week when we don't eat meat due to religious reasons. So those days if anyone is not ready to eat grass-food (that's what Vishal calls a vegetarian meal), then votes are counted for Paneer (the fav Indian cheese). And Saag Paneer is one of THE most obvious choice.
I have shared many Saag recipes on blog already but most pictures were taken at night and are so old. My old day favorites when I had no clue how pictures should look.... Though all of those spinach/palak curry taste very good and are regular in my home. If you are in mood to eat Indian for dinner, check a few of those recipes here.
So, this Saag Paneer is actually adaptation my own recipe. 
We have an Indian Market near our area where we go for most of our Indian groceries. One restaurant in that area makes killer Saag Paneer! I mean so so good that if we get there during lunch time, I have to eat a Thali (Indian Plate of food) with special Saag Paneer. Inspired from that recipe, I updated my recipe to taste just like that Restaurant's palak paneer.
It took me few attempts but picky eater in my home loved it. :)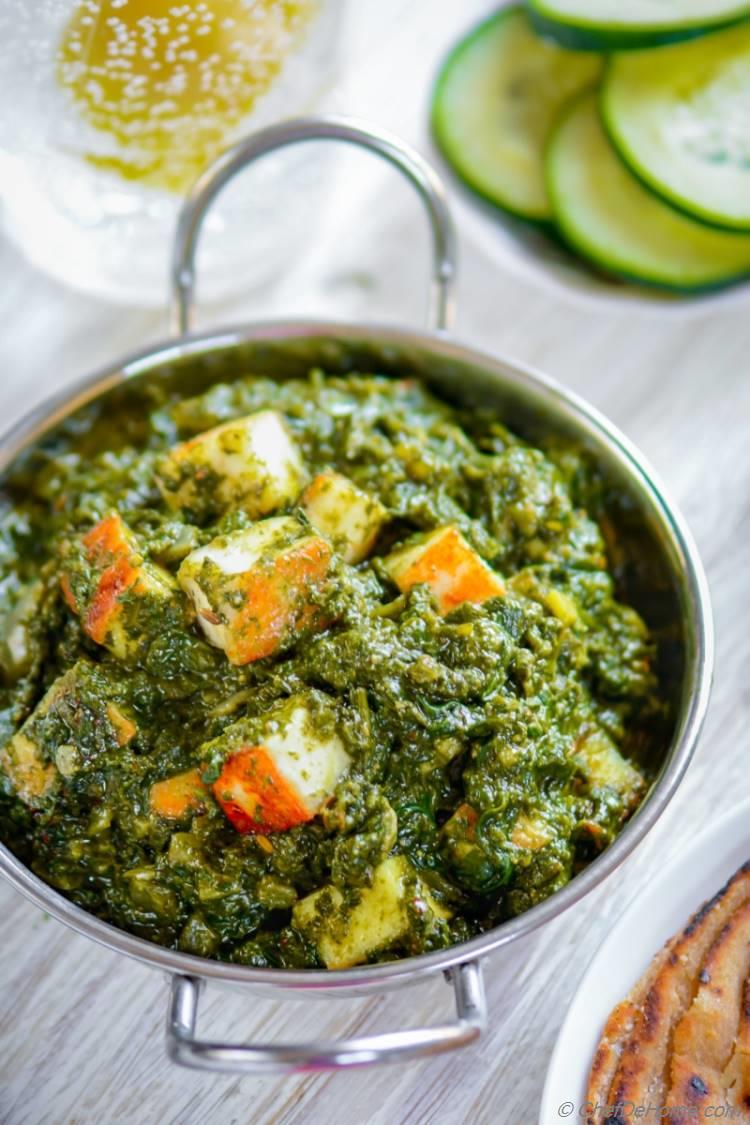 Blanched Spinach Vs Raw Spinach for Saag Paneer?
I have always cooked Saag Paneer with blanched (or in home-style - boiled) palak. The main difference in restaurant's saag paneer is that it is not pureed like I used make at home. So, first I thought, may be I can use raw spinach and then leave it chunky for this version of saag paneer. 
That attempt was an epic failure! Raw spinach has this bitter after taste that after even being cooked in curry I could taste it. So it did not pass my kitchen-level test. However, I served it for dinner that night since had planned for dinner.  To my surprise Vishal actually enjoyed the curry. He did not get any bitter taste.
Conclusion? May be I have too sensitive palate or batch of palak I used was bitter.... I recommend boiling the palak/spinach before using in this recipe. However, if you are in hurry and love spinach no mater what? Then go ahead and use it raw.  It saves lot of time. 
PS: You can also use frozen spinach for this recipe. Surprisingly, frozen spinach works perfectly without any pre-cooking.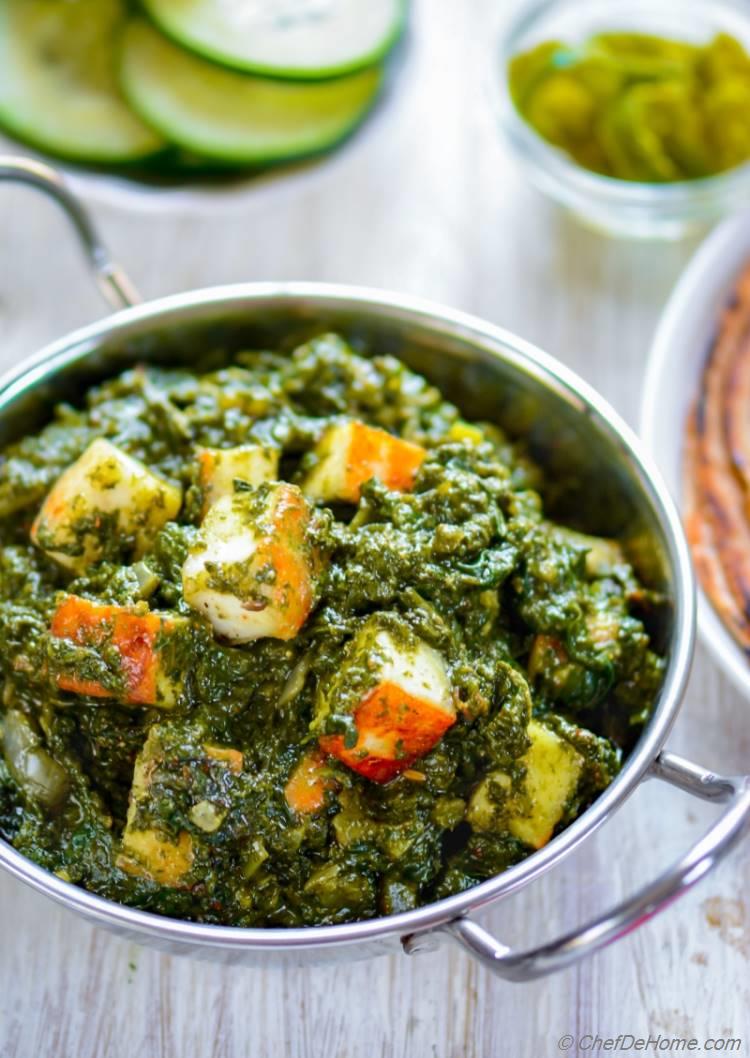 Variations:
Other than using boiled/thawed greens, Saag Paneer is very forgiving by nature. You can really make many variations.
1) Replace paneer with tofu, corn, soy nuggets or even chicken/lamb if you eat non-vegetarian.
2) You can even use mustard greens or kale instead of spinach.
I have following recipes on blog featuring Spinach or Mustard Saag:
1. Palak Corn
2. Palak Paneer
3. Palak Soy Nuggets
3. Palak and Mustard Green Saag

Health Benefits and Diet Info:
Now, I can't finish this post without sharing a few words about health benefits of this Indian Curry. With vegetarian protein from Indian Paneer (or tofu if using), it also has abundance of calcium, iron, folate and also Vitamin-C. A serving of saag paneer will serve at-least one good (or two) serving of veggies.
Also, this recipe is Gluten Free and can be vegan if you use tofu and replace cream with coconut milk.
That much and it is still an easy vegetarian main course!

So, friends! This time, ditch the delivery and order Restaurant Style Saag Paneer from your own kitchen! :)
oh, and don't forget to serve Indian Naan bread on the side!
Try this recipe and make Paneer at home to use in Palak Paneer. It tastes fresh and better than store-bought.
Pairing Ideas:
Restaurant Style Palak Saag Paneer
reviews

)
(18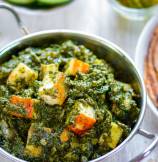 Total Time:
Prep Time:
Cook Time:
Cuisine:
Indian
(

Curry, Main Course

)
Difficulty:
Easy
Yields:
4 Servings
- Serves:
4
(

No. of servings depends on serving size.

)
Ingredients
Palak Saag
Fried Paneer, optional
Smart Swap: Replace paneer with tofu and cream with coconut milk for Vegan Curry
Directions
1.

If using frozen spinach, thaw it and squeeze of water and set aside. Move to Step 2. If using fresh spinach, bring a pot of water to boil. Add spinach and boil until just wilted. Drain water, and set aside.

2.

In food processor jar or blender, process *half of spinach until coarse pureed. Rough chop remaining half, set aside.

3.

In a heavy bottom skillet, heat 1-2 tbsp canola oil, add paneer cubes and fry until light brown and crispy from most of the sides. Remove on paper towel and set aside.

4.

in same pan, add 1 more tbsp canola oil. Add cumin seeds and let them sputter. Now, add onion and garlic and saute until onions are soft (2-3 minutes).

5.

Add grated tomatoes (or pureed canned tomatoes) and all the spices with 1/2 tsp salt and saute for 5-8 minutes or until tomatoes are cooked and oil starts to separate.

6.

Add in coarse pureed spinach, remaining spinach (chopped) with 1/4 cup of water and bring to boil. Cover and cook for 5 minutes on medium heat. Remove cover, add butter, cream, fried paneer and remaining 1 tbsp oil, then cook for 5-10 minutes until very little water remains in spinach and color of spinach has darkened.

7.

Taste and adjust salt. Remove from heat. Serve warm with Indian bread and side salad.
Savita's Notes:
*For smooth texture, you can also puree all of spinach.
DID YOU MAKE THIS RECIPE?
Tag
@SAVITACHEFDEHOME
on Instagram and hashtag it
#SAVITACHEFDEHOME
© Chef De Home. Post content including video and photos are copyright protected.
We Think You'll Love