Korean BBQ Chicken
Korean BBQ Chicken recipe with signature sweet and spicy homemade Korean barbecue marinade. The marinade recipe is vibrant spicy variation of Korean Bulgogi made with gochujang chili paste. Must try!
Posted On:

Jun, 1
| Author:

Savita
Don't forget to check oven-broiler cooking method in the Recipe Notes!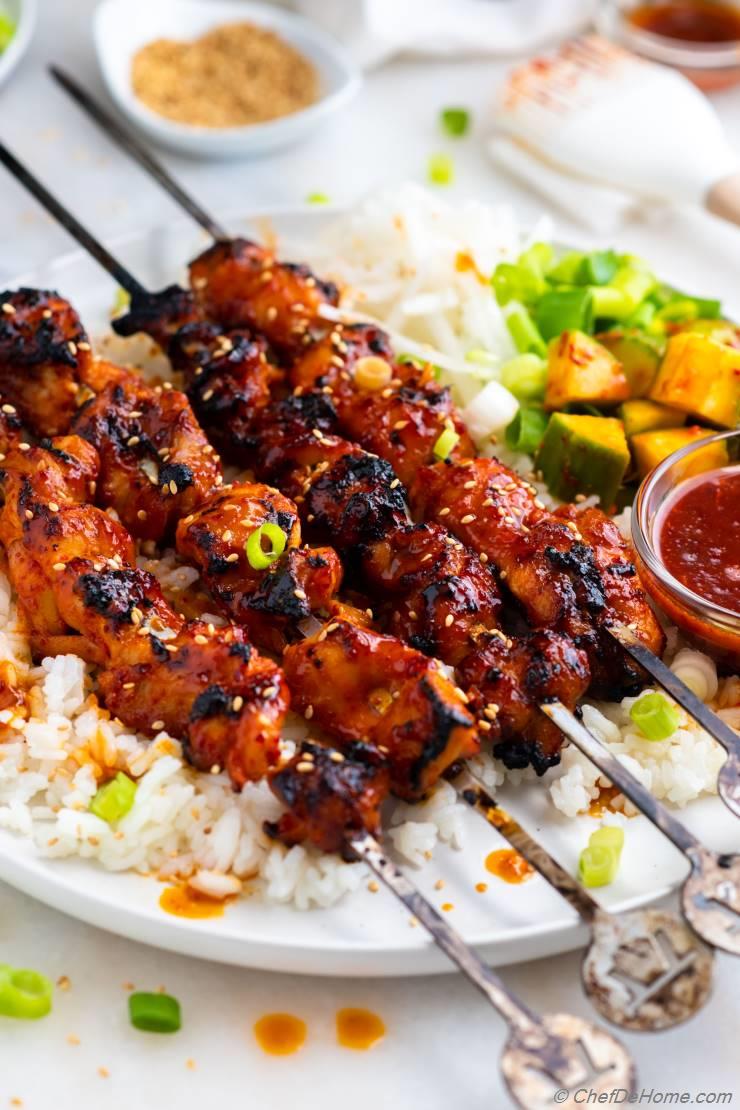 An easy and flavorful Korean BBQ Chicken recipe with homemade sweet and spicy marinade. This recipe is popular variation of Korean Bulgogi made with chicken marinated Gochujang (a fermented Korean chili paste). The marinated BBQ chicken is so tender, juicy and finger-licking sweet-spicy. Plus, the amazing barbecue color from Gochujang is appetizing!
Honestly, this recipe is very versatile. the same marinade recipe will work to make Korean BBQ Pork (Dwaeji Bulgogi - Spicy Pork Bulgogi).
It needs only 15 minutes of prep because same sauce works double-duty: 1) As marinade for BBQ chicken 2) As mop sauce to baste chicken when grilling. Marinade stays good for up-to 2 weeks.  
Also sharing easy oven-broiler cooking method to make Korean BBQ chicken in the oven. Read on to know more or see the Recipe Note 2.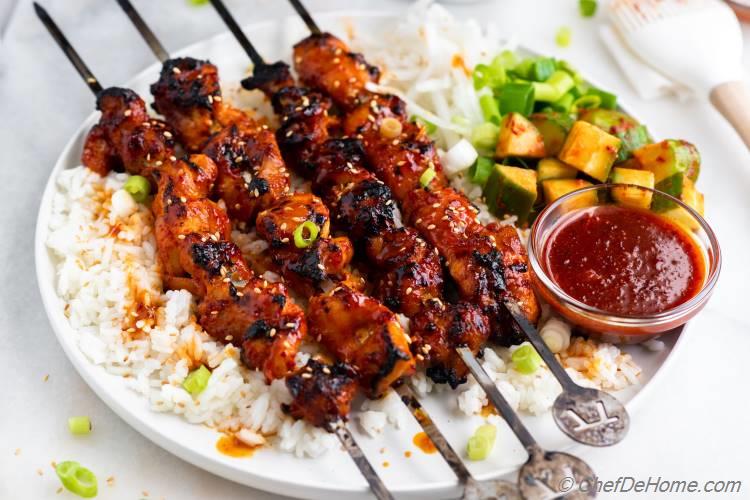 Korean BBQ Chicken Bulgogi:
This Korean Bulgogi (fire meat) recipe is a marinated barbecue chicken recipe. In classic bulgogi, meat is sliced into thin strips, marinated in a soy, sesame, ginger and garlic-based sauce, and then grilled on the charcoal grill.
The recipe is a spicy marinated variation bulgogi - Dak Galbi (spicy marinated chicken). Chicken is marinated in a sweet and spicy Korean fermented chili paste - Gochujang based marinade. I love to put everything on skewers and grill on an outdoor charcoal grill. "Chicken Skewers" is my secret weapon to make the perfect Korean BBQ chicken at home. You can also make Korean BBQ Chicken in the oven (instructions included in the notes) or can cook in a skillet as well.
No matter how it is cooked, the sugar in resulting BBQ sauce caramelizes and chili flavors comes out finger-licking good. It is an addictive BBQ recipe that you will enjoy all summer long. (or may be in winter too by preparing it in the oven).
Note: This marinade can also work great to BBQ whole chicken breast, or chicken thighs. Chicken thighs comes out extra-juicy.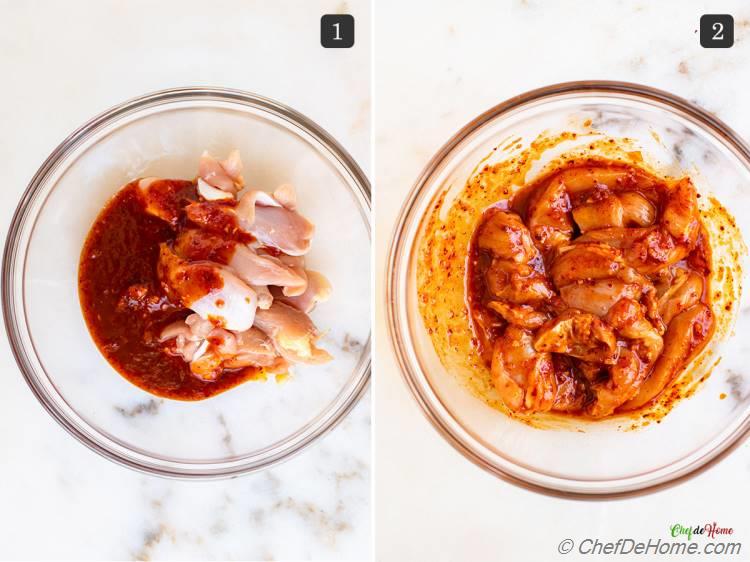 How To Make Korean BBQ Chicken?

Making BBQ Chicken is easy four steps process.
Make the marinade, add chicken, and marinate for at-least 30 minutes.
Thread chicken on Skewers or instead grill whole chicken thighs.
Grill until chicken is cooked through. (Preferably grill on a charcoal grill for the signature bulgogi flavor)
Baste reserved portion of marinade on grilled chicken for finger-licking BBQ sauce experience. 
That's it. Making Korean barbecue chicken at home is that simple and easy!
What to Serve with Korean BBQ Chicken?
I love to serve Korean BBQ with:
Plain Steamed Jasmine Rice
Kimchi (Try almost-instant Homemade Cucumber Kimchi)
Coleslaw
Shaved daikon or red radish,
Seaweed salad (recipe coming soon).
Seasoned Rice: I love to serve BBQ Skewers topped on the steamed plain Jasmine rice. This way sauce mixes/steeps into the rice making rice seasoned and very flavorful without extra sauce.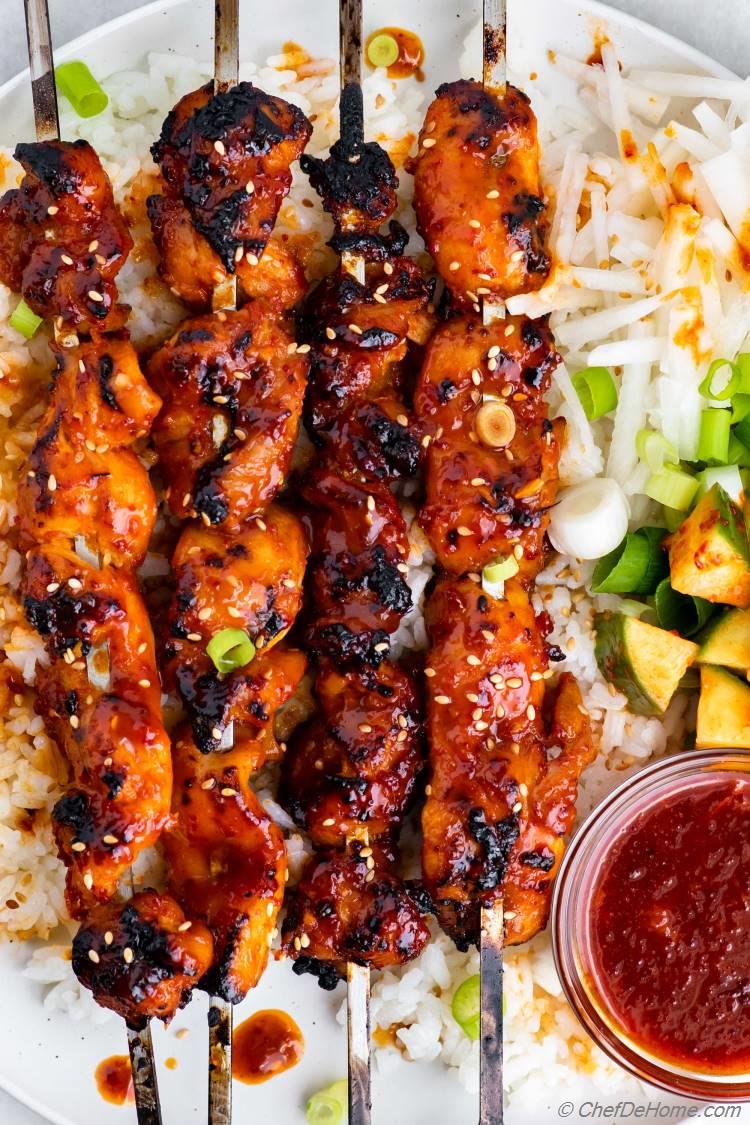 Tip: Always baste just-grilled Korean Chicken with fresh coat of the reserved marinade for an extra-delicious, sweet and sticky BBQ chicken flavor.
Make-Ahead Korean BBQ Chicken Marinade:
Marinade can be made up-to 2 weeks in advance. A day before grilling, slice and marinate chicken (whole breast). For small sliced chicken such as this recipe, marinate for 30 minutes up-to 4 hours.
Grilled Chicken Recipes 
Here are few more my favorite recipe ideas for Summer Barbecue.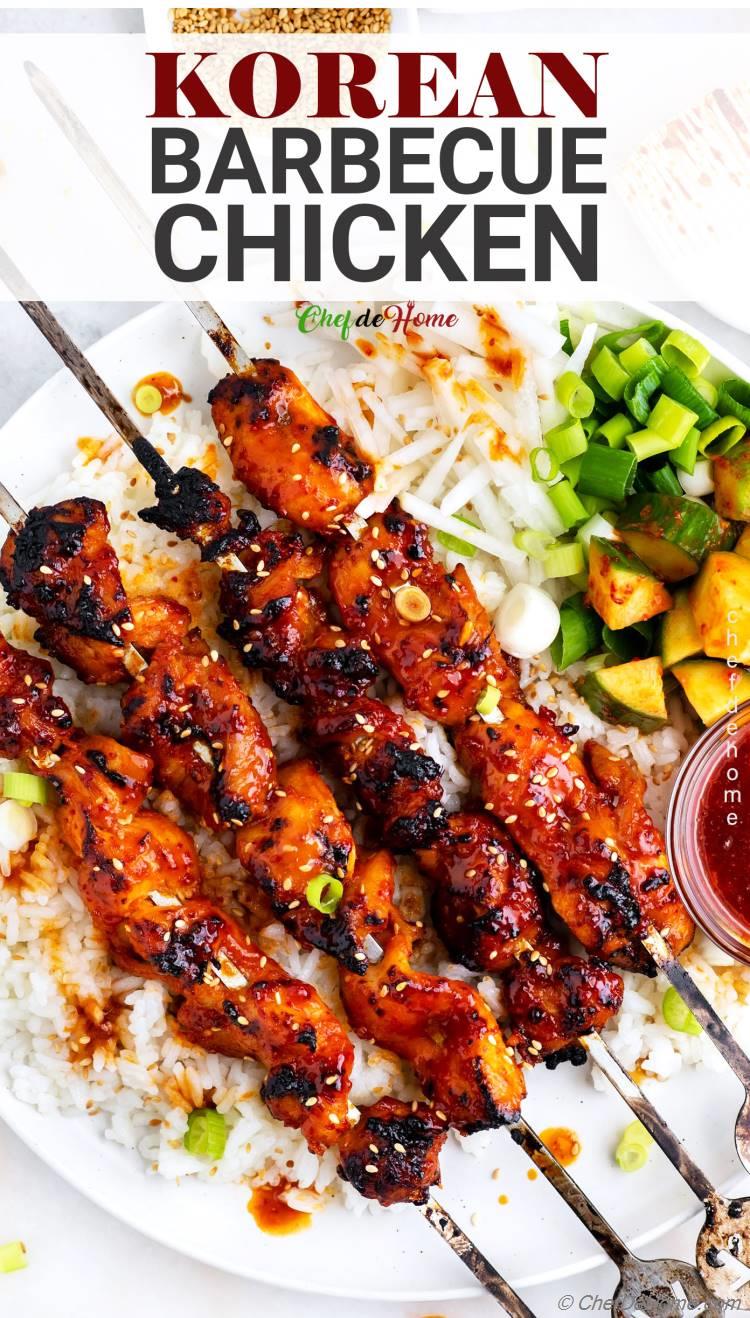 Friends, his BBQ Chicken recipe is a great addition to summer grill repertoire. Put something different on the grill this weekend. Try this Korean BBQ Chicken! I can't wait to hear how you like it.
Pairing Ideas: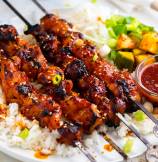 Total Time:
Prep Time:
Cook Time:
Cuisine:
Asian
(

Main Course, Dinner, Marinade

)
Difficulty:
Easy
Yields:
2 lb chicken skewers
- Serves:
4
(

Idle Marinate Time: 30 mins

)
Directions
1.

Prepare Chicken

:

Place chicken thighs in single layer on a large sheet of parchment paper. Fold over or place another sheet over the chicken. Pound it gently using meat pounder or a skillet. Pound on thick areas to yield evenly thick chicken pieces. Slice chicken into one inch wide long strips.

2.

Korean BBQ Chicken Marinade

:

To make marinade, in bowl add gochujang, gochugaru, soy sauce, grated ginger, grated garlic, mirin, sugar, sesame oil with generous two pinch of salt. Whisk well until sugar is dissolved.

3.

Marinate Chicken

:

Reserve 1/3 cup of marinade and pour rest in a large bowl which can hold 2 lbs chicken. Add sliced chicken and coat chicken in the marinade. Refrigerate to marinate for at-least 30 minutes up-to an hour. See Note 1.

4.

Prepare Chicken for BBQ

:

Preheat a charcoal or gas grill. Skew chicken on skewers (6-8 skewers). 3-4 long strips of chicken per skewer. Discard the marinade used to marinate chicken.

Additional Notes:

See note 2 to cook in oven.

5.

BBQ Chicken

:

Brush grill with oil or use an oil spray. Grill chicken skewers. Turn skewers half-way through cooking, and baste half of the reserved marinade on the cooked side. Grill until chicken is fully cooked. Baste marinade on other side once cooked. (about 8-10 minutes)

6.

Garnish and Serve

:

Once cooked, transfer chicken to a serving platter. Garnish with scallions and toasted sesame seeds. Serve with side of steamed Jasmine rice and cucumber kimchi.
Savita's Notes:
If using wooden skewers, soak 6-8 skewers in water. Set aside.
Oven Method: To cook chicken in the oven. Place a wire rack on top shelf of the oven. Switch on the oven broiler. Place skewers on a baking sheet lined with aluminum foil (for easy cleanup). Broil for 3-4 minutes. Take out of the oven. Baste cooked side with a coat of marinade. Turn (cooked side down). Broil another 3-4 minutes or until chicken is cooked through. Take out of oven. Baste no up side with coat of reserved marinade.
Extra Sauce - For extra sauce to serve on the side, double the marinade and briefly heat the sauce until slightly thickens, about 3-4 minutes. 
Seasoned Rice: I love to serve BBQ Skewers topped on the steamed plain Jasmine rice. This way sauce mixes/steeps into the rice making rice seasoned and very flavorful without extra sauce.
DID YOU MAKE THIS RECIPE?
Tag
@SAVITACHEFDEHOME
on Instagram and hashtag it
#SAVITACHEFDEHOME
© Chef De Home. Post content including video and photos are copyright protected.
We Think You'll Love