This recipe is Copyright of ChefDeHome.com

Migas (Mexican Scrambled Eggs)
Migas, flavorful Mexican scrambled eggs with corn tortilla chips and veggies for a delicious breakfast in 20 minutes!
Migas is spiced Mexican scrambled eggs with tortilla chips. Soft scrambled eggs with spices, onion, bell pepper, cheese and tortilla! What not to like? Actually, Crispy Corn Tortilla is what makes Migas extra special. It gives Migas delicious corn flavor. Also makes it a hearty and filling. Migas is a breakfast that everyone must try once in lifetime. I think, if you try once, you will never want scrambled eggs any other way. Ever! It is THAT good. 
Above all, Migas is so simple and easy to prepare. It needs pantry ingredients and only 20 minutes start to finish. Perfect and easy recipe to impress your Valentine. (hint hint) 
Let's learn to cook Migas and serve something different for breakfast. Shall we?!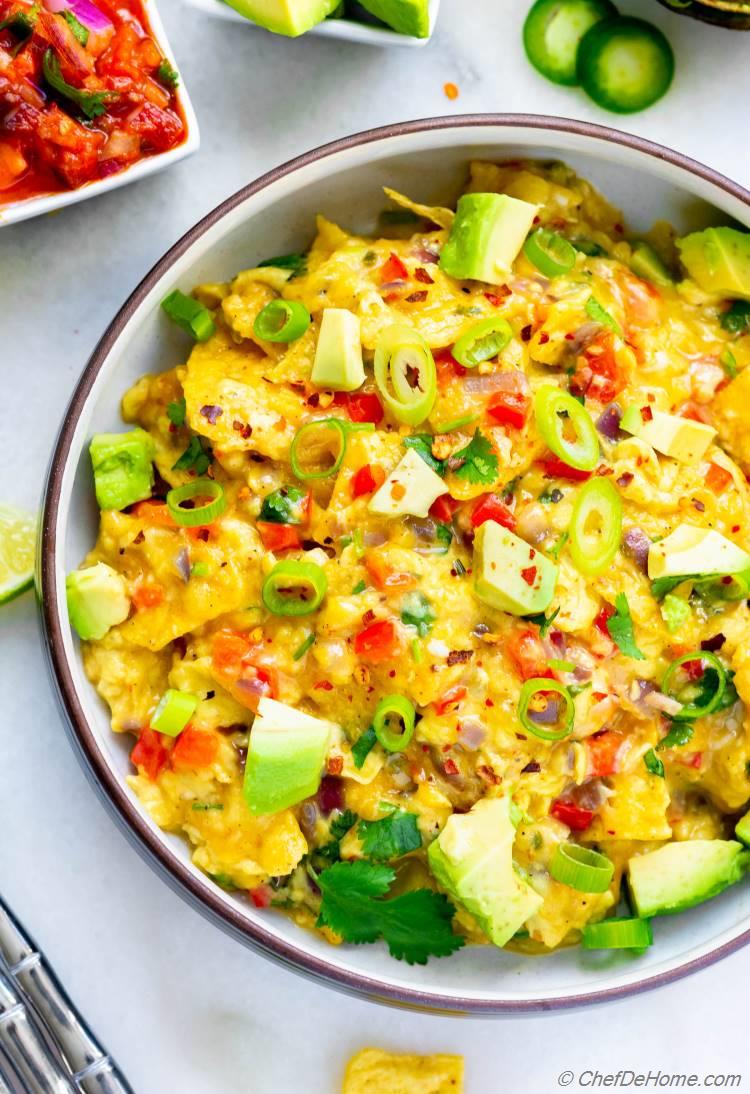 Do these look delicious or what?! 
WHAT IS IN MIGAS?
Migas or Mexican Scrambled Eggs. Like I mentioned, the ingredients for Migas are always in your pantry. Eggs, tortilla chips,  onion, bell pepper, cream or half-and-half, salt, pepper, and taco seasoning. Taco seasoning is not traditional but my secret ingredient to make Migas extra flavorful. If you ask me, I will not have Migas without taco seasoning and tortilla chips! These two make Migas, the real-deal Migas for me.
CAN YOU MAKE MIGAS WITH TORTILLA CHIPS
There are no Migas without Corn Tortilla Chips. You can make chips yourself or use ready made. I mostly make Migas with store-bought corn chips. Chips are handy and I always have some in my pantry. In other words, Migas is one of two favorite ways to use leftover bag of corn tortilla chips. (Second being Chilaquiles.)
However, you can also use corn tortillas if you those in refrigerator. To make chips from corn tortillas, heat 1/4 inch oil in a skillet. Cut corn tortillas into bite size pieces. Shallow fry in hot oil until crispy. Dust with lite salt as soon as out of skillet. Use in place of tortilla chips in Migas recipe.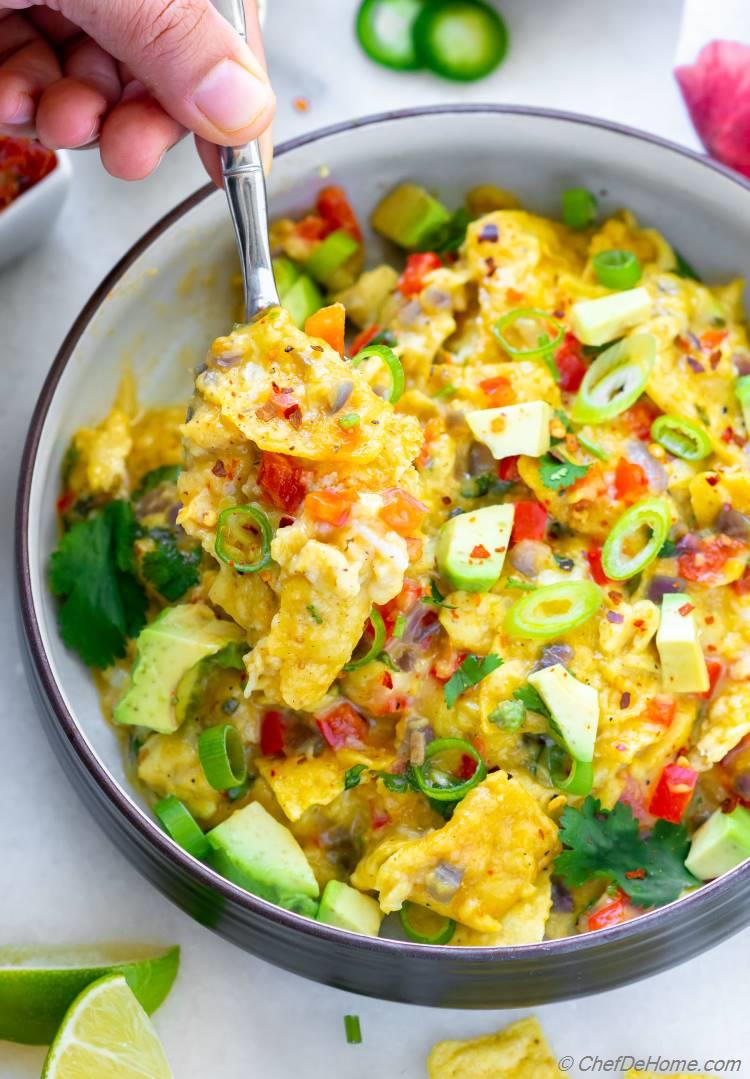 HOW TO COOK FLUFFY SCRAMBLED EGGS:
Migas tastes even better when eggs are cooked perfectly soft and fluffy. To make fluffy scrambled eggs, I do three things:
a) mix little heavy cream when beating eggs. (You can also use half and half)
b) beat eggs for at least a minute until there are no lumps and mixture is little bit frothy.
c) cook eggs very briefly. Only 1 minute to 1.5 minutes max or until eggs are just starting to set. Eggs keep cooking in residual heat of pan. So, it is important to take'em off heat and then mix in toppings such as cheese, herbs etc.
Resulting Scrambled Eggs are perfect fluffy and melt-in-mouth soft.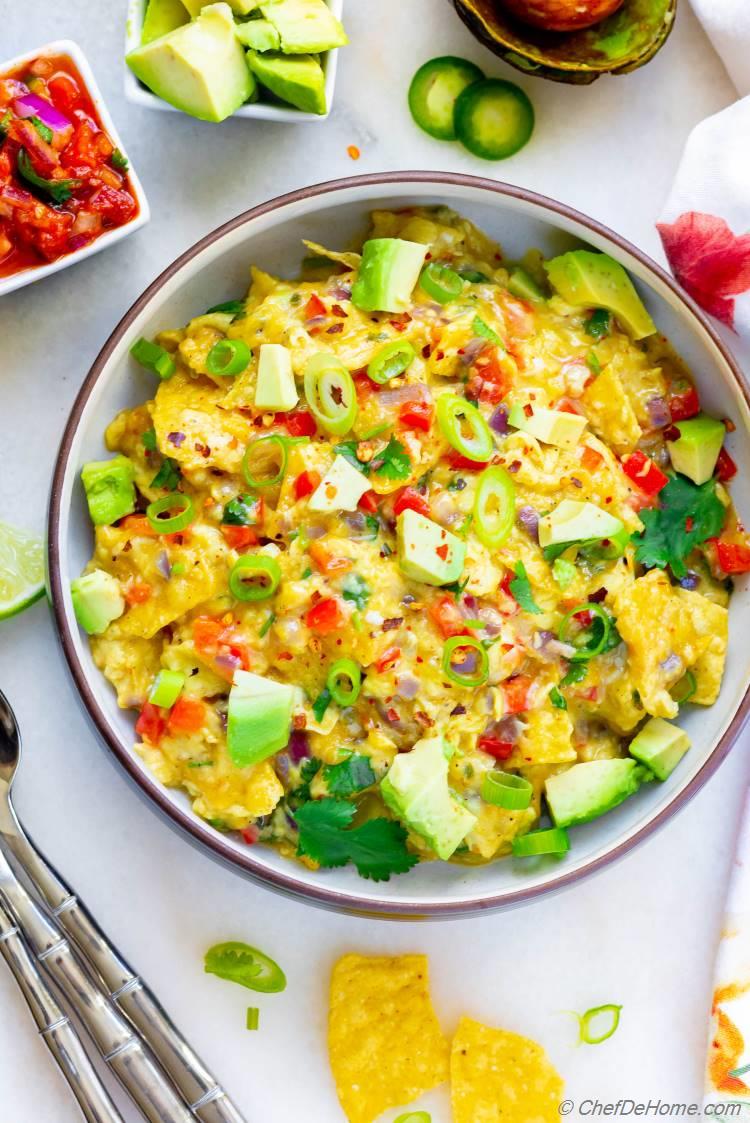 WHAT TO SERVE WITH MIGAS:
Serve Migas with avocado, cheese such as queso fresco. You can also serve soft tacos to scoop. You can also go tex-mex and serve beans, and salsa on the side.
We even love eating Migas for dinner.. Specially when everyone is in breakfast-for-dinner mood. My personal favorite is taco-style migas. Warm soft tacos, filled with spicy scrambled eggs, topped with all-you-want-in-tacos toppings - beans, avocado, pico de gallo, queso fresco. Yumm!
MORE EGGS BREAKFAST RECIPES TO TRY:
Shakshuka
Avocado Fried Egg Toast
Spiced Breakfast Egg Casserole
Scrambled Eggs with Goat Cheese and Kale
Egg Heart Toast
Kimchi Fried Rice with Poached Eggs
Savory Egg Toast
Chicken Fajita Omelet
Wish you a happy Valentine's Day! 
-Savita
Pairing Ideas:
Migas (Mexican Scrambled Eggs)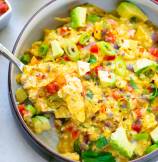 Total Time
Prep Time
Cook Time
Cuisine
Mexican
Category
Breakfast
Difficulty
Easy
Yields
4-6 Servings
(Serves:

4

)
Notes
No. of servings depends on serving size.
Ingredients
Migas- Mexican Scrambled Eggs

8 Egg(s)

2 tbsp Heavy Cream

1 Cup Red Onion

(medium onion, small diced)

1 Red Bell Pepper

(cored and small diced)

1 tsp Taco Seasoning

2 tbsp Cooking Oil

(olive oil or avocado oil)

1 Jalapeno

(cored and minced)

15-20 Tortilla Chips

(Corn Tortilla Chips.)

1 Cup Cheddar Cheese

(I used white cheddar. Can use Queso Fresco or Mexican Cheese Blend.)

3-4 tbsp Cilantro

(fresh leaves)

Toppings

Salsa

Avocado
Directions
1.

Prepare Migas Ingredients: In a bowl, break open 8 whole eggs (discard shells). Add 2 tablespoons of heavy cream. Add 1/2 tsp salt and 1/4 tsp black pepper. Beat well for one minute or until eggs are not lumpy. Set Aside. Dice onion, red bell pepper and mince jalapeno. Set aside. Slightly crush *tortilla chips to yield bite size pieces. (I break each tortilla triangle chip into three pieces.)

2.

Prepare Migas: In a wide skillet, heat 2 tablespoon of oil. Add diced veggies - onion, bell pepper and jalapeno with taco seasoning. Saute until bell peppers are soft (3-4 minutes). Add broken tortilla chips and mix with veggies for 1 minute.

3.

Add beaten egg mixture. For **soft scrambled eggs, quickly fold eggs mixture with veggies and chips until eggs just start to set (60 seconds to 1.5 minute). Take off heat. Add cheese, cilantro. Fold into scrambled eggs. Garnish with diced avocado, pico de gallo, more cilantro. Serve immediately. Enjoy!
Savita's Notes:
*Tortilla Chips: For best result and most flavor, only use Corn Tortillas for this recipe.
**Soft Scrambled Eggs: To make soft scrambled eggs, I do three things: a) mix little heavy cream when beating eggs. b) beat eggs fr at least a minute until there are no lumps and mixture is little bit frothy. c) Cook eggs very briefly. Only 1 minute to 1.5 minutes max or until these are just set. Eggs keep cooking in residual heat of pan. So, it is important to take'em off heat and then mixing in cheese.
© Chef De Home. All contents and images are copyright protected. DO NOT copy or re-use content/images/videos. For all content/post mentions with link back, contact ChefDeHome for permission.

Craving for more?
Join us: Weekly Newsletter, Facebook, Google, Twitter, Pinterest
Shop products we use: CDH Amazon Shop (affiliate links)
What would you like me to cook next?: Request a Recipe