Chicken Stew (Instant Pot)
Easy chicken stew with lentils and fragrant spices, prepared in Instant Pot or dutch oven, for a quick and hearty weeknight dinner.
Posted On:

Jan, 30
| Author:

Savita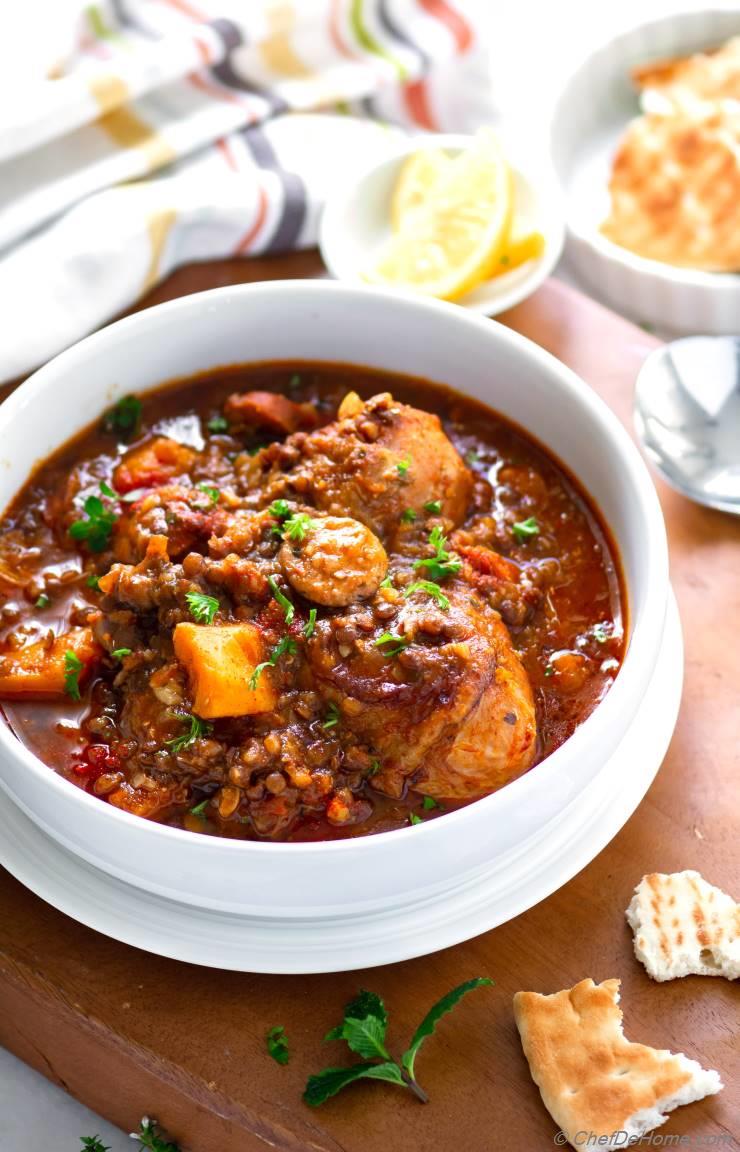 This Chicken Stew recipe has chicken thighs braised with fragrant spices, hearty lentils, sausage, sweet potato and aromatic tomato-spice broth. It is a bone-warming, chili night Chicken Dinner which you can prepare, in Instant Pot, at moment's notice. Also including instructions to cook Chicken Stew on stove top. (very easy to adapt). Gluten Free, and Dairy Free. 
I'm obsessed with my Instant Pot these days. Honestly, it is so cold these days that all we want for dinner is some hearty, comforting stew or soup. My Instant Pot makes life easier with quick cooking time and great results. Less perching on stove is pure bonus!
So, let's not wait! Make some Chicken Stew for dinner tonight!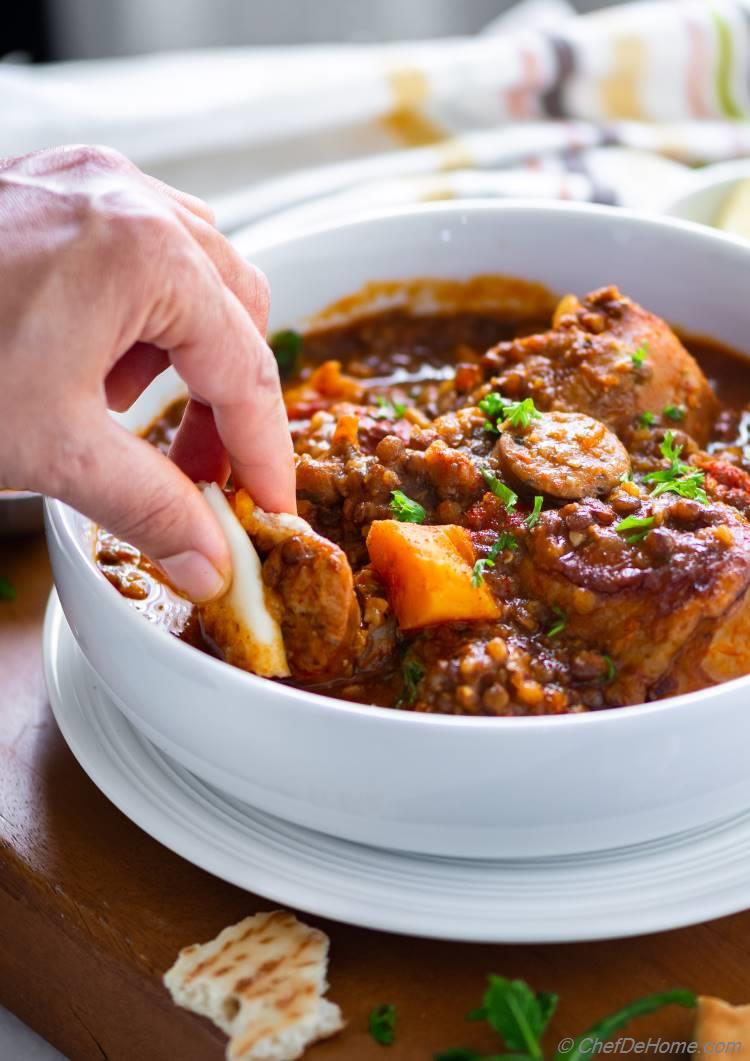 During winter, specially when it's snowing, this is THE best chicken stew to serve for a hearty, and bone-warming dinner. The warmth and fragrance of spices, aroma of chicken, healthy lentils, sweet potatoes and delicious spiced tomato broth. What not to like? 
AFRICAN CHICKEN LENTIL STEW
This recipe for Chicken Stew is inspired from famous Euthopian African Chicken Stew - Doro Wat Chicken Stew. It is a hearty stew with chicken cooked in flavorful seasonings with lentils, tomatoes, and sweet potatoes. The warm seasonings give this soup distinct flavor. Also, make it perfect for cozy, hearty and comforting winter dinner. Few Naans or Rice and this will be a chicken dinner, in every week's menu.
WHAT IS IN CHICKEN STEW?
The main ingredient of Chicken Stew are: chicken, lentils, tomatoes, ginger, garlic, onion, herbs and spices. Really, the ingredients for this stew recipe are so easy to find and pantry-staple. I bet you will have most in your pantry right this minute. 
CHICKEN STEW SEASONING BLEND
Seasoning Blend for this recipe is inspired from Euthopian African Chicken Stew - Doro Wat. The traditional seasoning is called Berbere Seasoning. You can buy this seasoning from store or DIY own seasoning with the spices listed in Recipe Card.
MONEY SAVING TIP: Can't find or have all spices for Berbere seasoning? Replace it with 2 tsp of Garam Masala. Add paprika, and use fresh ginger and onion.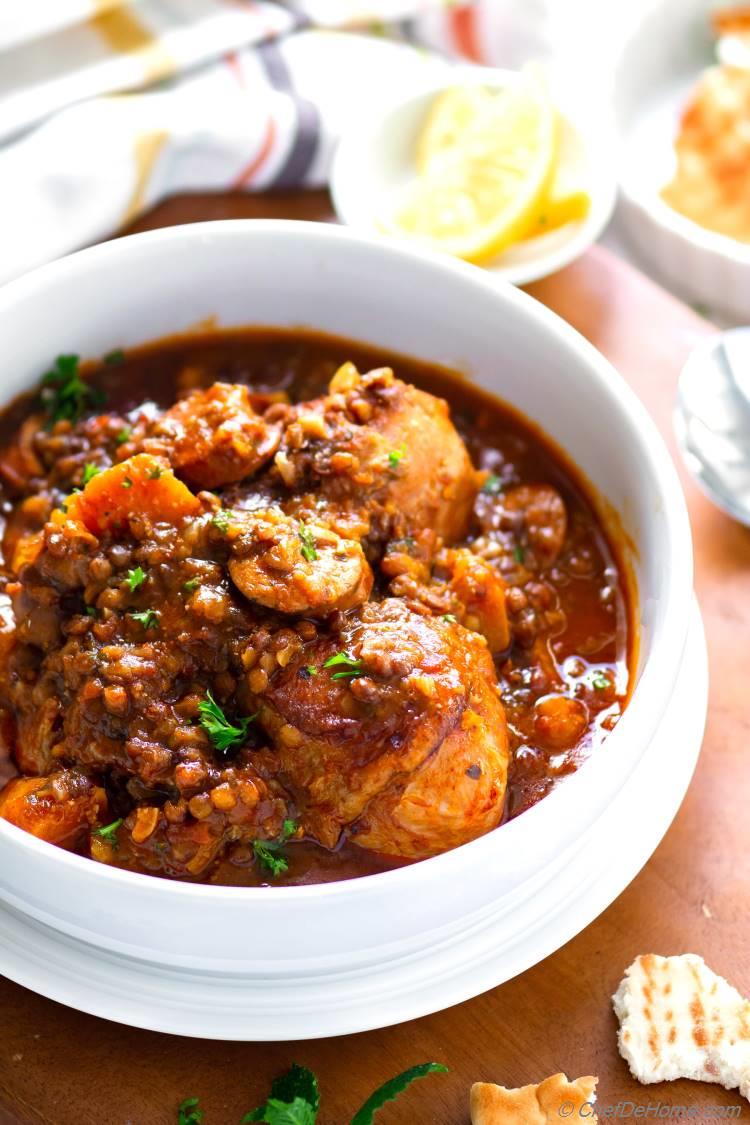 DO I HAVE TO USE LENTILS?
Honestly, I would not make this stew without lentils. Lentils taste delicious in chicken stew. Plus lentils make stew healthy, filling and self-sufficient. Say, if you trying to control weight, avoiding processed foods or trying eat healthy? Then this is the stew for you. A serving of this stew has protein, non-processed whole-grain and serving of veggies for a satisfactory meal. 
That said, if you don't like lentils, you can use other legumes, veggies, or beans.
1. Chickpeas. If using fresh chickpeas, soak overnight and add to stew instead of lentils. 
2. Pink Lentils.
3. White Beans or Red Beans.
4. Cabbage, sweet potato, or butternut squash.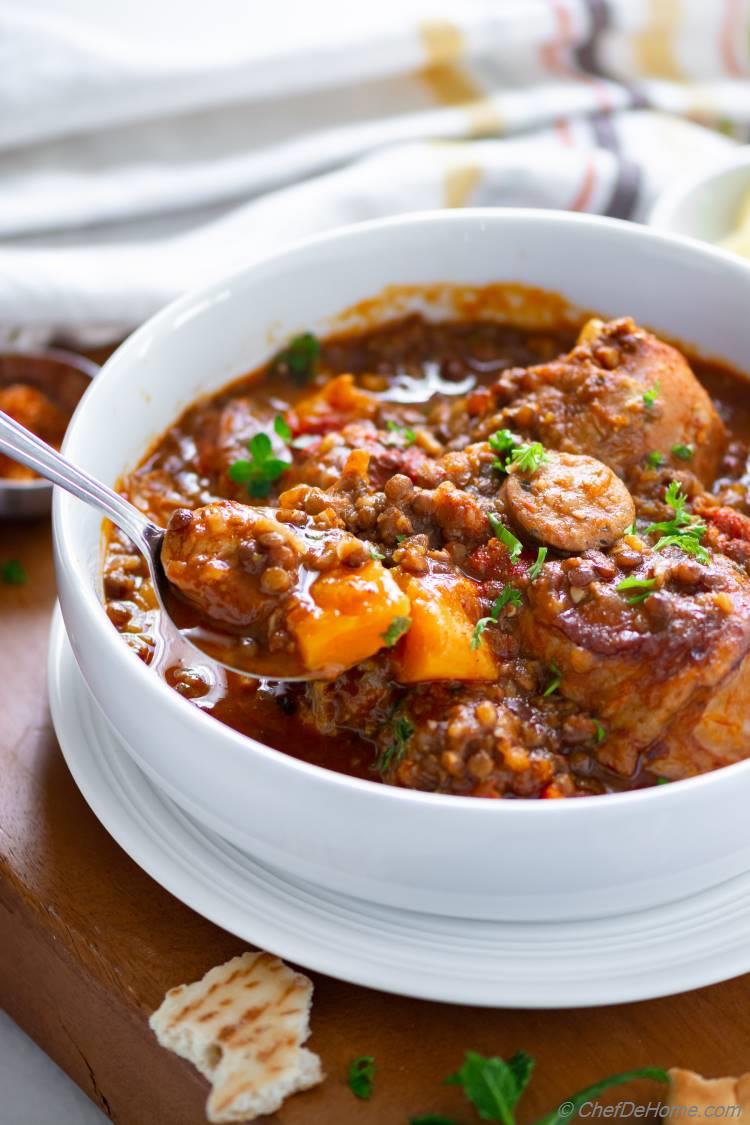 WHAT KIND OF CHICKEN IS BEST FOR CHICKEN STEW?
In this Chicken Stew recipe, I used two kinds of chicken - Bone-in Chicken Drumsticks and Thighs, and Chicken Sausage. In my experience, bone-in chicken is best for this kind of stew. Bone-in chicken makes stew more flavorful, chicken stays moist and succulent, and pick-up the taste of spices beautifully.
Addition of sausage is my personal preference. It makes stew more hearty. In my honest experience, chicken and sausage stew makes all meat-lovers happier. (Feel free to skip sausage if you prefer or use a spicier variety for additional flavor boost.)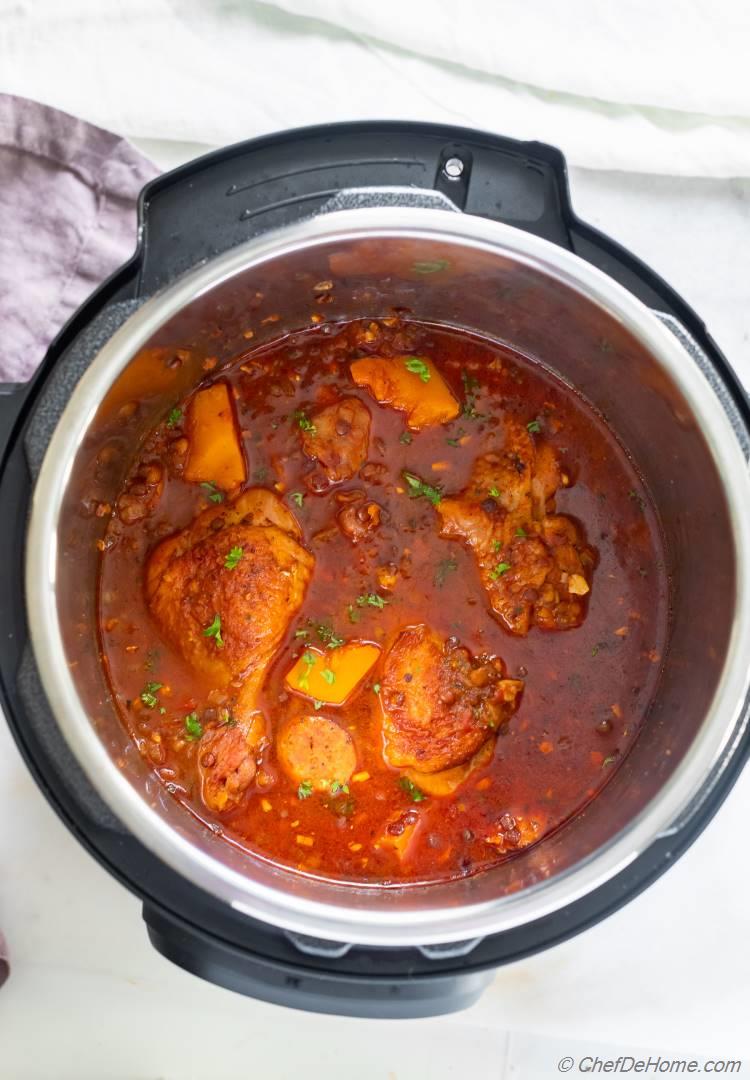 HOW DO YOU MAKE CHICKEN STEW?
To make Chicken Stew, start by searing the chicken thighs and drumsticks. This step ensures juices are locked and chicken will be moist when cooked in stew.
After taking out browned chicken, I saute spices, sausage (when suing) and aromatics in same pot. The juices from aromatics remove the brown bits of chicken stuck to bottom of pan. These have so much flavor.   
Once aromatics are soft, spices are fragrant, I add in rest of stew ingredients - tomatoes, lentils, sweet potato, chicken broth. Mix well, then return browned chicken on top.
Following above three simple steps, chicken can be cooked in Instant Pot or a stew pot on Stove Top. Next step is to cook the chicken and lentils until flavors marry, chicken is cooked through and lentils are soft. The time to cook in each vessel will be different. Explaining below and also detailed in Recipe Card.
CHICKEN STEW in INSTANT POT
Instant Pot makes this recipe, one of the easiest chicken stew recipe in world. Start to finish, one pot, 35 minutes of cook + prep time. (excludes idle time of IP pressure build). 
Note: I used 5 Quart Instant Pot for this recipe. Cooking time may vary when using smaller IP.
CHICKEN STEW on STOVE TOP
To make chicken stew on Stove Stop in a dutch oven (or heavy-bottom pan); Follow steps as-is up-to step-4 in Recipe Card but use 1/2 cup extra liquid.  Bring to boil on high heat, then simmer on medium heat, covered, until lentils are tender and chicken is fully cooked.  Season and serve as suggested in Step-5.
Tip: Look for cooking/boiling time for Barley on barley package. Cook soup 10 minutes longer on low-medium heat. Add more stock if soup appears to thicken too much towards end of cooking.
HOW LONG DOES CHICKEN STEW LAST IN THE REFRIGERATOR?
t stays good in refrigerator up-to 4 days without freezing. But honestly, if I have it in refrigerator, we end-up repeating it for dinner until it lasts. Make sure to store in seal-able, air-tight containers.
Also, this soup is perfect to make-ahead and freeze. For best result, freeze in small portions. This make thaw and reheat easier.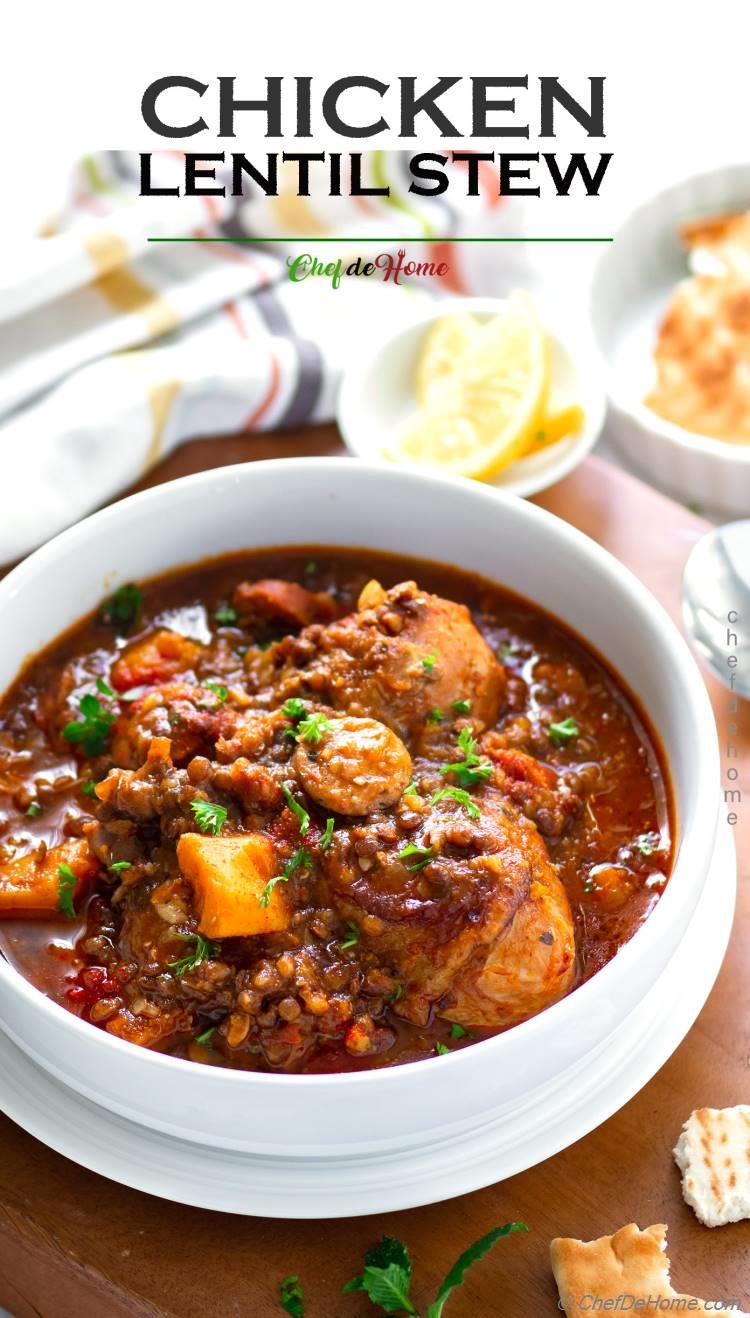 WHAT TO SERVE WITH CHICKEN STEW:
I like to serve serve chicken stew with a flat bread such as Naan or crusty baguette to dunk in broth. Side of steamed rice and a crunchy leafy salad compliment the hearty spiced stew perfectly.
MORE STEW RECIPES:
Ratatouille (Vegetarian Stew Casserole)
Ratatouille Stew (Easier Stew Version)
Lamb and Potatoes Stew
Cabbage Lentil Stew
MORE INSTANT POT CHICKEN RECIPES:
Coconut Chicken Curry
Chicken Tortilla Soup
Chicken Wings
Instant Pot Chicken Recipes

This Chicken Stew is pleasantly spicy, hearty, loaded with flavor, and great for a delicious winter night chicken dinner. Make it in Instant Pot (everyone's hot favorite) or a dutch oven on stove top.. This recipe is perfect to make chicken stew, either way, for dinner tonight. I hope you will like it as much as we do.
Happy Cooking! -Savita 
Serve a side salad or make naan bread to serve on side: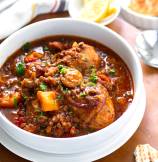 Total Time:
Prep Time:
Cook Time:
Cuisine:
Mediterranean
(

Main Course, Stew

)
Difficulty:
Easy
Yields:
4-6 Servings
- Serves:
4
(

Total Time does NOT include Instant Pot Pressure Build and Pressure Release Time.

)
Ingredients
Stew
Spice Mix
Directions
1.

Heat Instant Pot on Saute setting until it reads "Hot". Add and heat 1.5 tbsp oil. Add chicken seasoned with 1 tsp of spice mix and pinch or 2 of salt. Cook until skin browns. Take out in a plate.

2.

Add remaining oil, followed by onion and garlic. Saute until onions are soft and start to brown at edges. (4-5 minutes)

3.

Add sausage (sliced), ginger, and remaining spice mix, 1/2 tsp salt. Saute for 1 minute.

4.

Add tomato sauce, lentils, squash (or sweet potato) and 2.5 cups of water. Add 1/2 tsp more salt. Mix well. Return chicken to pot, and place on top. Place and lock lid of Instant Pot. Cook on manual - high pressure for 12 minutes.

5.

Once timer is up. Switch off Instant Pot. Quick Release pressure. Open lid. Mix in lemon juice and chopped fresh herbs. Taste and adjust salt. Ladle into bowls, garnish with more herbs. Serve with side of Naan Bread or Rice, and more lemon wedges. Enjoy.
Savita's Notes:
CHICKEN STEW on STOVE TOP : To make chicken stew on Stove Stop in a dutch oven (or any heavy-bottom pan); Follow steps as-is up-to step-4 in Recipe Card but use 1/2 cup extra liquid.  Bring to boil on high heat, then simmer on medium heat, covered, until lentils are tender and chicken is fully cooked.  Season and serve as suggested in Step-5.
DID YOU MAKE THIS RECIPE?
Tag
@SAVITACHEFDEHOME
on Instagram and hashtag it
#SAVITACHEFDEHOME
© Chef De Home. Post content including video and photos are copyright protected.
We Think You'll Love